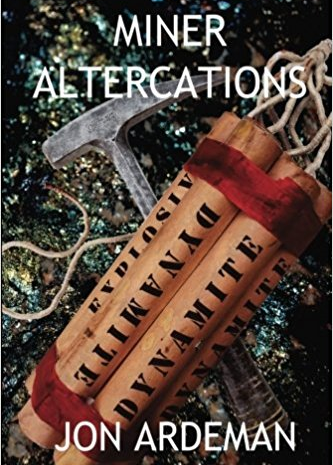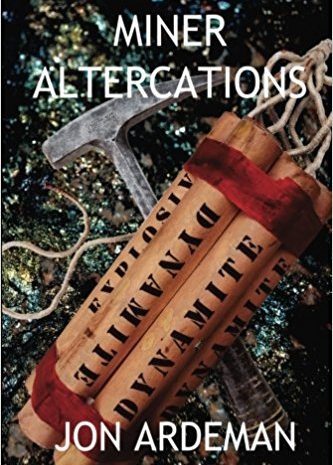 To order a copy of "Miner Altercations" which would make an excellent Christmas gift for any Geologist/ Mining/Explorationist: http://amzn.to/2Ap0Zo3
Since graduating Jon Ardeman's geological career has been in many guises; in exploration, mining, consultancy, conservation and research. He has worked as a National Park guide, a nature warden looking after tadpoles and orchids, as a researcher digging up cow shed floors looking for Ordovician brachiopods and preparing dinosaur bones for a museum display. Enthused by these experiences, Jon sought further adventures, and headed to Africa where he worked as a geologist on various mines for more than a decade.
He returned to university and after a few years of academic research and consultancy, Jon went back to mining and precious metal exploration. His travels have taken him from the Arctic to the Equator, from North America and Siberia, to Europe, Australia, Asia and back to Africa.
During this time, Jon wrote several "mystery and imagination" short stories for magazines and competitions, but his inspiration for a first novel 'Miner Indiscretions' came from get-togethers with fellow prospectors and miners; with the story embellished by imagination, cold beer, a hint of the supernatural and – of course – dreams of African gold! The author is married with several children and now resides in Hertfordshire, England.
Overview
The second in the MINER series of the picaresque adventures of Timothy, a young mining geologist working on the remote Yellow Snake Gold Mine in Southern Africa. After staving off the closure of the ageing Mine with the discovery of a rich new gold deposit, Timothy and the Mine's eccentric employees look forward to returning to their devious old ways. And yet success, even in the mining industry, can bring its own challenges. Just as their luck seemed to have changed, the Yellow Snake Mine team are forced to dig deep again.
This time they must fight off the multinational Heyt Corporation's attempts to take over the revitalised mine and use its wily employees to perpetrate a major international mining scam. From the hills of Kwa-Zulu Natal, to Zanzibar's ancient streets and Indonesia's tropical island forests; big troubles are stirring. It might mean more violence, skulduggery, sex and supernatural interference than before, but can Timothy still manage to come out on top?
Excerpt 3
When the Yellow Snake Mine team returned to their accommodation on Ularbesar, Dr. Bussang, head of New Mining Business for the Heyt Corporation, telephoned to discuss progress. After preliminary introductions, Dr Busang got down to business. 'How many samples have you managed to collect?'
He had to repeat the question a couple of time because the others couldn't follow his unfamiliar accent. 'We took about sixty, including the pan samples.' 'Pan samples? What are those?' Dr. Bussang asked.
Timothy found his question a bit worrying. This man was in charge of developing a potential new gold project and didn't know what a pan sample was? He explained why they had taken the samples. 'Unfortunately we didn't see any visible gold. Of course, we'll send the samples for fire assay anyway.'
'Ah yes, I am wanting to talk to you about that. We have discovered the mineralisation on Pulua Ularbesar is different to a lot of gold deposits.'
Kruger and Oom Boet were listening to the conversation and quietly passed a note to Timothy that read: How bloody different ?? Timothy asked the question more politely. 'The gold on the island is present as nano-gold…' 'Nano-gold?'
'Yes, it's like micro-size, only much smaller. I've got a description here: "Naturally occurring nanoparticles of gold, measuring less than the diameter of some bacteria, are between one nanometre and less than one tenth of a micron in size."
Timothy noted that Bussang's accent seemed to change as he read out the description but then changed back to an Indo-Chinese-English lilt once again.
'So, impossible to see any particles of gold, even under a good microscope,' Dr Bussang explained. Oom Boet passed another note to Timothy, it read: Bullshit !!
Timothy pressed on: 'But nano-gold grains would be too small to separate out by gravity, so stream panning won't work. How are we going to assay it?'
'Mr Heyt has collaborated with academic specialists in the area. He has sponsored the development of a proprietary assay technique, one especially designed for this kind of gold deposit,' Dr. Bussang answered.
Timothy glanced over to see Oom Boet who was shaking his head in disbelief. He asked, 'So how did the Heyt Corporation know that Ularbesar would be a good place to look for gold, or nano-gold, in the first place?'
Over the phone line the business head's voice sounded momentarily uncomfortable. 'I'm not a geologist, but I have been told that there are many volcanic islands throughout Indonesia that have been mined for gold – isn't that right?' 'Yes, but…'
'Exactly! Why wouldn't Ularbesar be one of them?' Dr. Bussang asked. Without waiting for an answer he went on, 'The reason the gold wasn't found before was because the gold grains are so fine, they don't settle in the river. All the microscopic gold is washed into the ocean.'
Timothy was feeling sceptical but he carried on, 'But even if we prove there is sufficient gold here, how will the metallurgists recover it from the ore?'
'The test results have been most encouraging,' Dr. Bussang said, without giving any details. 'I send you email with a table of results, Very good. Mr Heyt said we must send all samples to the Yellow Snake Mine for analysis. We share confidential new assay method for your laboratory to replicate the exact procedure.'
Dr Bussang brushed aside Timothy's concerns about security and the "chain of custody" protocol with; 'No, is okay. We trust you.'
Finally, Heyt's New Business head reminded Timothy to keep all information strictly confidential, wished them luck, and ended the call. Timothy turned to the others; 'That was weird, what do you guys think?'
Kruger scratched his head: 'Let me see; a brand new proprietary assay technique along with a special methodology hitherto unknown to science is developed to extract naturally occurring nano-gold? Oh, and the gold must still be here – because no one else has found it yet. It all sounds perfectly kosher to me!' said Kruger sarcastically.
Oom Boet was even more scathing: 'I've heard of some cons in my time, but this takes the biltong! Gold so naturally fine that it is invisible even under a microscope! And only Heyt's brilliant scientists are smart enough to see it? He must think that we haven't heard about the tale of the "Emperor's New Clothes" !'
Timothy wasn't sure. 'Perhaps it was his accent or his language. Maybe we haven't properly understood what he was trying to tell us?'
The computer pinged behind Timothy and he opened up the email that Dr. Bussang had sent through. He opened up the attachment that showed it to be a spreadsheet detailing chemical analysis of numerous samples.
Kruger and Oom Boet gathered around the screen to look at the document. 'These values are amazing, especially if they were all surface soil samples. Which laboratory did the assays?' Kruger asked.
Timothy read out the laboratory's name, 'Awesome Laboratories.' 'Is that a pun on "Ore some" Laboratories do you think?'
'I don't know. It looks like the lab is based in Colorado. Colorado has a long history of gold mining; it should be reputable, don't you think?' Timothy asked. Kruger peered at the screen more intently: 'Possibly – but you don't spell Colorado with two LL's. It smells pretty fishy to me!'
To order a copy of Joh Ardeman's first book in this hilarious series "Miner Indiscretions": http://amzn.to/2hMreNl
Reproduced with permission of Jon Ardeman. For other information on Jon Ardeman's books, geology and odd observations: https://www.facebook.com/jon.t.ardeman