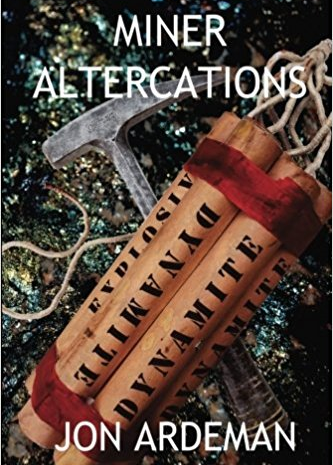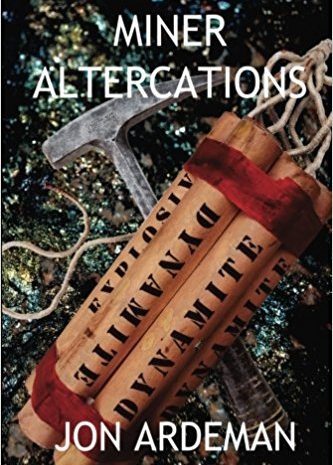 To order a copy of "Miner Altercations" which would make an excellent Christmas gift for any Geologist/ Mining/Explorationist: http://amzn.to/2Ap0Zo3
Since graduating Jon Ardeman's geological career has been in many guises; in exploration, mining, consultancy, conservation and research. He has worked as a National Park guide, a nature warden looking after tadpoles and orchids, as a researcher digging up cow shed floors looking for Ordovician brachiopods and preparing dinosaur bones for a museum display. Enthused by these experiences, Jon sought further adventures, and headed to Africa where he worked as a geologist on various mines for more than a decade.
He returned to university and after a few years of academic research and consultancy, Jon went back to mining and precious metal exploration. His travels have taken him from the Arctic to the Equator, from North America and Siberia, to Europe, Australia, Asia and back to Africa.
During this time, Jon wrote several "mystery and imagination" short stories for magazines and competitions, but his inspiration for a first novel 'Miner Indiscretions' came from get-togethers with fellow prospectors and miners; with the story embellished by imagination, cold beer, a hint of the supernatural and – of course – dreams of African gold! The author is married with several children and now resides in Hertfordshire, England.
Overview
The second in the MINER series of the picaresque adventures of Timothy, a young mining geologist working on the remote Yellow Snake Gold Mine in Southern Africa. After staving off the closure of the ageing Mine with the discovery of a rich new gold deposit, Timothy and the Mine's eccentric employees look forward to returning to their devious old ways. And yet success, even in the mining industry, can bring its own challenges. Just as their luck seemed to have changed, the Yellow Snake Mine team are forced to dig deep again.
This time they must fight off the multinational Heyt Corporation's attempts to take over the revitalised mine and use its wily employees to perpetrate a major international mining scam. From the hills of Kwa-Zulu Natal, to Zanzibar's ancient streets and Indonesia's tropical island forests; big troubles are stirring. It might mean more violence, skulduggery, sex and supernatural interference than before, but can Timothy still manage to come out on top?
Excerpt 2
The next morning after breakfast, the exploration of the island was to begin in earnest. It was hot and humid –a standard day for these parts of Indonesia any time of the year. Five wiry and weather-beaten local men, hired to assist in the field work, turned up at the residence.
Accompanying the locals were two younger men, one African-American and one European-looking. Instead of the traditional sarongs, they were wearing baseball caps, T-shirts, Bermuda shorts and flip-flops. They glanced around with an air of bewilderment and looked out of place on a tropical island. In fact, they would be out of place anywhere outside of a teenager's pad or a 'Comic Con' gathering.
'I'm Big Waz and this is T-Bone,' said the paler one. 'Are you from the States?' 'No, we're Canadian – sorry.'
'Pleased to meet you. Are you surveyors or geologists?' 'No, We're I.T.' said Big Waz.
'What, computers and stuff?' Timothy was puzzled: 'We won't need any I.T. backup out here.' 'You probably won't, but we were sent here on Mr Heyt's orders, anyway.' 'Why?'
The two IT nerds looked at each other. 'Our line manager said he was going to send us to, like, a desert island. He thought the fresh air would do us some good.' Big Waz shuddered. T-Bone shrugged his shoulders: 'It's a cruel punishment. We were looking after Heyt's corporate internet security, and there was this breach…'
'Yeah, like some dude infiltrated the website and changed the Heyt Corporation logo to read the Hate Corporation. And Mr Heyt was like, really pissed at us…'
'So Heyt sent you out here to help us?' Timothy asked in surprise. 'Yeah, the message came down: as we liked playing "Minecraft" on the computer so much, we could help build a real mine. Like, that's not funny, man,' said Big Waz.
'Yeah, and all this fresh air is giving me hives!' T-Bone added miserably.
Timothy wiped the sweat from his palms before shaking hands: 'Welcome to the Yellow Snake Mine club – I'm sure you guys will fit right in.'
They arrived at the first site. Oom Boet said he was going to train the two IT guys to pan the stream sediments to separate the heavy minerals from the gravel.
They were unenthusiastic. 'What, are you kidding me?' T-Bone screeched, 'It's a freaking jungle out there!''
'And go into the river? It will be full of leeches!' Big Waz complained. 'According to the guide book there are tiger leeches in the bushes and brown leeches on the forest floor,' said Kruger. 'It doesn't say anything about leeches in the water, so the river is probably the safest place.' 'Yeah – but we have to walk on the ground and go through the bush to get to the river!' T-Bone objected.
One of the field assistants went ahead to clear a path for the novices. The IT duo reluctantly followed behind him, staying clear of the swishing machete blade.
Oom Boet straightened up from his stream panning activities and stretched his back with a long groan. 'I'd forgotten how tiring this panning lark can be! Did you collect anything, Timothy?'
'Yes, but only lava and some volcanic ash layers. I also accidently collected about half a dozen leeches. What about you guys?'
'Nothing. I've checked to make sure that the guys didn't miss anything. I couldn't find a speck of gold, even looking through a hand lens,' said Oom Boet irritably.
'I got lots of black sand, though' said Big Waz proudly. Timothy looked at Big Waz's sample. 'Probably magnetite, it would weather out of these igneous rocks pretty easily.'
Oom Boet removed his floppy hat and rubbed his head. 'This ravine cuts right across the area we were sampling in the forest yesterday. I'd say it was pretty conclusive – it's definitely all here.'
'What's all here?' Timothy asked, confused.
'The kind of "all" that has "fuck-" written in front of it,' Oom Boet said cynically. 'I've put some of the pan concentrate the bags. We'll check to see if the assay lab can detect any gold.'
Wally Kruger clambered out of the undergrowth. He seemed oblivious to a large, multi-coloured leech fastened onto his neck.
T-Bone shrieked loudly when he spotted the bloated parasite and started to make gagging noises. Unperturbed, Kruger said that he hadn't noticed it, he couldn't even feel the leech on him.
Bambang took salt from his kitbag and rubbed it on the offending animal, which started to shrivel and loosen its grip on the surveyor.  Kruger flicked it off and then stamped on it, squelching blood across the ground.
'Geez! That's so gross!' T-Bone said, 'Didn't it freak you out, man? It sucking out all your blood like that?'
'Not really. I've been paying my ex-wife's alimony for years; you get used to the feeling after a while.'
To order a copy of Joh Ardeman's first book in this hilarious series "Miner Indiscretions": http://amzn.to/2hMreNl
Reproduced with permission of Jon Ardeman. For other information on Jon Ardeman's books, geology and odd observations: https://www.facebook.com/jon.t.ardeman