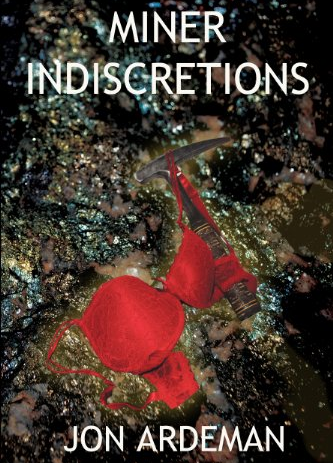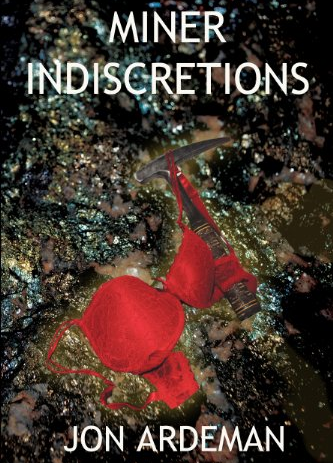 To order a copy of "Miner Indiscretions": http://amzn.to/2hMreNl
Since graduating Jon Ardeman's geological career has been in many guises; in exploration, mining, consultancy, conservation and research. He has worked as a National Park guide, a nature warden looking after tadpoles and orchids, as a researcher digging up cow shed floors looking for Ordovician brachiopods and preparing dinosaur bones for a museum display. Enthused by these experiences, Jon sought further adventures, and headed to Africa where he worked as a geologist on various mines for more than a decade.
He returned to university and after a few years of academic research and consultancy, Jon went back to mining and precious metal exploration. His travels have taken him from the Arctic to the Equator, from North America and Siberia, to Europe, Australia, Asia and back to Africa.
During this time, Jon wrote several "mystery and imagination" short stories for magazines and competitions, but his inspiration for a first novel 'Miner Indiscretions' came from get-togethers with fellow prospectors and miners; with the story embellished by imagination, cold beer, a hint of the supernatural and – of course – dreams of African gold! The author is married with several children and now resides in Hertfordshire, England.
Overview
A hilarious, action-packed story following Timothy, who starts his career as a junior geologist on a modern deep gold mine in South Africa. Unexpectedly and ignominiously dismissed from this post; he manages to get a new job exploring for gold on the dilapidated Yellow Snake Mine in rural KwaZulu-Natal.
All is not as it seems and faced with closure of the rundown old mine, he joins with the eccentric locals in a series of desperate scams and highly illegal schemes to try to reprieve the mine. Timothy struggles through encounters with African wildlife, consultants, riots, ghosts, floods, government officials, explosions and a very frustrating sex life in an attempt to find some actual gold in time to save the unique tight-knit community.
Excerpt 2
Timothy was probably the first to realize that the exploration project did not spring from a faith in hidden deposits of gold, or a desire to prolong the life of the mine. It came from the previous mine geologist's fervent desire to avoid grovelling around underground in the hot, dark, dusty conditions. Timothy felt at his lowest ebb. Even the old geologist, an arch zealot by all accounts, couldn't muster enough faith to believe there was more gold to be found.
"Are you still going underground?" asked Wisdom, noticing the silence that had befallen Timothy.
"Yes, Wisdom, We are. I might as well see the mine at least once before it shuts down."
Timothy met up with the mine sampler, Oom Boet, and they went underground together. A reluctant Wisdom trailed in the rear. The sampler pointed out the geology as they walked along, explained the sequence of rocks and showed him the gold-bearing quartz veins.
They had to move to the side as two miners pushing a small coco pan along the tracks squeezed past them. Timothy mentally compared the scene to his last mine. There, the underground locomotives pull over a dozen trucks of broken ore several miles back to the main shaft.
"A bit different to your last mine then, I suppose?" queried 'Oom' Boet, "You don't have to go kilometres below the earth's surface here. You can just walk down the incline to the shallowest workings."
"Yes, I see. Do you do much sampling underground under the present, um, system?"
"Not much, the miners know what the gold reef looks like and they follow it along, it has usually got a bit of gold in."
"So how does the mine arrive at any figures at all then?"
"At the end of the month, it's the amount of gold recovered from the ore that counts. Let's say we get six thousand ounces of gold in a good month. That might give us a real profit so we work out how many tons of ore we would need to mine in order to break-even on working costs. We might have to say we mined more rock than we actually did, so a whole lot of other things have to be adjusted as well of course. Wally Kruger the surveyor does most of the other calculations."
"What calculations?"
"Think of the explosives and timber required. If you are going to say you've mined more rock, you should have used more explosive to blast it. And more timber is needed to support the excavations."
"But what happens to the explosive you don't use that month?" asked Timothy, imagining mountains of sweating and decaying dynamite sitting around waiting to blow the Yellow Snake Mine off the face of the planet.
"Give us a break! We don't buy it ready-made! We've got our own explosive batching plant on the property. We're licensed to make the stuff from a big chemical company."
Timothy shuddered to think of explosive manufacture in such hands; perhaps 'Oom' Boet read his thoughts.
"No company would want to truck the explosives up these mountains and dirt roads every day would they? Don't worry, the stuff's quite safe until you mix it together, just ammonium nitrate and diesel really. It's called ANBANG. It can burn, but it doesn't actually explode unless you use primary detonators, it just smoulders away giving off noxious gases. It'll give you a headache – but at least you'll still have a head left in one piece."
"But the suppliers must know how much nitrate you order to make the stuff?"
"They do, so does the Inspector of Explosives. Of course, they don't know how much we re-sell."
"You sell the explosives?!"
"No, just the ammonium nitrate – farmers use it for fertilizer. Did you notice how green everyone's lawn looked in the township? The excess diesel is even easier to dispose of."
"But at month end, there must be some final reconciliation? What about the processed rock once the gold has been extracted? The waste on the tailings dumps? That would show how much rock has been mined since the mine started," said Timothy, pleased to have found some flaw in the scheme.
"You catch on quick, but we're years ahead of you. Before you came to South Africa we had heavy rains and some terrible floods. We had to apologise profusely to the Minister of the Environment when a large part of the tailings dam was washed away, swept into the river below and dispersed downstream. Fortunately, the environmental impact was a lot less than anyone imagined and we were let off with a small fine."
"Bloody hell," said Timothy imagining the devastation of a tailings dam collapsing. "How many tonnes were washed away?"
"I'm not sure exactly. How much do you think we'll need to make up the difference?"
Even Timothy had to laugh. The Yellow Snake Mine seemed to have an answer for everything. It was a pity that it would come to an end when the gold, real and imaginary, ran out.
Reproduced with permission of Jon Ardeman. For other information on Jon Ardeman's books, geology and odd observations: https://www.facebook.com/jon.t.ardeman