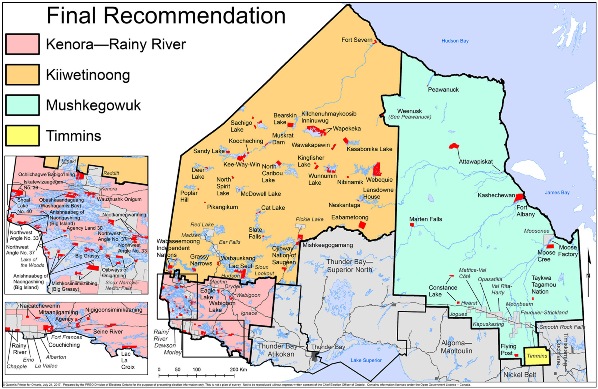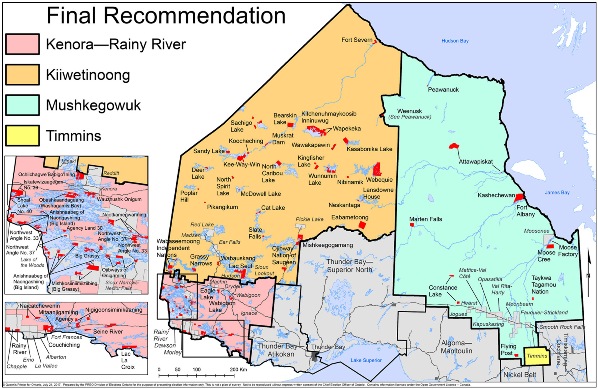 http://www.cbc.ca/news/canada/sudbury/
Legislature to vote this fall to split current two electoral ridings into four in time for 2018 election
The Ontario legislature will vote this fall on adding two more ridings to the province. Over the spring months, an electoral boundaries commission traveled across northern Ontario seeking feedback from residents.
The panel was tasked with finding a way to better represent the Far North region at Queen's Park. That region is currently divided into two ridings: Kenora-Rainy River and Timmins James Bay. In its final report published Tuesday, the commission recommends doubling the number of ridings to four.
The other ridings to be created would be Kiiwetinoong in the northwest, and Mushkegowuk in the northeast. Kiiwetinoong would be a mostly Indigenous riding, while Mushkegowuk would be mostly Francophone. In the northeast, the riding of Timmins-James Bay would be divided into the city of Timmins and the new large riding of Mushkegowuk. That riding would include all communities north of Timmins.
The MPP for Timmins-James Bay, Gilles Bisson, says he's not happy with the recommendation because it doesn't allow for Indigenous constituents to be fully represented at Queen's Park.
"The idea here was, and this is why everybody was pretty excited about this in the First Nation communities, was to create ridings where they would be in a majority and unfortunately that has not happened."
For the rest of this article: http://www.cbc.ca/news/canada/sudbury/four-far-north-ridings-1.4239725