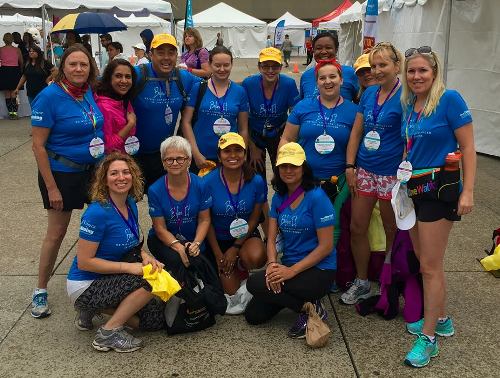 TORONTO – (August 1, 2017) – Team Women in Mining is pleased to announce progress in a very ambitious fund-raising event that began 11 years ago. Every year since 2007, members of the Toronto chapter of WIM have raised funds in the fall walk for the Princess Margaret Cancer Foundation.
Those donations are starting to add up to an impressive amount. Over the past 10 years the team has raised approximately $897,000, making Team Women in Mining one of the top fundraisers in the event's 15-year history. This year's team is now in a position to aim for and surpass a cumulative goal of $1 million. To achieve this in 2017, the WIM team needs to raise at least $110,000.
The mining press and mining associations have taken note of the team in the past, and now the general public is starting to hear more about the "little team that could". Check out a July 18 TV interview on CP24's breakfast program with two team members, Jane Werniuk and Geneviève Morinville, with Steve Merker from the Princess Margaret Cancer Foundation, http://bit.ly/2uUVOby, and please visit our team and personal stories at http://www.onewalk.ca/goto/womeninmining.
Numerous parallels can be drawn between mining for metals and mining for a cure. Discovering and developing a deposit with more precision is laborious, requiring lots of patience and dedicated effort. Targeting a deposit type requires an individualized approach. Similarly, providing a more personalized and targeted approach when treating patients highly improves their success in battling cancer. This is how Team Women in Mining has also approached its journey of raising a cumulative $1 million.
Funds raised by Team Women in Mining will go towards supporting Personalized Cancer Medicine, enabling world-leading clinicians and researchers to detect cancers earlier, diagnose with more precision, target treatment for each patient, and support patients and their families throughout their cancer journey. The collaborative environment provided at Princess Margaret among researchers and clinicians, truly contributes to its success as a top 5 cancer institute in the world.
Your support will bring Team Women in Mining one step closer to helping conquer cancer in our lifetime and of reaching its goal of raising a cumulative $1 million for the Princess Margaret Cancer Centre!
To follow the Women in Mining team's progress and to make an online donation, go to http://www.onewalk.ca/goto/womeninmining.
Further Information
For more information, contact team captain Geneviève Morinville call 647-288-8789 or email genevieve.morinville@erm.com.