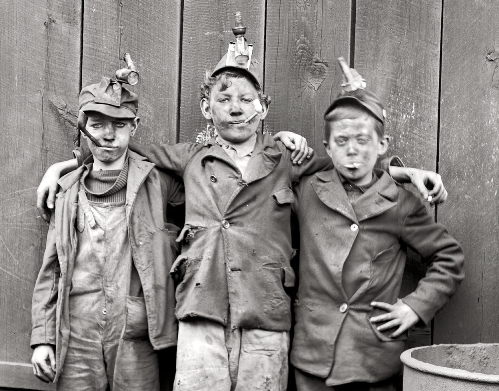 Like children in other late nineteenth and early twentieth-century Canadian communities, boys in colliery towns and villages worked.
"Long before your city boys are astir the pit boy is awakened by the steam whistles, which blow three long blasts at half-past five o'clock every morning, thus warning him that it is time to get up. Breakfast partaken of, he dons his pit clothes, usually a pair of indifferent-fitting duck trousers, generously patched, an old coat, and with a lighted tin lamp on the front of his cap, his tea and dinner cans securely fastened on his back, he is ready for work.
He must be at his post at 7 o'clock. Off he goes, and in a few minutes with a number of others, he is engaged in animated conversation, and having a high old time generally, as he is lowered on a riding rake to the bottom of the slope."
— Halifax Morning Chronicle, 4 December 1890
Like children in other late nineteenth and early twentieth century Canadian communities, boys in colliery towns and villages worked. Like other children also, these boys started to work at an early age. Even well after the turn of this century, according to mining historian Lynne Bowen, "if a boy who had lived in a coal town got tired of school and was anxious to make a little money, the obvious thing for him to do was to go to work in the mines.
If he was willing to lie a little and add a couple of years to his age, he could start to work at 13 or 14." A generation or two earlier, in the coalfields of Nova Scotia and British Columbia, boys as young as 8 laboured in Canadian mines.
Boys performed a variety of tasks at the Victorian colliery and constituted an important part of its labour force. In Nova Scotia, for instance, of a total mine workforce of five thousand in 1890, over eleven hundred were under 18 years of age. On the mine's surface boys were employed to clean miners' lamps, distribute picks, or run errands. They filled powder cans and tended mine animals—generally horses in Nova Scotia and mules in British Columbia. They sorted and cleaned the freshly mined coal.
The labour of boys was also useful underground. Although they were not actual miners—they did not cut coal—boys were indispensable to the transportation of the coal to the mine's surface and to the ventilation of the mine. The oldest boys were employed to load the newly cut coal in to the tubs used to transport it out of the mine; others worked as brakemen and landing-tenders, removing the filled tubs as they came down from the miners' workplaces and sending empty tubs back up.
Horses or mules, usually "driven" by boys aged between 13 and 16, were used to pull the tubs of coal to the slope. There, cage-runners were employed in attaching the tubs to the mechanical hoist or "rake" used in hauling them to the surface. The youngest mine employees, some as young as 8, were responsible for the vital yet excruciatingly tedious job of opening and closing ventilation doors called "traps". "Trappers" sat all day in darkness, opening their trap to allow the drivers and their cargo to pass them, closing it to channel air up into the workplaces.
Few legal impediments to the employment of boys in the mine existed until well into the nineteenth century. (Girls, or for that matter any female, were never employed at Canadian collieries.) In Nova Scotia, the only significant provincial restriction on boy labour in the mines was a minimum age of 10 established in 1873 and raised to 12 in 1891.
For the rest of this article, click here: http://www.canadashistory.ca/Explore/Business-Industry/Canada-s-Boy-Miners