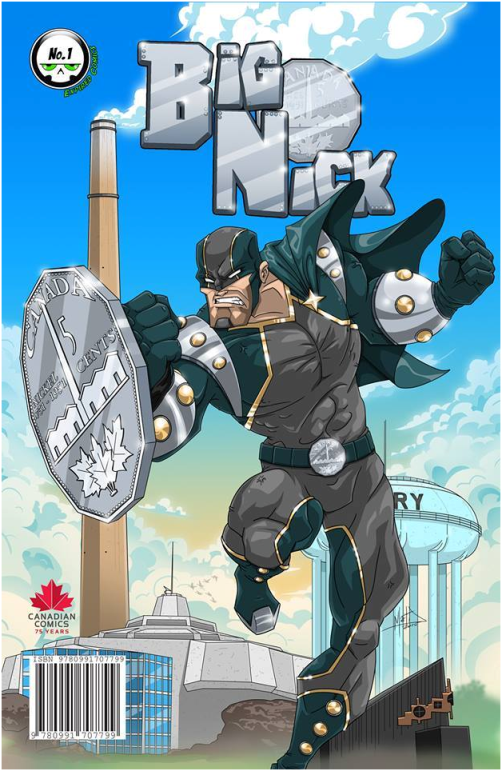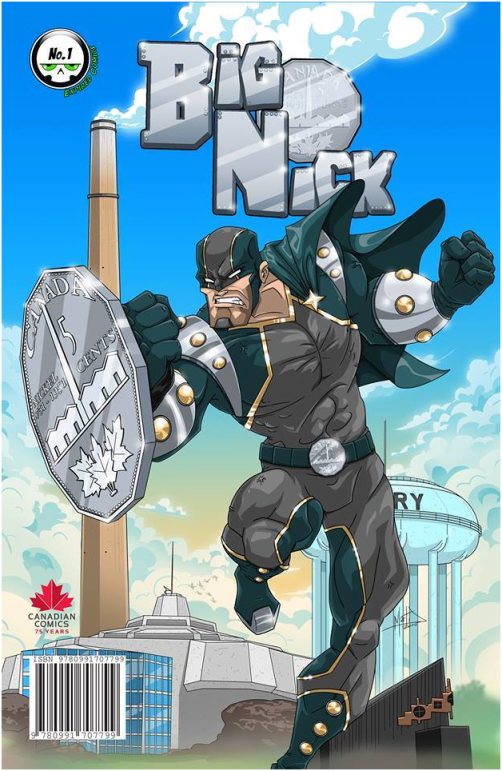 http://www.thesudburystar.com/
Click here to donate to their kickstarter initiative: https://www.kickstarter.com/projects/666555592/big-nick-2?ref=nav_search
Big Nick scarcely has time to celebrate keeping Sudbury and Canada safe before battling his latest subterranean scourge, the colossal Bedrock Titan, in the latest offering from Expired Comics.
Big Nick #2 follows the adventures of Sudbury's very own superhero, a former mine rescue worker trapped in a mine shaft, only to emerge 30 years later, not a day older, but armed with mysterious powers including the ability to grow so large he can wield the iconic Big Nickel as a shield.
"He can use it as a shield, the way Captain America would use his, only much larger," said Kevin Montpellier, the Chelmsford native who serves as lead writer and co-owner of Expired Comics, alongside artist Martin Deschatelets.
"Big Nick also has the ability to control minerals and rock, kind of like Magneto does with metals. He's pretty versatile and we don't know all of his powers yet, because if we decide we want him to be able to do something, he'll be able to do whatever it is we want him to do."
Big Nick is packed with action and infused with humour, all with a strong Northern Ontario flavour. In the first issue, the hero battles a robotic moose so huge it can swing another Sudbury landmark, the Superstack, like an oversized baseball bat.
"The first issue was an homage to Sudbury," Montpellier said. "There was a lot of Sudbury culture – we talked about porketta, we talked about the black bears, how they were all over the place. There was one panel where it's basically a shot of the Rainbow Centre and you have a bear on top of the Rainbow Centre.
"Everything we do is action comedy. If it's not funny, we don't want to produce anything like that. We want to make sure there's some humour to it."
Robotic moose defeated, the second comic begins with a ceremony where Big Nick is to be honoured with a monument, unaware he'll shortly be facing an even more powerful adversary.
For the rest of this article, click here: http://www.thesudburystar.com/2017/04/18/comics-hero-big-nick-pretty-versatile