PDAC 2017 Skookum Jim Award: Peter Moses from PDAC on Vimeo.
http://www.pendaproductions.com/ This video was produced by PENDA Productions, a full service production company specializing in Corporate Communications with a focus on Corporate Responsibility.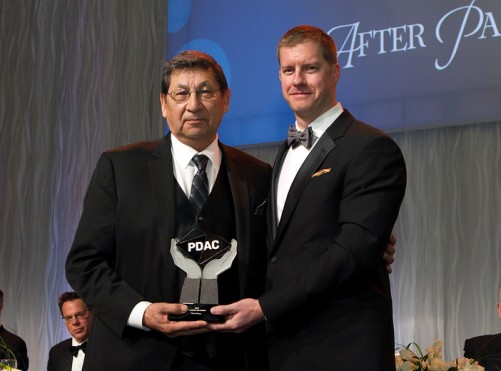 Recipients of this award have demonstrated exceptional achievement and/or service in a Canadian Aboriginal-run service business for the Canadian mining industry or a Canadian Aboriginal exploration or mining company, or have made a significant individual contribution to the mining industry.
Peter Moses: For his significant contribution to Canada's mineral exploration and mining industry through his work with companies, government, and Aboriginal communities over a career of more than 50 years.
Peter Moses is an active member of Canada's mineral exploration and mining community. His work as a prospector started early in life when he worked on the family's trapline. Learning from his father and grandfather, Peter's interest in geology grew and would eventually become the basis of a prolific career spanning more than four decades.
The industry is in Peter's blood. He is a fourth generation family member connected to exploration and mining, dating back to his great-grandfather in 1860. In 1964, Peter became one of the first members of his community to succeed in completing a post-secondary education. He began prospecting on his own and also partnering with local team members in the Pic River and Marathon region. Often, he led a prospecting team on extremely rugged terrain, including the North Shore of Lake Superior.
Over 35 years as a part-time prospector, Peter successfully promoted, negotiated and executed 34 option agreements between his partners and junior and major mining companies throughout Canada and the United States. Additionally, he provided prospector training, staking and geoscience (exploration) information workshops to 123 of the 134 First Nation communities in Ontario, as well as the Métis Nation of Ontario. He developed the entire curriculum with the support of other industry associations.
Peter is credited with fostering positive relationships between industry and Aboriginal communities. His impact transcends provincial boundaries, as he networks nationally within the Canadian Aboriginal Minerals Association (CAMA). Outside of CAMA, Peter works in partnership with various industry, government and First Nations organizations, such as PDAC, Northwestern Ontario Prospectors Association (NWOPA), Boreal Prospectors Association (BPA), the Ontario Prospectors Association (OPA), Ministry of Northern Development and Mines (MNDM), Nishnawbe-Aski Development Fund, Matawa Tribal Council, and Confederation College and Lakehead University.
Currently, Peter is the Mineral Development Information Officer for Matawa First Nations Management. Here he continues to build on the relationships and accomplishments of the past 50 years, providing perspective and advice on mineral development to the nine Matawa First Nation communities in Northern Ontario, including projects such as the Ring of Fire, Hard Rock Mine Project and the Albany Graphite Deposit.
Peter maintains membership and is an active participant in the OPA, NWOPA, PDAC, CAMA, and BPA. Past achievements include the Lifetime Achievement Award from Northwestern Ontario Prospectors Association in 2008, Ontario's Amethyst Award for Outstanding Achievements by Ontario Public Servants in 2009, team recipient of MNDM Group Award, and a Certificate of Appreciation by PDAC in 2009.