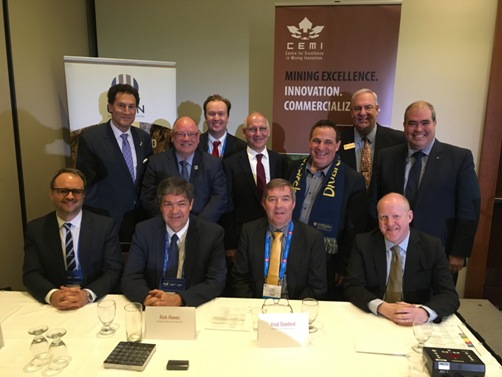 https://www.miningexcellence.ca/
Toronto, ON (March 6, 2017) – CEMI (Centre for Excellence in Mining Innovation) celebrates its 10-year anniversary of delivering innovations to the global mining industry to a packed house with a series of presentations and an Industry-led Panel at the Prospectors and Developers Association of Canada (PDAC) 2017 annual conference. The celebration highlighted CEMI's results and dedication to delivering technical solutions to the mining industry through innovation and commercialization.
Mark Cutifani, CEO, Anglo American, remarked "I was honoured to be part of a team comprising representatives from industry, government and academia that helped create CEMI. Under the leadership of Douglas Morrison, CEMI has continued to evolve to support the needs of the industry.
The most important transition has been the focus on innovation at the high end of the Technology Readiness scale. CEMI continues to work with a wide range of mining service and supply companies, academic institutions, SMEs, OEMs and start-ups to bring new products and services to the market and I am honoured to have been part of their genesis."
CEMI's objective is to help solve the mining industry's challenges by helping to sustain existing mines, to enable the development of new mines and improve the safety and environmental performance of the mining industry. For President & CEO, Douglas Morrison, "CEMI's current approach to innovation is best described as Targeted Innovation.
Our internal expertise and industry collaborators target a particular industry problem and we bring together and integrate the team that we think can develop a commercially viable solution in Canada and beyond." Some of CEMI's innovative programs and project highlighted at the event included results from the Smart Monitoring and Integrated Technologies (SUMIT) program, the Rio Tinto Centre for Underground Mine Construction (RTC-UMC) and the Ultra- Deep Mining Network (UDMN).
For Morrison, "Innovation means a change in the routine activities of a mining operation that result in a significant improvement in the economics of the operation. Innovation must either improve the Return on Investment (ROI), accelerate the time to first revenue from an ore-body, or reduce the up-front capital investment required to bring an ore-body into production. With declining grades, increasing depth, increasing remoteness from infrastructure and increasing public demand for greater safety and better environmental stewardship, implementing innovation is the only way for mines to secure the future of existing operations and make new mines economically viable. It also improves the return on investment of operations that are profitable; all mines have a reason to invest in the kind of innovation that CEMI delivers. "
CEMI's Panel of mining industry thought leaders and significant contributors to the global mining industry, shared their insights on: the "Dos & don'ts" of mining innovation; the benefits of collaboration; the importance of implementation; and the innovations the mining industry still needs to achieve for future success.
Moderated by TVO's The Agenda Steve Paikin, panelists included: Rick Howes, President & Chief Executive Officer, Dundee Precious Metals; Fred Stanford, President & CEO, Torex Gold Resources Inc.; Conor Spollen, Chief Operating Officer, Canada & UK, Vale Canada Limited; and Zachary Mayer, Manager, Mine Technical Services, Kidd Operations – Glencore Canada.
The Honorable Marc Serré, Member of Parliament for Nickel Belt, and guest speaker at the celebration said, "CEMI is a proven leader in mining innovation in Canada. CEMI's core advantage is its ability to coordinate the best teams in the world to close the Innovation and Commercialization gaps, both of which makes CEMI—and Canada—a leader in commercializing and implementing innovative processes and technology on a global scale. Congratulations to CEMI on delivering 10 years of mining innovation in Canada and around the world. Let us look forward to growing together for the next 10 years and beyond!"
About CEMI
CEMI – the Centre for Excellence in Mining Innovation is a national not-for-profit organization that directs and coordinates step-change innovation in the areas of exploration, deep mining, integrated mine engineering, underground mine construction and environment and sustainability for the metal mining industry.
CEMI engages in cross-sector collaboration with Canadian and global mining companies, universities & colleges, governments and innovative SMEs within the service and supply sector. With a seasoned team of program directors, CEMI identifies, assesses, and manages industry-focused applied research and business-led programs. www.cemi.ca
-30-
Contact for Media Relations:
Shannon Katary
Director of Marketing and Community Relations
Centre for Excellence in Mining Innovation (CEMI)
Ultra-Deep Mining Network (UDMN)
skatary@cemi.ca
705-673-6568 x 71
(c) 705-507-4842