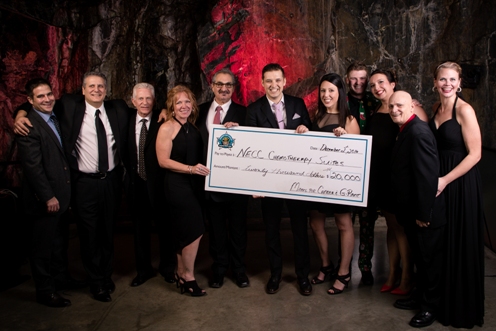 Sudbury, December 4th, 2016 – On Friday night, at the sixth annual Miners for Cancer Christmas Gala, local radio host and guest speaker G-Rant, from Newcap Radio's Hot 93.5FM morning show, announced on behalf of Miners for Cancer a $20,000 donation towards the Northeast Cancer Centre's Chemotherapy Suites.
In a bid to say thank you for bringing so much cancer awareness to the community through his willingness to share his own personal story, Miners for Cancer not only invited G-Rant to be the guest speaker at the sold out event, but also consulted with him on where the twenty thousand dollar donation should go.
"The Northeast Cancer Centre delivers world class treatment with world class health care practitioners but the chemotherapy suite looks anything but world class," says G-Rant. "This $20,000 will go a long way in changing that, in hopes of providing a better experience for the thousands of patients who come from all over Northern Ontario to receive treatment."
Steffany Bourque, Manager of Systemic Treatments and Daffodil Lodge at the Northeast Cancer Centre adds, "when patients are facing some of their darkest days, the chemo suite should be a welcoming place and a place of hope rather than a very medical and scary looking place. If we can have a patient come in and relax and take their mind off their treatment – if only for a moment – I believe we have made their cancer journey better. The donation to the chemo suite to better the patient experience is simply invaluable."
Since its inception, Miners for Cancer – a local charitable group made up solely of volunteers – has raised over $1 million dollars for vital cancer patient care, equipment and research at Sudbury's very own Northeast Cancer Centre.
For more information, contact:
Amanda (Mandy) Brosseau
Miners for Cancer, Vice-President
(705) 662-9791
amanda.brosseau@vale.com
Tannys Laughren
Executive Director, Northern Cancer Foundation
(705) 523-4673
tlaughren@hsnsudbury.ca