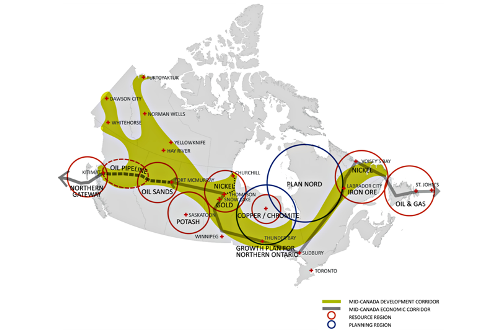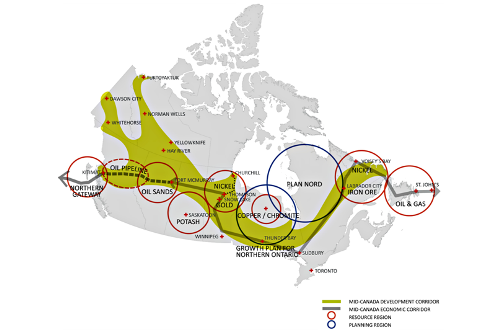 Ontario's north is vast, underpopulated, and crying out for infrastructure spending, as communities and First Nations in the north do without reliable energy, road, and water connections. But a new paper from the University of Calgary says Ontario and all other provinces have been building north-south connections to their hinterland when they should have been thinking east-west—and bigger.
It's variously called the northern corridor, the mid-Canada corridor or simply the corridor, but the concept is relatively straightforward, if a bit grandiose: a new east-west road, rail, and energy artery in the country's north. It would reach from the Pacific coast, across the west, through Ontario's James Bay lowlands, and east to Atlantic ports.
Proposed in various forms since the 1960s [mid-Canada corridor], the corridor idea got more prominence in an article in The Walrus in 2014 by John van Nostrand of the Toronto planning and design firm SvN. Now, a new paper from the University of Calgary's School of Public Policy agrees with van Nostrand, saying it's time to give the idea serious study again. In part that's because of increased political attention to the difficulties of moving Albertan oil south via pipelines. But the Ring of Fire, a large mineral deposit in Ontario's northwest, is another potential beneficiary.
"It's still very speculative, absolutely," says Kent Fellows, research associate at the University of Calgary. "But I think the Ring of Fire is a great place to start because of the work that's been done already and because of the private sector support there."
The idea of mining the nickel and chromite in the Ring of Fire has had substantial political support since their discovery last decade, but getting infrastructure built into the remote region has taken longer than expected. Early optimism about the Ring of Fire being "Ontario's oilsands" and leading a boom in the north has given way to skepticism about how long it's taking to approve and fund a land route there, either by road or rail.
That said, the provincial and federal governments are still committed to funding infrastructure in the north, and it's not just the Ring of Fire: Ontario and Ottawa are exploring how to bring reliable electricity to remote First Nations, and the province is exploring how to expand natural gas access in the north as well.
"The idea is to get out ahead of this with planned infrastructure in the north, instead of the hodge-podge we have now," Fellows adds.
The distinction between "planned" and "hodge-podge" development is key: provinces have spent large sums of money on big projects in their north, whether it's the oil sands in Alberta or Quebec's James Bay hydroelectric dams. What's been missing, says Fellows, is a coherent national plan for the north. The choice has economic and environmental costs.
For the rest of this article, click here: http://tvo.org/article/current-affairs/the-next-ontario/does-ontario-need-a-cohesive-national-plan-for-northern-infrastructure?utm_source=twitter&utm_medium=social&utm_campaign=theagenda