PDAC 2016 – Viola MacMillan – Silver Wheaton from PENDA Productions on Vimeo.
http://www.pendaproductions.com/ This video was produced by PENDA Productions, a full service production company specializing in Corporate Communications with a focus on Corporate Responsibility.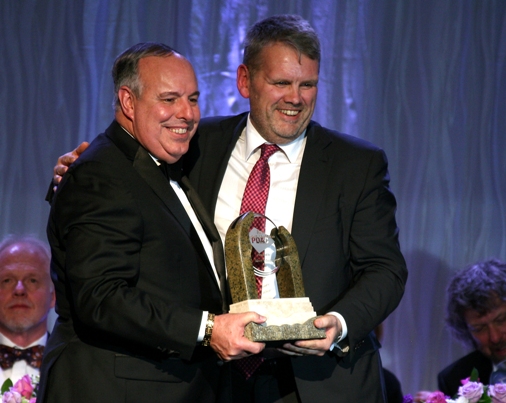 This award, which is named in honour of the PDAC's longest serving president, is given to (a) person(s) who has/have demonstrated leadership in management and financing for the exploration and development of mineral resources.
Silver Wheaton Corp.: For developing new and innovative business strategies that are a leading example for other companies and junior miners to follow.
Chap Mercantile changed its name to Silver Wheaton Corporation in July 2004, becoming a new and innovative type of publicly- traded company within the mining industry. Silver Wheaton's business strategy portrays characteristics of a metal producer, a royalty owner, and has features of a corporate finance group.
This structure allows Silver Wheaton direct ownership of metal in the ground, receipt of that metal upon production, and the ability to sell it to generate cash flow, all the while minimizing corporate overhead costs and maintaining a streamlined management structure. Similar companies have since started to follow this example.
Because their business model acquires metal in advance of production, using funds often designated to finance capital projects like mine construction, the market looked at the business mechanism employed by Silver Wheaton as a new type of project or corporate financing instrument.
Since 2004, Silver Wheaton has built a strong brand and set an example of how to make their business strategy one of the preferred methods for the junior sector to finance a mine. Creating a metal production stream has provided funds to under-capitalized companies while minimizing shareholder dilution, an important factor in times when share price is depressed due to market conditions.
Corporate executives and their financial advisors recognized this feature. As a result, the company grew quite rapidly and, by the end of 2005, Silver Wheaton looked to produce and sell more than 9.5 million ounces of silver and by the end of 2006, the number would grow to over 10 million ounces.
Silver Wheaton is now positioned as the largest precious metal streaming company in the world.