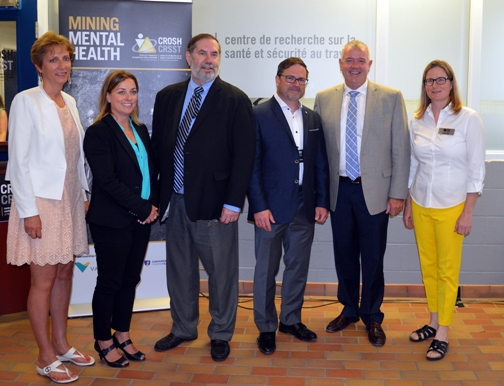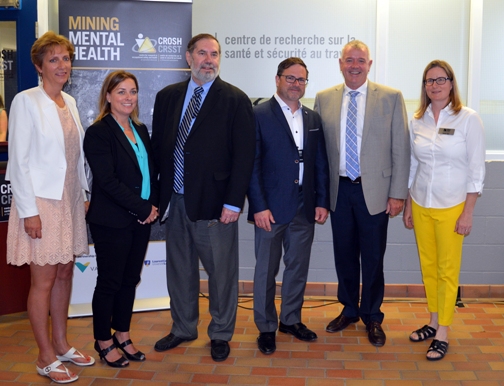 SUDBURY, ON (July 23, 2015) – Today Vale and the United Steelworkers, in partnership with the Centre for Research in Occupational Safety and Health (CROSH) at Laurentian University, announced a groundbreaking new research project on the topic of mental health in the mining industry.
The aim of the 3-year study, called 'Mining Mental Health', is to gain vital information in order to develop key strategies that promote the best possible mental health for workers at Vale's Ontario Operations. In addition, this study will contribute substantially to the body of research to help others in the mining industry and similar sectors to develop evidence-based practices that effectively promote positive mental health.
Ontario Minister of Labour, Kevin Flynn, applauded the partners for taking a proactive role in addressing mental health issues through this study.
"Good employers recognize the importance of keeping their people physically safe and healthy on the job, and great employers are taking the next step to ensure their workplaces promote psychological safety and well-being," said Minister Flynn. "Vale is becoming a leader in this area, and I want to thank them for supporting this research project and taking mental health in the workplace seriously. I hope to see many companies follow their lead."
Existing data suggests that the percentage of disability claims in Canada attributable to mental health problems is estimated at 78% of short-term claims and 67% of long-term claims. At Vale's Ontario Operations, approximately one in four of all disability claims are due to mental health problems.
"In order to build an effective mental health management system, it is vital to understand the predictors, facilitators and barriers to good mental health at our operations and in our industry," said Jody Kuzenko, Director of Vale's Ontario Production Services and member of the CROSH Board. "We are proud to be taking a leading role through this research, in partnership with the United Steelworkers and Laurentian University, to help contribute to the well-being of our workers."
"Mental health, especially as it relates to workers in an industrial setting, has long been an overlooked and underfunded area of research, which is why this study is so important," said Leo Gerard, International President of the United Steelworkers and Chair of the CROSH Advisory Board.
"I'm pleased and excited that the USW, Vale and CROSH are coming together in such a concrete and meaningful way to try to tackle this issue and reduce the suffering and effects of poor mental health on workers and their families."
The project will use a comprehensive survey to sample workers from all occupational groups across Vale's Ontario Operations. A multidisciplinary research team from CROSH will be led by Dr. Michel Larivière, clinical psychologist and Associate Director at CROSH. The team will work closely with the Vale/USW Joint Occupational Health Committee (JOHC) in all phases of the project from survey development to the presentation of findings.
"To date there has been little research on the mental health and well-being of workers in the mining industry. However, there is good evidence linking these issues to productivity, absenteeism, injury, and most importantly, quality of life," said Dr. Larivière. "Through this collaborative research, we hope to better understand the well-being of this workforce. Our findings may help to shape policies and procedures that are most conducive to worker well-being in mining and in other industries."
The research team also includes postdoctoral fellows, as well as graduate and undergraduate students. The cost of the study is estimated at approximately $400,000.
Contacts:
Angie Robson
Manager, Corporate and Aboriginal Affairs, Vale (Ontario Operations)
(705) 682-5202
angie.robson@vale.com
Bob Gallagher
Communications Director, United Steelworkers (Canada)
416-544-5966
bgallagher@usw.ca
Dr. Michel A.S. Larivière, C.Psych. Clinical Psychologist & Associate Director,
Center for Research in Occupational Safety and Health (705) 675-1151 ext. 1202
mlariviere@laurentian.ca
Joanne Musico Director, Communications, Laurentian University Tel: 705-675-1151 ext. 3445 jmusico@laurentian.ca