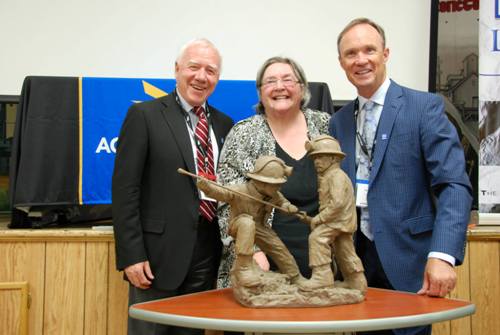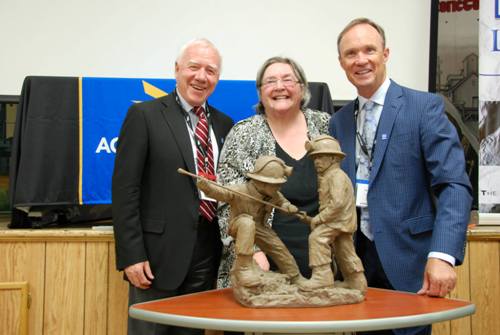 Fund to Support the Preservation of Cobalt's Historical Past and Cultural Heritage
Cobalt, Ontario; June 4, 2015 – Agnico Eagle Mines Limited (NYSE:AEM; TSX:AEM) ("Agnico Eagle" or the "Company") is pleased to announce that it has pledged a $1 Million Gift to the Historic Cobalt Legacy Fund. The announcement was made earlier today in the Town of Cobalt at a ceremony honouring former employees of Agnico Eagle's Cobalt silver division.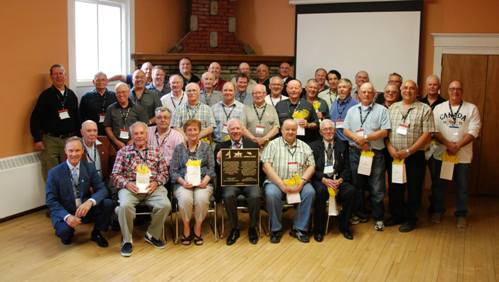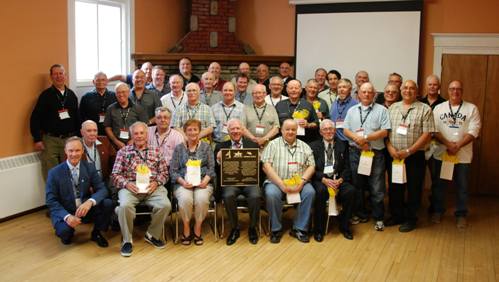 "We are very pleased to make this contribution in honour of Agnico Eagle's founder Paul Penna, as well as on behalf of all the men and women whose commitment, perseverance and spirit helped to transform Agnico Eagle into a leading international gold mining company", said Sean Boyd, Agnico Eagle's Chief Executive Officer. "Cobalt is the foundation of our Company and as many of our former silver division employees remain in the region, they will continue to benefit from the preservation of these important cultural and community organizations."
The Historic Cobalt Legacy Fund was established in 2014 as an endowment fund aimed at preserving Cobalt's historical past and cultural heritage. Revenues from Agnico Eagle's gift of $1 million will be designated to support the Cobalt Public Library along with providing annual operating grants to various cultural and heritage organizations that includes the Cobalt Mining Museum, the Bunker Military Museum of Cobalt, the Classic Theatre of Cobalt and the Cobalt Heritage Silver Trail.
"The Historic Cobalt Legacy Fund committee is very excited that Agnico Eagle has come on board with this major contribution", said Jack Birtch, Chairman of the Historic Cobalt Legacy Fund. "Agnico Eagle has a long history of being a good corporate citizen in Cobalt.
This contribution will help ensure the sustainability of very important historical and cultural organisations that contribute to the unique character of this historic community."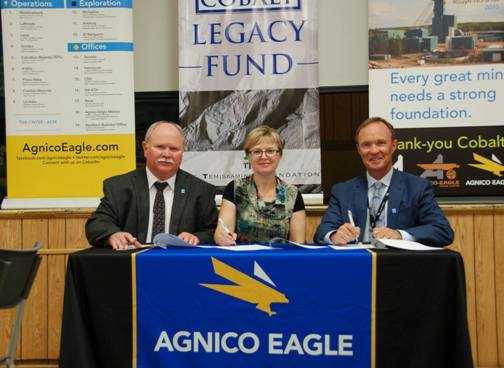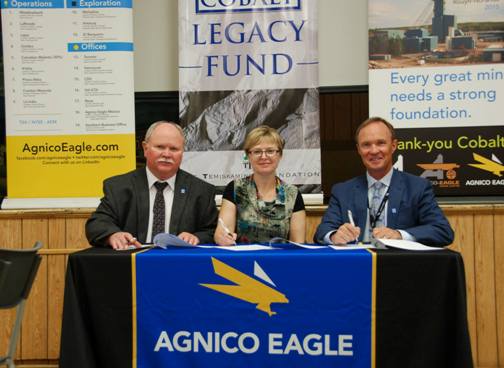 Often referred to as the "Cradle of Canadian Mining", Cobalt helped to define the Canadian mining industry and Agnico Eagle's history is closely tied to Cobalt with the creation of the Cobalt Consolidated Mining Company in 1953 and later became Agnico Mines Limited in 1957.
Mayor Tina Sartoretto commented, "The Town of Cobalt has enjoyed a long-standing positive relationship with Agnico Eagle. Many of the former employees still live in the area and have many fond memories of working with what is now an international mining company. It is remarkable that Agnico Eagle has never forgotten its roots or the men and women on whose shoulders the company now stands. I want to take this opportunity to thank them for this noteworthy contribution to the Historical Cobalt Legacy Fund."
Agnico Eagle's mining activities in Cobalt ceased in 1989 after producing more than 26 million ounces of silver between 1957 and 1989. The Company's current activities include post-closure monitoring and maintenance activities at its previous mine site and properties in the Cobalt and Coleman area. The Company is also in the process of updating and resubmitting the closure plans for its Cobalt-Coleman properties and plans to complete this process by 2017.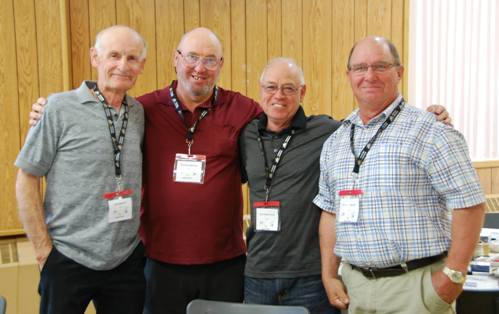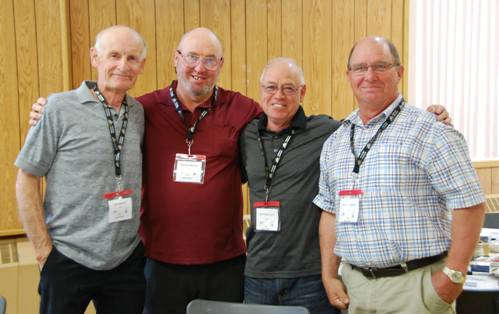 About Agnico Eagle
Agnico Eagle is a senior Canadian gold mining company that has produced precious metals since 1957. Its eight mines are located in Canada, Finland and Mexico, with exploration and development activities in each of these countries as well as in the United States. The Company and its shareholders have full exposure to gold prices due to its long-standing policy of no forward gold sales. Agnico Eagle has declared a cash dividend every year since 1983.
About the Historic Cobalt Legacy Fund
The Historic Cobalt Legacy Fund started in 2014, and it has been established with The Temiskaming Foundation as an endowment fund that will provide support indefinitely to Cobalt's historic, cultural and quality of life endeavours.
About Cobalt
Cobalt, known as the Cradle of Canadian Mining, was designated a Parks Canada National Historic Site in 2002. Cobalt played a decisive role in the evolution of hard-rock mining in Canada. Between 1903 and the 1920's, the district's rich silver veins triggered a mining boom which attracted international attention. Ultimately, the operations at Cobalt established a cadre of mining professionals and a pool of capital which sparked further mining exploration and proved invaluable in the development of large-scale gold and copper mining in Ontario and Quebec.
-30-
For additional information, please contact:
Dale Coffin Corporate Director, Communications & Public Affairs Agnico Eagle dale.coffin@agnicoeagle.com
T: 416-847-8669 M: 647-274-4154
Jack Birtch
Chairman, Historic Cobalt Legacy Fund
T: 705- 647-5171
Tina Sartoretto
Mayor, Town of Cobalt
T: 705-679-8877
(RepublicOfMining.com) For a history of Agnico-Eagle (1953 to 2005) click here: 
http://republicofmining.com/2011/06/17/agnico-eagle-mines-limited-company-history-1953-2005-international-directory-of-company-histories/
(RepublicOfMining.com) To find out where the Cobalt Silver Boom belongs in the top ten mining events of Northern Ontario history, click here:
http://republicofmining.com/2014/03/22/top-ten-mining-events-in-northern-ontario-history-by-stan-sudol-march-22-2014/