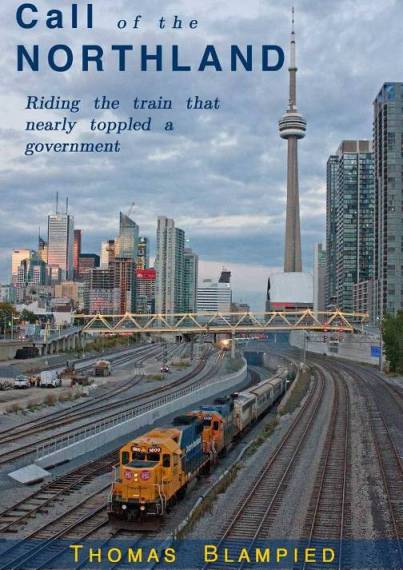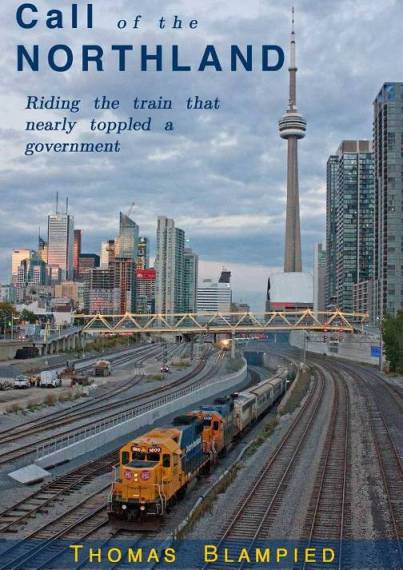 To order a copy of Call of the Northland: Riding the Train That Nearly Toppled a Government, click here: http://www.northland-book.net/buy.html
Historian, author and photographer Thomas Blampied has been interested in railways for as long as he can remember. Growing up east of Toronto, he spent summer evenings sitting trackside with his father watching streamlined VIA trains race past and long freight trains rumble by. From these early railway experiences grew a lifelong passion for railways and rail travel which has manifested itself through model railroading, photography, writing, railway preservation and the academic study of railway history. This is his fourth book about railways in Ontario. He has studied in both Canada and the United Kingdom and currently resides in Southern Ontario.
Chapter 14: Transformation
After a year of no Northlander service, very little else had changed in the divestment saga. While Michael Gravelle was on record as stating that divestment was not the only option, the continued indecision and lack of transparency did not lend credibility to the government's new position. For his part, Vic Fedeli was especially frustrated that documents related to divestment remained restricted. Meanwhile, the future of the 'Ring of Fire' appeared even less rosy.
Having failed in its request for an easement, Cliffs Natural Resources decided to appeal the decision, a move which would mean years of court proceedings. As Cliffs prepared for the long-haul, passengers on the ONTC's buses gave up travelling at Thanksgiving as it was standing room only for a second year running, with even the most determined passengers opting to try to travel another day in the hopes of getting a seat.
The divestment was only one of many concerns in the north. To local leaders, the plight of the ONTC was symptomatic of wider problems in the region. While resource extraction continued across the north, raw material was increasingly being moved out of the province to be processed in other jurisdictions with cheaper energy costs. As well as the cost of energy, the lack of education, infrastructure funding and provincial unity were pressing concerns. These issues, and the sluggish development in the 'Ring of Fire,' topped the list as northern leaders sought to increase dialogue with Queen's Park.
In the legislature, the opposition parties accused the Liberals of ignoring the potential the 'Ring of Fire' offered. Their concerns were real; mining companies are not known for their patience and Cliffs' was wearing thin. While they had decided to appeal the refusal of an easement to their deposits, Cliffs now wanted the government to help them build a road north or the company might walk away, putting the whole project in jeopardy. To make matters worse, Native groups were now complaining that they had not been consulted over the use of some of the land in question. Cliffs' headache was only getting worse.
Sensing the trouble, the Timmins Chamber of Commerce lobbied its national counterpart (the Canadian Chamber of Commerce) to push the federal government to help the 'Ring of Fire' development to move forward. Perhaps the greatest unease was felt in Greater Sudbury, which was earmarked to receive a chromite smelting facility in Capreol. Sudbury's Mayor, Marianne Matichuk asked the provincial government to ensure that a sound transportation link was established to make sure that the 'Ring of Fire' project would actually happen.
Premier Kathleen Wynne responded in two ways. Firstly, she officially requested federal funding to help build a transport link to the 'Ring of Fire,' citing the precedent of Ottawa's help in other provinces, such as Alberta's lucrative oil sands. Her second move was the creation of a development corporation for the 'Ring of Fire.' This was seen as a way of moving forward towards the Ministerial Advisory Committee's recommendation to halt divestment and focus on restructuring the ONTC instead.
The corporation's role was to "build infrastructure and settle all the squabbling in the Ring of Fire."1 The move was also seen as a recognition that the 'Ring of Fire' was important to Ontario and in need of government help. Opponents of divestment, including the ONTC unions, hoped that there would be room for the ONTC in the 'Ring of Fire' project. Native groups also saw the move as a recognition of their important role in northern development. But the leaders of the Nishnawbe Aski Nation were still concerned, feeling that the 'Ring of Fire' development corporation was paternalistic and put in place without their input.
Despite the positive news of a government corporation, Cliffs had had enough. In mid-November, the mining company announced that no more of its money would go into the 'Ring of Fire' and that its exploration camp, as well as its Thunder Bay and Toronto offices, would close. While not pulling out entirely, Cliffs' activities were suspended indefinitely. The news was disappointing, but also a "wake-up call."2 The 'Ring of Fire' wouldn't mine itself and companies did not have infinite patience. Trying to find the silver lining, Rick Bartolucci (MPP for Sudbury), emphasized that Cliffs' actions were a suspension of its plans, rather than outright abandonment, but Cliffs' office closures did not bode well for the 'Ring of Fire,' even if the other claim-holders in the region did remain committed.
Bartolucci was still optimistic about Capreol's refinery too, vowing to "not end [his] political career with [Cliffs'] project leaving Sudbury."3 Yet, with no chromite being mined, no facility would be needed. Perhaps as a case of sour grapes, Claude Gravelle (MP for Nickel Belt), criticized Cliffs for its lack of consultation with northern and Native groups, a mistake commonly made by "foreign companies."4 It wasn't all Cliffs' fault though; the MP also criticized the provincial and federal governments for their lack of involvement.
It seemed that Ottawa wanted to keep it that way too. While northern MPs wanted to help, Prime Minister Stephen Harper was adamant that the federal government would not help the stalled mining project. He thought it was a provincial issue. However, Ontario's Native people were key players in the 'Ring of Fire.' By pulling away from the plan, so provincial Minister Michael Gravelle claimed, Ottawa was ignoring Native people who clearly fell under federal jurisdiction.
1. "Ontario looks to settle Ring of Fire squabbling," Northern Life, November 8, 2013, <http://www.northernlife.ca/news/localNews/2013/11/08-ring-of-fire-sudbury.aspx>.
2. "Cliffs suspends Ring of Fire project in northern Ontario," CBC News, November 21, 2013, <http://www.cbc.ca/news/canada/thunder-bay/cliffs-suspends-ring-of-fire-project-in-northern-ontario-1.2434628>.
3. "Bartolucci vows he will not let refinery project fail," Northern Life, November 20, 2013, <www.northernlife.ca/news/localNews/2013/11/20-bartolucci-ring-of-fire-sudbury.aspx>.
4. "Bartolucci vows refinery will be built in Capreol," Northern Ontario Business, November 21, 2013, <http://www.northernontariobusiness.com/Industry-News/mining/2013/11/Bartolucci-vows-refinery-will-be-built-in-Capreol.aspx>.