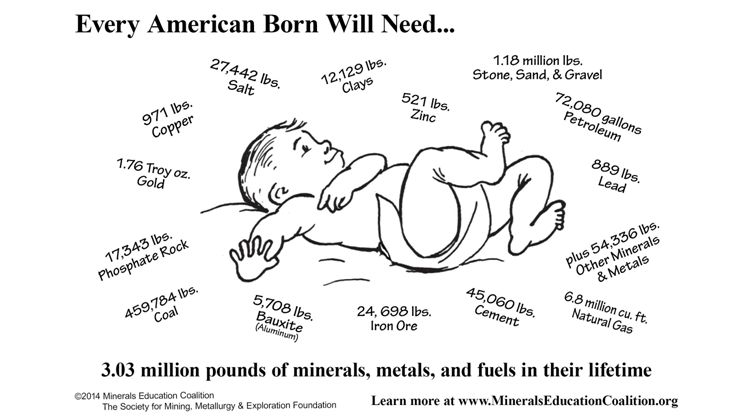 The projected lifetime consumption of metals and minerals by today's U.S. baby extrapolated across the world presents an enormous challenge for the global resource sector.
LONDON (MINEWEB) – That seemingly unstoppable Juggernaut of consumption, the USA, ever continues to increase its demand for metals and minerals – an annual growth rate in likely demand that is certainly being exceeded in developing nations as they aspire to an ever improving lifestyle.
This will put increasing pressures on the global resource industries to keep up with demand as economic mineral deposits are perhaps becoming ever scarcer, although extraction technologies are almost certainly improving.
On this subject, the Minerals Education Coalition (MEC) of the Society for Mining, Metallurgy & Exploration, the U.S.'s professional body for mining engineers, metallurgists and exploration geologists (SME) has thus just released the 2014 "Minerals Baby" graphic. Each year, the amount of metals, minerals and energy fuels needed for the average American is incorporated into this iconic graphic. This year's statistics reflect an increase of more than 24,000 lbs during a lifetime when compared with the previous year's per capita usage.
The SME is keen to disseminate this graphic to a broad audience as it serves to emphasise to the American public how important the resource industry is to their way of life. Commenting on this, the SME's Executive Director, David Kanagy, says "This annual, easy-to-read visual is used by a variety of nontechnical audiences, from educators in K-12 classroom activities, to congressional committees when referencing the need for legislative changes to federal policies that affect our mineral needs – from basic living to national defence.
The value of producing this graphic is that it reminds all of us of the important role minerals have in our lives and lifestyles."
The graphic is produced using information provided by the U.S. Geological Survey, the National Mining Association, the U.S. Energy Information Administration, the U.S. Census Bureau and other sources, the MEC calculates the amount of minerals and energy fuels that are consumed in the average lifetime of an American born in the current year.
For the rest of this article, click here: http://www.mineweb.com/mineweb/content/en/mineweb-political-economy?oid=251711&sn=Detail