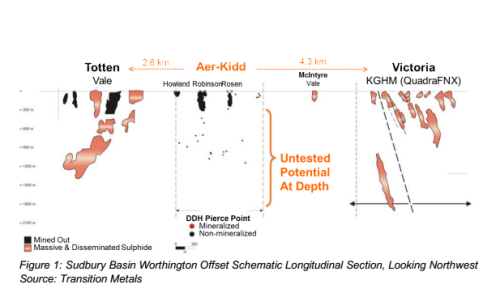 Reminder: RNC will host a conference call/webcast today at 11:00 a.m. (Eastern time) to provide a nickel market update and discuss recent RNC news (access information below)
TORONTO, April 14, 2014 /CNW/ – Royal Nickel Corporation ("RNC") (TSX: RNX) is pleased to announce it has gained exposure to the highly prospective Aer-Kidd nickel-copper-platinum group metals project in Sudbury through the acquisition of a 25% interest in Sudbury Platinum Corporation ("SPC") for a consideration of CDN$1.5 million.
SPC, a private subsidiary of Transition Metals Corp., holds an option to earn up to 70% of the Aer-Kidd property.
"Opportunities to participate in compelling Sudbury area sulphide exploration plays such as Aer-Kidd are rare and I am pleased that RNC will gain exposure to the upside potential of this promising project. I am very enthusiastic about Aer-Kidd's untested potential at depth given its location on the Worthington offset dyke between known high grade Ni-Cu-PGE resources at the Totten mine (Vale) and the Victoria project (KGHM)," said Mark Selby, interim President and CEO of Royal Nickel Corporation. "The SPC management team, led by Scott McLean, has a track record of consistent exploration success in the Sudbury Basin such as discovering Glencore's Nickel Rim South mine. Adding exposure to Aer-Kidd's exploration potential is an excellent complement to our core asset, the Dumont Nickel Project, at a time when I believe there is significant upside for nickel prices as we enter a period of structural shortage in nickel supply."
Scott McLean, President and CEO of Transition Metals stated "We are pleased to partner with Royal Nickel on this project through our shared ownership in Sudbury Platinum. We are looking forward to advancing this opportunity aggressively in 2014."
Aer-Kidd Project
Aer-Kidd is a 280 hectare property covering approximately 1.3 kilometres of the Worthington Offset (Worthington offset) Dyke located near Worthington, Ontario in the Sudbury Basin area. Past production on the Aer-Kidd property has come from numerous shallow underground and surface workings (Howland Pit, Rosen and Robinson Deposits).
The Aer-Kidd property is located centrally between two significant known resources also on the Worthington offset, Vale's Totten mine (10.1 million tonnes grading 1.5% Ni, 1.97% Cu, 4.8g/t PGM)1 and KGHM's Victoria project (14.5 million tonnes grading 2.5% Ni, 2.5% Cu, 7.6 g/t PGM)2.
_______________________________
1 Resource reported by Inco Limited in news release dated January 18, 2001
2 Resource reported by KGHM in news release dated January 16, 2012
At Aer-Kidd, there has not been any significant testing of mineralization at depth as shown in figure 1 below.
The disclosure of the technical information contained in this news release has been approved by Alger St-Jean, P. Geo., Vice President Exploration of RNC, and a Qualified Person under NI 43-101.
RNC's Investment in SPC
Under the terms of the investment, RNC has acquired 6 million units of SPC ("Unit") at a price of CDN$0.25 per Unit representing a total consideration of CDN$1.5 million. Each Unit consists of one (1) SPC common share ("Common Share") and one (1) SPC common share purchase warrant ("Warrant"). Each Warrant entitles the holder to acquire one (1) Common Share of SPC for a period of eighteen (18) months from the date of issue, at an exercise price of $0.45 per share. Currently, SPC's main asset is an option to earn up to 70% interest in the Aer-Kidd property which is 100%-owned by Canickel Mining Company Limited.
Additional Information:
Provided RNC holds at least a 10% equity position in SPC, RNC will have a pre-emptive right to maintain its pro rata share position on all subsequent equity financings for a period of 18 months from the closing of the financing.
Provided RNC holds more than 15% of the equity of SPC, it is entitled to appoint one director to the SPC board.
Conference Call
Royal Nickel will be hosting a conference call and webcast today to provide a nickel market update and discuss recent RNC news beginning at 11:00 a.m. (Eastern time).
Live Conference Call and Webcast Access Information:
North American callers please dial: 1-888-231-8191
Local and international callers please dial: 647-427-7450
A live webcast of the call will be available through CNW Group's website at: www.newswire.ca/en/webcast/index.cgi
A recording of the conference call will be available for replay for a one week period beginning at approximately 1:00 p.m. (Eastern Time) on April 14, 2014, and can be accessed as follows:
North American callers please dial: 1-855-859-2056; Pass Code: 19639186
Local and international callers please dial: 416-849-0833; Pass Code: 19639186
About Sudbury Platinum Corp
Sudbury Platinum Corp is a Canadian private corporation focused on exploring for nickel, copper and platinum group metals in the Sudbury Area. The company is exploring the Aer-Kidd property, an advanced exploration property located on the prospective Worthington Offset dyke in the heart of the Sudbury mining camp, and holds a 100% interest in the Owen Nickel property. The company vision is to become a mine developer in the Sudbury district. Additional information regarding the company and project can be found on the Sudbury Platinum Corp Web Site.
About Royal Nickel Corporation
Royal Nickel Corporation is a mineral resource company focused primarily on the acquisition, exploration, evaluation and development of base metal and platinum group metal properties. RNC's principal asset is the Dumont Nickel Project strategically located in the established Abitibi mining camp, in the municipalities of Launay and Trécesson, 25 kilometres northwest of Amos, Quebec. RNC has a strong management team and Board with over 100 years of mining experience in the nickel business at Inco and Falconbridge. RNC's common shares trade on the TSX under the symbol RNX.
Cautionary Statement Concerning Forward-Looking Statements, click here for full statement and original news release: http://www.newswire.ca/en/story/1338435/royal-nickel-gains-exposure-to-the-drill-ready-aer-kidd-ni-cu-pge-project-in-sudbury-basin
Information Concerning Aer Kidd and Neighbouring Properties:
Information concerning Aer-Kidd and neighbouring properties in this news release is taken from sources, some of which are historical, that RNC believes to be reliable, but RNC has not verified the information and does not assume responsibility for such third party information.
SOURCE Royal Nickel Corporation
PDF available at: http://stream1.newswire.ca/media/2014/04/14/20140414_C9631_DOC_EN_39181.pdf
For further information:
Rob Buchanan
Director, Investor Relations
T: (416) 363-0649
www.royalnickel.com
Mélanie Corriveau (French contact)
Community Relations Coordinator
T: (819) 727-3777