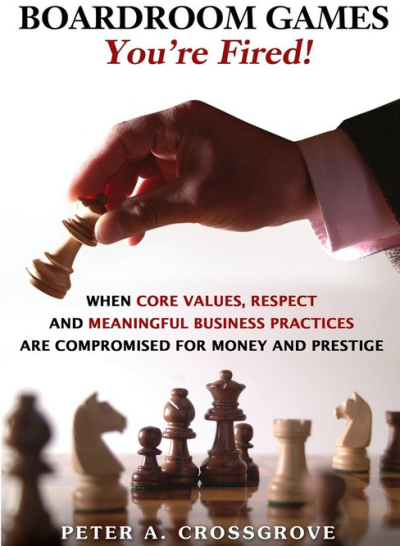 To order a copy of From Boardroom Games: You're Fired, click here: http://amzn.to/1pA7i7q or here: http://bit.ly/OYexer
For a three part BNN interview with Peter Crossgrove, click here:
http://watch.bnn.ca/#clip1071973
http://watch.bnn.ca/#clip1071974
http://watch.bnn.ca/#clip1071978
Sudbury-born Peter A. Crossgrove and another partner invested in Interior Door, a private company that became Masonite, a public company sold to KKR for $3.2 billion in 2004. Peter's mining and boardroom experiences are indelibly etched real-life scenarios—humorous and thought provoking. Having served on close to seventy mining, corporate, and not-for-profit boards, armed with a sense of humour, dignity, dogged determination, and humility, Peter has challenged boardroom antics and relationship intricacies with the skill-sets and values he was raised with.
Excerpt from "Boardroom Games: You're Fired!" – Mining and Country Risk
Investing in Canadian Mines
There is very little country risk in investing in mines in Canada. I am co-Chairman of Detour Gold, which is in pre-commissioning at the moment. Detour is being built on time, will open on time, and is on budget. It will be Canada's largest gold mine. Every senior employee from the CEO down is an ex-Barrick employee. The mine is located north of Cochrane and south of James Bay—not an easy environment. Since they have 720 square kilometers of land that the mine sits on, I am sure the output and mine life will grow. This is the same mine that I was on the board of when it was a small fly-in-fly-out underground mine, and that was about thirty years ago. This is the same mine they wanted to close when I was running Placer Dome. I insisted they send in exploration geologists and they found more ore. About ten years later they did shut it down.
Pelangio Exploration: A Professional Board
Ingrid Hibbard, who grew up in Timmins and became a lawyer and is the daughter of a prospector, inherited the property from her father. WhenPlacer walked away, her father re-staked it. Ingrid formed a company called Pelangio Mining (now Pelangio Exploration). She sold a majority to an exploration geologist Gerald Panneton, who had previously been with Barrick. Her company kept a large interest in Detour. Just after that I came on her board.
I was interested because they have an excellent property just across the border in Ghana from where I had worked in Cote d'Ivoire, plus a couple of her directors were friends of mine from Sudbury. Ghana, a former British Colony, is a safe and good country to operate a mine in. There are several large mines operating there. Ingrid's company owns most of the property on a geological trend between two of them. Eric Kallio, who was working for Pelangio on the Detour property, said the approach was wrong. He said the mine should be a large open pit mine. He was right. Eric is now the Chief Geologist for Lake Shore Gold in Timmins.
Not only is every person in the management of Detour a former Barrick employee, but the board technical committee is chaired by Louis Dionne and with Graham Wozniak, Robert Doyle, and myself. And all of us have been involved with Barrick. The committee meets monthly at the project manager's call. The project manager is Pierre Baudoin from Barrick. These meetings force the contractors and management to fully assess their monthly status and to add horsepower when required. Pierre uses it as a management tool with his direct report and that of the contractors.
The CEO Gerald Panneton is more passionate than Peter Munk, and I didn't think anyone could be. I really didn't know him when he was at Barrick. He is very bright with a Masters in Geology from McGill. He's a motivator who is well liked and respected by the employees because they know how hard he works. Many on the Board of Directors of Detour are experienced in the operating side of the mining business.
Lake Shore Gold Corp: Timmins Ontario
My involvement in Lake Shore Gold Corp. came through a long association with a company called Band-Ore Resources Inc. Thor Eaton came on board a few years before Band-Ore merged with West Timmins and was running low on funds. Band-Ore was merged with West Timmins and eventually West Timmins was merged with Lake Shore Gold. Thor funded West Timmins by buying the majority of their equity issues and flow-through share issues when no one else would because he liked and believed in Wayne O'Connor. He did this so they could continue to explore. After about twelve years he eventually had a pay-off and made some money when the merged Band-Ore/West Timmins was sold to Lake Shore Gold. I was on their board for about twenty years. Band-Ore sure had its highs and lows. The stock varied from twelve dollars to only pennies depending on what they were hitting on in their exploration drilling.
Their work was in the Timmins area and the late Wayne J. O'Connor the CEO (Chairman and Director of West Timmins Mining Inc. since 2006 and Director of Lake Shore Gold Corp. from 2009 to 2010), and Bob Duess the geologist and project manager for West Timmins prior to its acquisition by Lake Shore Gold, worked hard and had a lot of good hits, but the ore in major segments eluded them.
Flow-Through Shares
Exploration was funded by flow-through shares (FTS), of which Thor Eaton, another long-time director, always took a big chunk, which helped get the underwritings done. Flow-through shares were originally introduced by the government as a tax-assisted strategy to generate exploration and development funds with the intention of allowing share investors, primarily in the mining sector, to deduct these expenses against otherwise taxable income. In a written agreement, the shareholder pays for the shares with the corporation agreeing to transfer certain expenses to the shareholder. Flow-through shares are the right to buy a share or stock of a mineral resource company where tax deductions flow through from the company to the investor.
West Timmins Mining Merges with Lake Shore Gold
About five years ago, Band-Ore Resources merged with West Timmins Mining, a Vancouver company run by R. Michael Jones with Darin Wagner as his chief geologist. The Chief Financial Officer was Frank Hallam—they were all very bright people. After a couple of years, Lake Shore Gold offered to buy West Timmins because they were starting to come along with some good results on property that tied in to the Lake Shore Mine. At this point West Timmins shareholders decided to merge with Lake Shore, so they had a couple of good bumps in their stock which effectively had gone from pennies to over four dollars. The purchase took place in 2009 with an all-share deal of $424 million. Frank Hallam and I were invited on the Board of Lake Shore.
Mike Jones now had more time to focus as President, CEO, and Director of the Platinum Group—a company they are getting up and running in South Africa. Frank Hallam is the CFO and Corporate Secretary of Platinum Group. Darin Wagner has gone on to create a public company called Balmoral Resources, which has some excellent properties in the Timmins and Abitibi area in Quebec.
The major shareholder in Lake Shore was Hochschild, a major Peruvian mining company, who had been brought in by Daniel Innes (the previous President and CEO of Lake Shore), who is a brilliant geologist and mine-finder. Lake Shore attributes much of their success to Dan for his contributions to the company. Dan left Lake Shore to become CEO of Pembroke Holdings—a private company that invests in mining projects both in Peru and Canada. Tony Makuch took over as CEO of Lake Shore in 2008 from Dan and Hochschild eliminated their investment in Lake Shore, having doubled it in a few years.
Quirks and Quarks of Mine Expansion: Leasing Equipment, Technical Committee Reports, and Transparent Bids In talking about the quirks and quarks of mine expansion, detailed consideration is paramount regarding leasing equipment, the technical reports, and transparent bids. Lake Shore quickly went on an expansion program. They have been way over budget, not on time, have not delivered the gold or grade promised, and the stock has dropped to thirtythree cents as I write this. It was clear they were not going to complete the project with current finances; the cost of going to market and the dilution it would cause made it out of the question. The price of gold is not helping either. Therefore as a member of the technical committee, I suggested they go out and arrange to lease their equipment—whatever they could. It looks like they will raise enough money to complete the expansion.
I then pushed to form a technical committee of the board to review everything on a monthly basis because the board receives information at a minimum on a quarterly basis and often later. This has been done with three very experienced board members who have built several mines and found ways to control costs. The committee's job is not to run the mine, but to make suggestions to the CEO and COO who are under a daily
pressure and do not have the luxury of doing more than reacting. Now the CEO and COO can tell the people reporting to them what information they require reporting to the committee. Approximately one month ago, Mr. Makuch changed the person in charge of grade control and underground geology. There is already a change in the ore grade and this will improve the production of gold ounces and re-establish the company's credibility, which clearly has been lost and is difficult to regain.
One additional thing that I am insisting on is that all tenders by outside contractors are opened in front of those that have bid. There are rumours around the north that it is no use to bid on Lake Shore's work because it always goes to their friends. It costs contractors money to bid and they will not bother if they feel they do not have a chance. Therefore, you may not get the lowest price. It does not even matter if it is true or not—if the contractors think it is, then they will not bid. That is clearly the perception among the contractors around the north at this current moment. It will be interesting to see where the Lake Shore stock will be in a couple of months' time from the time of writing. My guess is that it will be more than double.
Mining's Future
So what should we be considering for mining's future? Should we be buying gold and not US dollars? The Chinese are quickly exchanging their American dollars for gold and oil and other strategic assets. Brian Mulroney sold off our substantial gold stockpiles at $230.00 per ounce at a time when Canada was among the largest gold producers in the world. Other countries followed suit. The first thing Peter Munk had him do as a Barrick director was travel around the world to convince central banks to hold on to their gold.
Perhaps the future of gold mining can be understood from the analyst's recent insightful comments having been quoted as saying that basically gold production will continue to slow. As reported in the Financial Post recently, "Global gold production has reached record highs in recent years, but analysts at National Bank Financial said that investors should not get used to it. They are convinced a 'production cliff ' is looming around 2017 in which senior gold miners will begin to undergo a sharp production decline. That will create investment opportunities.
"Analysts Steve Parsons, Paolo Lostritto and Shane Nagle think the reasoning behind the 'production cliff ' is simple: too few large deposits have been discovered to sustain current production rates. The fact that miners are delaying or canceling projects because of cost pressures and other constraints has accelerated the move towards the 'cliff,' they noted.
'We contend that (constrained production) is already reflected in the shares of these companies, not because the issue is well understood, but because investors have simply responded to the side effects: capex pressures, project delays and eroding margins,' they wrote in a note." Costs are rising, and more Mergers and Acquisitions (M&As) are expected to consolidate the industry. Companies can realize efficient margins, so current production rates can be maintained, keeping costs down, and maintaining their production levels and profit margins.
It's interesting to see how gold production will fare in the near future. In order to do so, these mining companies cannot overbid for assets. They must have people who know how to operate mines and understand geology from experience at a high level so that mines are built on time and on budget—and money is not wasted on greenfield exploration. I have never met a geologist yet who did not want to drill one more hole.