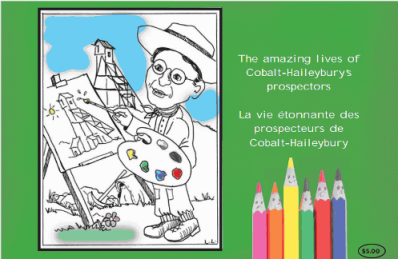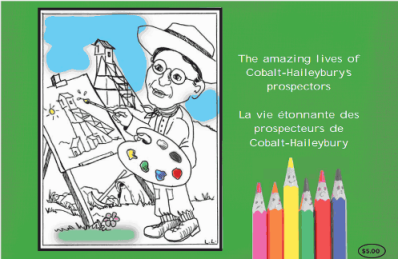 Click here for the prospector's colouring book: https://docs.google.com/viewer?url=http://campersbest.com/PresidentsSuites/images/site/documents/Livre+a+colorier+Web.pdf
TORONTO, ONTARIO–(Marketwired – March 2, 2014) – In honour of the Prospectors and Developers Association of Canada 2014 conference, The Prospectors' House in Haileybury, Ontario is launching its Colouring Book, a Prospectors' Game, and a Head Frame Memory Game.
The colouring book and games are being launched in recognition of the many prospectors who responded to the discovery of silver in Cobalt in 1903. Thirty well-known prospectors, influenced by Cobalt's the silver rush are featured. Their work, and the wealth they generated from the Cobalt Mining Camp, led to the development of the mining industry across the North, and furthered mining across Canada and around the world.
"Their leadership was also used to develop the Prospectors and Developers Association in Ontario and Canada," commented Prospectors' House proprietor Nicole Guertin. "This conference is a perfect location and time to release this colouring book which honours these prospectors."
The colouring book and games feature the artwork of well-known Northern artist Laura Landers, who specializes in mining art for the past thirty years.
The Prospectors' House is the newest of four historical rental establishments owned and operated by Ms. Guertin and Jocelyn Blais. Haileybury is located 150 kilometres north of North Bay, and neighbours the famed Cobalt Mining Camp. Haileybury shared in Cobalt's history by serving as the business centre and residential community for many of the prospectors and developers of that time. Many of the beautiful homes belonging to those original mining families still stand in Haileybury overlooking beautiful Lake Temiskaming.
The Prospectors' House 4 storey home, located in the middle of the Abitibi/Sudbury/Timmins triangle, is ideal to cater to the mining industry. Interior decorator Renelle Laliberte of Renelle Design of Toronto, herself a native of the North, has decorated the comfortable home with a rustic theme in keeping with the fascinating history of Cobalt and Haileybury. She has also incorporated several original artworks from the strong local art community.
Ms. Guertin and Mr. Blais will be hosting a media tour of the Cobalt and Haileybury area on May 1 and 2, 2014. Guests will be welcomed to the new Prospectors' House, from whence they will be invited to tour the scenic region, and learn more of its history, ongoing mining industry expertise, and art community. Among the businesses that will be visited are Story Environmental, TIME Ltd., and Yukon United Commodity.
Ms. Guertin and Mr. Blais have been actively promoting the North's tourism potential for several years, and have been building tourism opportunities and connections among the many Ontario and Quebec communities which surround Lake Temiskaming.
For links to the application of Head Frames Memory Game & pdf of the colouring book: www.presidentssuites.com
To play the game visit PDAC Story Environmental Booth 1621
To view the image associated with this press release, please visit the following link: http://www.marketwire.com/library/20140228-930422_800.jpg
Co-owner Nicole Guertin, Presidents Suites
(705)622-0279 (cell)
1-888-672-2517