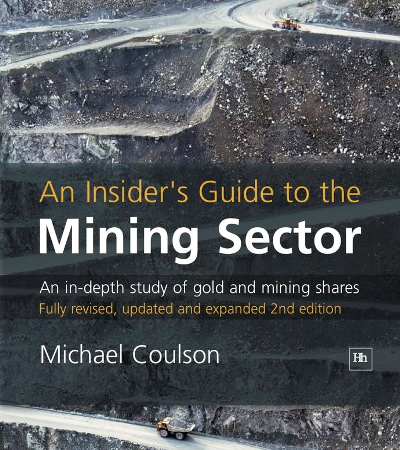 To order a copy of An Insider's Guide to the Mining Sector, please click here: http://www.harriman-house.com/book/view/66/investing/michael-coulson/an-insiders-guide-to-the-mining-sector/
Madness in Mining Markets
This section looks at a few examples of the sort of madness that can infect mining share markets. Such events are sometimes loosely described as scams, although often what happens is far more an issue of wild over enthusiasm on the part of investors. However, we start with a genuine scam, and a fairly recent one at that, with plenty of lessons to teach about market navigation – Bre-X and its gold project on Kalimantan.
Bre-X Minerals
The company was incorporated in Canada in 1988. The two key personalities in Bre-X were John Felderhof and David Walsh, the former a geologist and the latter a stockbroker. Both men had been short of money in their early professional years, and in its early days Bre-X seemed infected with the same problem. Interestingly Felderhof and Walsh's first venture together was a trip to the island of Kalimantan in Indonesia some five years before Bre-X was founded.
Following its incorporation by Walsh (Felderhof did not become actively involved with the company until 1993) and the initial small scale financings, the company pursued gold prospects in Canada's North West Territories near to the Lupin mine of Echo Bay. When that failed to turn up anything, Bre-X turned to Quebec's Joutel gold area and then in 1992 it was back in the NWT this time chasing diamonds in the wake of BHP/DiaMet.
The background to Busang
Felderhof, who much earlier in his career in the late 60s had, as a field geologist, been part of the OK Tedi discovery, a big copper/gold deposit in Papua New Guinea, was re-contacted by Walsh in 1993 as Bre-X seemed to be heading for extinction. Walsh flew to Indonesia where he and Felderhof went to visit some prospects that Walsh had asked Felderhof to look out for. The approach of Bre-X so far had been unfocussed to say the least, but opportunism is often the driving force in exploration companies and Bre-X's gadfly actions were not abnormal for mining's junior sector.
In due course Bre-X acquired the licence to work on the Busang gold prospect, and at this stage things began to get interesting. Busang had first been surface sampled in 1988 by an Australian group called Westralian where interesting values between 6 and 27 grammes of gold per tonne had been assayed. Westralian joint ventured Busang with another Australian company, Montague Gold, who did some shallow drilling on the prospect in 1989. Some reasonable values were found but they were thought to be too inconsistent and the drilling programme was ended.
Bre-X takes off
So it was in 1993 that Bre-X became involved in a discarded gold prospect in Indonesia. Although the company was short of money, personnel were hired including a Philipino exploration manager, Michael de Guzman. De Guzman was experienced, with a good professional reputation and had worked for Benguet, the Philippines gold group, and Australian junior, Pelsart. The further financing, drilling and promoting of Busang by Bre-X was spread over three years between 1993 and 1996.
During that period it moved from the tiny, but lively, Alberta Stock Exchange to Toronto's main board. Its price moved from a low of C$0.10 in 1992 to the equivalent of C$330 in late 1996, with various share placements along the way, some of them well below C$5.00. This incredible increase catapulted both Walsh and Felderhof, whose careers and circumstances were at a very low ebb when they went to Kalimantan in 1993, from poverty to enormous wealth.
The problem was that whilst the share price powered ahead, and Walsh, in particular, was promoting the story of a fabulously rich gold deposit at Busang to a very interested public, work at the prospect under the direction of de Guzman was, as we now know, finding only minor traces of gold in the extracted drill core.
Despite that, a number of Canadian brokers with experienced mining analysts became enthusiastic followers of the stock. Also over the three years, the developing story, combined with the extraordinary share price performance, attracted several major mining groups, including CRA, Barrick Gold, Placer Dome, and eventually and fatally Freeport McMoran, interested in doing a deal with Bre-X.
Despite the limited drilling done on Busang before Bre-X's involvement, and the unreported lack of success of Bre-X's own drilling programme, the company's promotion of the deposit escalated the size of the gold resource until it appeared to be the largest undeveloped gold mine in the world. In 1993, on the basis of the earlier drilling by Westralian and Montague, David Walsh projected a 20 million tonne orebody with a grade of 2 plus grammes per tonne, mining costs of US$155 per oz of gold recovered to yield a prospective annual cash flow of US$10 million.
The grade was unexciting but clearly the expectations were that the ore would be both easy to mine and to treat, which would make the project robustly economic particularly as it would be an open pit operation. The following year the company had increased its Busang resource target to 30 to 60 million tonnes grading over 3 grammes per tonne. That tonnage and grade represented a gold resource of 3 to 6 million ozs. By the middle of 1996, Walsh had raised his Busang target resource figure to 30 million ozs, and later in the year he began to talk about 47 million ozs of gold. Early in 1997, Bre-X raised this resource estimate to 71 million ozs, even as the storm clouds gathered.
By then, attention had turned to the potential of other parts of the Busang lease, and from time to time the company also let drop that other exploration areas in Indonesia and elsewhere in the region were also extremely promising. Bre-X made regular presentations to investors in North America about progress and the potential of Busang. It played host to a number of Canadian brokers on the site itself, although such visits were carefully managed.
The experienced mining consultants, Kilborn Engineering, carried out an audit of work done on Busang which confirmed the prospect's promise. Kilborn remained active on Bre-X to the bitter end, but it is important to understand that though Kilborn were on site at Busang it was their job to see that the work being carried out conformed to expected standards, not to do the work themselves. They expected that the results coming back from the assay laboratories away from the site were correct. On that assumption was Kilborn's support for the project based.
Meanwhile, behind the scenes…
The potential of the deposit was so enormous that not only did Bre-X find itself pursued by major mining groups, the Indonesian Government and the family of President Suharto were also anxious to be involved in the Busang phenomenon. Behind the scenes, as we now know, things were much more fragile. Michael de Guzman had taken to salting the cores before they were delivered to the assay laboratories; salting was a technique whereby shavings of outside gold were added to the core to boost the gold values during the assay process.
When the results were released the gold grades gave the impression that Busang was a consistent gold orebody with economic gold content. In fact as Westralian and Montague had shown much earlier it was anything but an economic prospect.
The other problem with Busang was that John Felderhof, who was the executive in charge of the operation, was not a natural paperwork man and the status of the Busang lease was sometimes not clear because of this. There were also strange omissions in the drilling work which raised questions, particularly as the area being drilled expanded.
As far as the pursuing mining groups were concerned it seemed that CRA's interest was inflamed by the fact that it had turned its back on Busang when Montague brought it to CRA first. CRA was also prepared to leave Bre-X as a majority holder in the project and undertake to raise all the finance for the project. Its only requirement was that it wanted to do a full due diligence on Busang to confirm Bre-X's work. It was an attractive deal for Bre-X but the company, for reasons that we now understand, was reluctant to agree to CRA's terms.
If Bre-X's attitude to the CRA offering was puzzling so were its discussions with Barrick, the Canadian gold giant. Bre-X wanted Barrick to take an equity stake in Bre-X to secure its short-term funding needs, with a right to back into the venture on a joint basis when a development decision was taken. The Barrick discussions dragged on, with Barrick seeking much tougher joint venture arrangements than CRA had wanted. Around the same time, another Canadian gold giant, Placer Dome, came into the picture.
Ultimately Barrick put a joint venture proposal on the table and both parties agreed in principle to proceed, but Barrick needed, like CRA before, to drill a few of its own holes; the data it had been looking at and the samples it had been working on had all been provided by Bre-X. The deal was never consummated as Felderhof refused permission for Barrick to do their own drilling. Placer Dome was next into bat and its keenness led the company ultimately to propose a $6.4 billion merger with Bre-X which would have made David Walsh the largest shareholder in Placer.
Local participation
The Indonesians, unsurprisingly, were as interested as Bre-X in the arrangement because the growing size of Busang meant that a 'new' local participation had to be inserted. Bre-X's two original local partners who had 10% each did not constitute the local interest that would satisfy the authorities. As the joint venture negotiations dragged on, Walsh became increasingly agitated, as did Felderhof, and even the group's camp followers of analysts and investors began to ask the odd pertinent question. It also became clear that Bre-X was going to have to cede a substantial part of the deposit in any joint venture arrangement.
The Placer Dome merger partly protected Bre-X shareholders because they exchanged a slice of Busang for a slice of Placer's established gold interests, but the Indonesians did not want the deal, so Placer was forced to withdraw. This let in Freeport McMoran, owner of the Grasberg copper/gold mine situated on the outlying island of Irian Jaya, and a powerful and efficient organisation well known to the Indonesian authorities.
The check holes show insignificant gold
The rest, of course, is history. Freeport's participation was on generous terms; to allow Bre-X to keep a 35% stake Freeport's own stake was just 15%. The Indonesians, in whatever shape or form, were to have 50%, although Freeport was to be operator of the mine. The stock market did not like the sharp reduction in Bre-X's stake in the project, but it liked even less the announcement in March of 1997 that Freeport had drilled seven check holes alongside Bre-X holes and all of them had insignificant amounts of gold in them. In May, Strathcona, the mining consultants, drilled their own holes on the property auditing Freeport's work. Again the gold shows were insignificant. Strathcona believed that Bre-X had constructed the biggest mining scam in history, the tampering with core samples and the precision of that tampering were unprecedented in their scale and scope.
Also during this period, just before the announcement from Freeport of the dud holes, disturbing news had come out that Michael de Guzman, the Busang exploration manager, had fallen to his death from a helicopter. A badly decomposed body had been found in the jungle, it was thought to be de Guzman's. Certainly de Guzman was never seen again after that helicopter ride. The circumstances of his death remain a mystery to this day with some believing he committed suicide, some believing that he had been murdered and others that the body was not his and that he had disappeared. Certainly the bad news from Freeport would have turned the spotlight on de Guzman, if he had lived, as questions began to be asked about the quality of Bre-X's work on the property.
To order a copy of An Insider's Guide to the Mining Sector, please click here: http://www.harriman-house.com/book/view/66/investing/michael-coulson/an-insiders-guide-to-the-mining-sector/