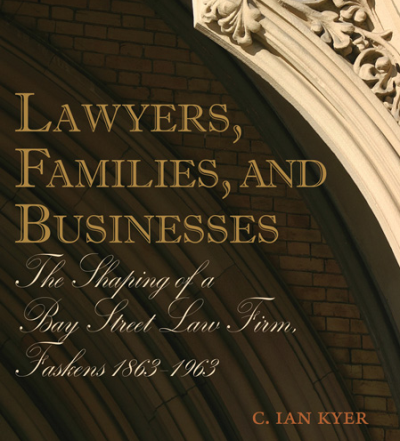 To order a copy of Lawyers, Families, and Businesses, please click here: http://www.irwinlaw.com/store/product/712/lawyers-families-and-businesses 
In Lawyers, Families, and Businesses: The Shaping of a Bay Street Law Firm, Faskens 1863–1963, noted lawyer and historian, Ian Kyer, provides a superbly researched and fascinating study of the origins and development of the law firm now known as Fasken Martineau Dumoulin. Beginning in colonial Toronto in 1863 where two young lawyers, William Henry Beatty and Edward Marion Chadwick, established their partnership in "one room, half furnished,"
Kyer follows the first 100 years of mergers, redirections, challenges, and advances that today have resulted in an international firm of over 700 lawyers practising on three continents. In the process of giving readers a view of the evolution of the practice of law in Canada as seen from the perspective of one particular firm, Kyer also provides in-depth and original accounts of the interrelationships among law firms, family connections, business development, and political influence in Canadian history.
This is an insightful, compelling, social history of one of Canada's most important law firms.
About the Author:
C. Ian Kyer is a distinguished lawyer, historian, and author. For more than 30 years he has practised law in the Faskens firm, serving for more than a decade as Director of its Technology and Intellectual Property Group. An expert in information technology law, he has long been listed by Lexpert as one of Canada's top 500 lawyers.
He holds a doctorate in history from the University of Toronto and has co-authored The Fiercest Debate, a history of legal education in Ontario, published by the Osgoode Society. Here he brings both his legal skills and his historical acumen to bear on the history of the Faskens law firm.
Excerpt:
In 1909 the Montreal Star listed seventeen Canadians and eighteen Americans whom the silver strike at Cobalt, Ontario had made millionaires. A forty-eight year old lawyer from Toronto, David Fasken, was prominently listed. Fasken played a large role in the success of Cobalt and through the contacts he made, the skills he acquired, and the wealth that he amassed he would be an important player in numerous other mining operations in Canada.
Tom Hebert, a timber cruiser staked a large area on the east side of Long Lake (soon renamed Cobalt). He needed funding and turned to Arthur Ferland, a hotel owner in Haileybury. Ferland in turn sought out Ellis P. Earle, a wealthy New York–based investor who was then considered "one of the most widely known metallurgists in the US." The person Earle sought out to assist in his purchase of the claims was David Fasken.
In the late 1890's Fasken had been one of the first to see the possibilities of mining development in Northern Ontario. He had been assisting his law partners with their mining investment in Rossland, BC, that would eventually become Cominco as well as some of the investors in the Sudbury and Coppercliff mines, one of whom was Earle. When Earle called Fasken acted quickly to form a company to finance its development. Nipissing Mining Company Limited was incorporated with Earle as president and David as a director. By 1904 they had secured Ferland's claims. In 1910 the Cobalt Daily Nugget would characterize Nipissing's operation as "the very centre of the Cobalt Camp."
Fasken realized that the viability of Cobalt required the development of hydro-electric power for the camp. In 1911 Fasken acquired three hydro-electric plants in the region and merged them to form the Northern Ontario Light and Power Company Limited, of which he was president. These plants furthered the commercial exploitation of Cobalt's finds by making power less expensive and more reliable. The cost of mining fell from over $3.00 per ton to $1.31.
Fasken became heavily involved in many of the regions mines. He served for a substantial time as Nipissing's president and one of its directors. He was also a director and substantial shareholder of both La Rose Consolidated Mines Limited (which owned Violet Mining Company, Limited) and Trethewey Silver Cobalt Mine Limited, each of which had its mines at Cobalt.
David's brother Alex, who assisted David in running his law firm, became one of the principals in Dome Mines in Porcupine and served on the board of two other Cobalt mining companies: the Chambers-Ferland Mining Company, Limited and the Temiskaming Mining Company, Limited, for which he also acted as secretary-treasurer.
The Faskens also grub-staked the base metal mines in far off Flin Flon Manitoba. In 1915 they visited this remote site on the border of Manitoba and Saskatchewan more than 600 miles north of the Canadian border. It would eventually be developed and become a key asset of HudBay.
To order a copy of Lawyers, Families, and Businesses, please click here: http://www.irwinlaw.com/store/product/712/lawyers-families-and-businesses