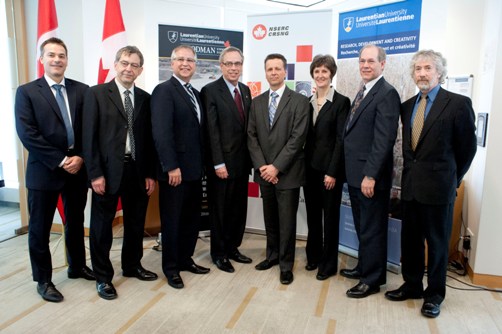 FOR IMMEDIATE RELEASE
Largest ever NSERC-Collaborative R & D grant in support of "Footprints"
TORONTO, ON (May 14, 2013) – An innovative geo-science research project involving universities and mining industry sponsors from across Canada is being supported by the largest research grant ever awarded by the Natural Sciences and Engineering Research Council (NSERC) through its Collaborative Research and Development program.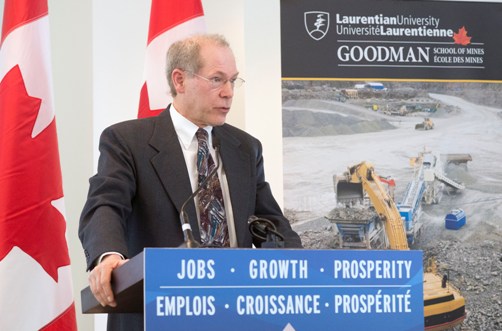 The $5.1M NSERC grant was formally announced today by the Minister of State (Science and Technology), the Honourable Gary Goodyear. The NSERC funding is augmented by close to $7M in supportive funding from Canadian mining and related companies, acting through the Canada Mining Innovation Council (CMIC). The multi-year project will involve more than 40 researchers in geosciences from universities across Canada. The research is being co-led by Dr. Michael Lesher, Research Chair in Mineral Exploration and Professor of Economic Geology at Laurentian University and by Dr. Mark Hannington, Goldcorp Chair in Economic Geology and Professor of Earth Sciences at the University of Ottawa.
Known as "Footprints," the ambitious research project is expected to enhance the ability of geologists to assess the range, depth and composition of ore-bodies and mineral deposits, even those lying hundreds of metres underground.
"Essentially, the work we're pursuing will allow us to better detect the subtle signals or 'footprints' of mineral deposits far below the surface," said Dr. Lesher, official grant-holder for the research project. "It will help us devise better tools for remotely sensing deeply buried ore bodies and ultimately, we believe it can improve the way we approach mineral exploration and resource development in Canada and around the world."
"Canada's economic competitiveness depends on supporting business-related research and development that drives innovation," said Minister of State Goodyear. "Our government remains committed to supporting partnerships that will create jobs and strengthen Canada's long-term prosperity."
"We have worked toward this kind of collaboration for many years, and we are proud to be leading this extensive program of scientific investigation, with our academic colleagues and with the support of our mining industry partners," said Dr. Patrice Sawyer, Vice-President, Research and Francophone Affairs, Laurentian University. "This project will demand the skills and talents of the best research minds in the field today, working through Dr. Lesher and Dr. Hannington. It is an exciting opportunity for the research community."
The initial grant application to NSERC included 17 Canadian universities and 24 industry partners. Since the project won official approval, the number of participating universities has grown to 24, while the number of industry partners has grown to 27.
Industry sponsors through CMIC will be contributing more than $2.8M in cash and $3.9M in-kind for the research project.
"This project results from an unprecedented level collaboration among the exploration industry, service providers, government institutions, researchers and universities," said Dr. François Robert, VP and Chief Geologist, Global Exploration at Barrick Gold Corporation and one of the chief architects of the "Footprints" project. "Such a level of collaboration sets a new standard for our Industry," he added.
The collaborative nature of the "Footprints" project represents a 10-year strategic vision, shared by the Canadian university research community and the members of CMIC. "Footprints" is expected to be a flagship project, forming the basis for a Networked Centre of Excellence (NCE) (www.nce-rce.gc.ca). There are only 15 of these networks presently funded by the Canadian government, and "Footprints" is the first focusing research on the science of mineral exploration.
"The scope and scale of this project is a testament to Laurentian University's leadership in mining related research," said CMIC Executive Director Carl Weatherell. "This is a significant step toward maintaining Canada's role as a world leader in mineral exploration."
-30-
About Laurentian University
Laurentian University is one of the fastest growing universities in Canada in the past decade, now serving close to 10,000 students. With its main campus in Sudbury, it now offers a growing number of programs in Barrie to the 1,200 students located on that campus. Laurentian has the highest post-graduation employment rates in Ontario after 6 months at 92% and 95% after two years. The University receives high recognition for its enviable class sizes, having one of the lowest average class sizes in Canada.
For more information on Laurentian University visit www.laurentian.ca
MEDIA CONTACTS
For further information or to schedule an interview, please contact:
Joanne Musico
Manager, Communications
Tel: 705-675-1151 ext. 3445 or 1.800.263.4188 ext.3445
jmusico@laurentian.ca
Sherry Drysdale
Communications
Tel:705-675-1151 ext. 3412
sdrysdale@laurentian.ca
MEDIA BACKGROUNDER
About "Footprints" – CMIC-Laurentian-NSERC Multi-year Research Project:
 Natural Sciences and Engineering Research Council funding to grant-holder and project co-director Dr. Michael Lesher of Laurentian University: $5.1M
 Approximately 42 Canadian university researchers (faculty and graduate students) will be pursuing complementary strands of research in this unique collaborative project, led by Dr. Michael Lesher (Professor of Economic Geology, Research Chair in Mineral Exploration, Laurentian University) and by Dr. Mark Hannington (Professor of Earth Sciences, Goldcorp Chair in Economic Geology, University of Ottawa)
 Matching funding, in cash and in-kind, from 27 companies in Canadian mining and mineral exploration industry, acting through CMIC (Canada Mining Innovation Council)
 Supportive funding from industry exceeds $7M and results in largest grant ever awarded by NSERC under its Collaborative Research and Development Program
 "Footprints" aims to give the mining and mineral exploration sector more sophisticated, high-tech methods of assessing the qualities and characteristics of ore deposits far beneath the surface
 The ultimate goal is to keep Canada on the leading edge of mining and mineral exploration science and technology
Some background notes on the science behind "Footprints," from remarks by Dr. C. Michael Lesher:
"Exploring for deeply buried ore bodies is a bit like trying to detect a deeply submerged submarine at sea.
Both can be difficult to find, even when they're near the surface. Think about searching for a vessel under cloud cover, at night – or, searching for a valuable deposit that's locked inside other rocks. Now it's pretty tough. We need to use geo-physical techniques – measuring subtle variations in the Earth's magnetic or gravitational field, or slight changes in ocean temperature – to find out what's hidden.
However, just as a motionless submarine may physically disturb only a very thin layer of water around its hull, it may thermally disturb a thicker layer. In the same way, ore deposits disturb the rocks around them, to varying degrees — physically, chemically, and thermally.
These disturbances occur as the deposits form, and as they are modified by later geological processes. These changes provide us with a kind of "footprint."
Now, the submarine has physical properties such as density, magnetism, and electrical conductivity. These obviously make it very different from the water that surrounds it. Not so with ore deposits: they are enclosed in rocks that may be very similar in their geophysical or geochemical properties. So there's an additonal challenge for us.
And in one respect, submarines and ore deposits lying deep below the surface have one thing in common: the deeper they lie, the harder they are to detect.
Thus, one goal of the "Footprints" project is to develop new methods to detect ore bodies.
But the major goal is to combine the barely detectable signatures of all the available geophysical and geochemical techniques, in ways that maximize the combined signal. In simple terms, we're looking for better, more useful "footprints."
In order to do this, we have assembled a world-class pan-Canadian research team with expertise in each of the different areas: using geological, mineralogical, geochemical, petrophysical, and geophysical methods to detect ore deposits, in a project designed to maximize their interactions.
Key objectives of this CMIC-Laurentian-NSERC project are to:
 Enhance the ability of the Canadian mineral exploration industry to recognize the entire "footprint" of an ore deposit from its high-grade minable core to most distant margin
 Develop methods that truly integrate the complex geological, structural, lithologic, mineralogical, geochemical, petrophysical, and geophysical signals that define the "footprint" of an ore deposit
 Formalize ways that specialists in each of those fields can interact to accomplish these goals
"Footprints" Project Participants
Principal Investigators and Project Directors
Dr. Michael Lesher, Laurentian University, Project Director
Dr. Mark Hannington, University of Ottawa, Project Co-Director
Co-Applicants
Dr. Kevin Ansdell, University of Saskatchewan
Dr. Neil Banerjee, University of Western Ontario
Dr. Georges Beaudoin, Université Laval
Dr. Michel Chouteau, École Polytechnique
Dr. Colin Farquharson, Memorial University
Dr. Sarah Gleeson, University of Alberta
Dr. Craig Hart, University of British Columbia
Dr. Keiko Hattori, University of Ottawa
Dr. Peter Hollings, Lakehead University
Dr. Michel Jébrak, Université du Québec à Montréal
Dr. Kurt Kyser, Queen's University
Dr. Dan Layton-Matthews, Queen's University
Dr. Robert Linnen, University of Western Ontario
Dr. Berndt Milkereit, University of Toronto
Dr. Bill Morris, McMaster University
Dr. Gema Olivo, Queen's University
Dr. Steve Piercey, Memorial University
Dr. Benoit Rivard, University of Alberta
Dr. Martin Ross, University of Waterloo
Dr. Iain Samson, University of Windsor
Dr. Richard Smith, Laurentian University
Dr. Anthony Williams-Jones, McGill University
Academic Collaborators
Dr. Andrew Bekker, University of Manitoba
Dr. Li Zhen Cheng, Université du Québec à Trois-Rivières
Dr. Andrew Conly, Lakehead University
Dr. Patricia Corcoran, University of Western Ontario
Dr. Randy Enkin, GSC-Victoria
Dr. Carl Guilmette, University of Waterloo
Dr. Lyal Harris, Institut national de la recherche scientifique
Dr. Dan Kontak, Laurentian University
Dr. Bruno Lafrance, Laurentian University
Dr. David Lentz, University of New Brunswick
Dr. Shoufa Lin, University of Waterloo
Dr. Dan Marshall, Simon Fraser University
Dr. Doug Schmitt, University of Alberta
Dr. Kristy Taimpo, University of Western Ontario
Dr. Jim Mungall, University of Toronto
Dr. Doug Oldenburg, University of British Columbia
Dr. Jeremy Richards, University of Alberta
Dr. Michael Schindler, Laurentian University
Industry Collaborators
Dr. Suraj Ahuja, JCU
Dr. Wayne Barnett, SRK Consulting
Mr. Paul Bartos, Anglo-Ashanti
Mr. Pierre Bérubé, Abitibi Geophysics
Ms. Lynda Bloom, iOglobal
Dr. Daniel Brisbin, Cameco Resources
Mr. Kevin Byrne, Teck
Dr. Natalie Caciagli-Warman, Kinross
Mr. Louis Caron, Osisko
Ms. Claire Chamberlain, Teck
Dr. Andrew Davies, Teck Resources
Mr. Graeme Davis, Kinross
Dr. Hugh de Sousa, SGS
Mr. Lawson Forand, Denison Mines
Dr. James Franklin, Franklin Geosciences
Mr. Mark Goldie, Iamgold
Mr. Guy Gosselin, Agnico-Eagle Mines
Mr. Tom Hamai, JCU
Dr. Eric Hoffman, ActLabs
Mr. Robert Holroyd, Teck
Ms. Nicole Houle, Iamgold
Mr. Richard Jemielita, Kinross
Mr. Dan Jiricka, JCU
Dr. David Lawie, iOglobal
Mr. Pat Lengyel, Kinross
Dr. Matthew Leybourne, ALS
Mr. Eric Maag, DGI Geoscience
Dr. Bardoux Marc, Barrick Gold
Dr. John McGaughey Mira, Geoscience
Mr. George Nader, Fugro Airborne
Ms. Tansy O'Connor-Parsons, iOglobal
Mr. David Quirt, Areva
Mr. Louis Racic, GeoSoft
Dr. Amelia Rainbow, Goldfields
Mr. Matthew Rees, Iamgold
Dr. François Robert, Barrick Gold
Dr. Jamie Rogers, Iamgold
Dr. Ross Sherlock, Goldfields
Dr. James Siddorn SRK Consulting
Mr. Matthew Speck, Pitney-Bowes
Ms. Victoria Stirret, Teck
Mr. Craig Taylor, HudBay Minerals
Dr. Hernan Ugalde, PGW
Mr. Pim Van Greffen, iOglobal
Dr. Ivo Vos, SRK Consulting
Mr. Robert Wares, Osisko
Mr. Roman Wasylechko, Abitibi Geophysics
Mr. Neil Willoughby, Gedex
Dr. Andrew Wurst, Goldfields
Board of Directors
Dr. Richard Tosdal, Chair, Board of Directors
Dr. Daniel Brisbin, Cameco Resources, Board Member
Mr. Gary Delaney SGS, Board Member
Dr. Al Galley, CMIC, Board Member
Dr. Matthew Leybourne, ALS, Board Member
Mr. George Nader, Fugro Airborne, Board Member
Dr. François Robert, Barrick Gold Board Member
Dr. Stephen Rowins, BC Geological Survey, Board Member
Mr. Patrice Roy MRNQ, Board Member
Dr. Bernard Vigneault, Mineral Director, Board Member
Dr. Michael Lesher, Laurentian University, Project Director
Dr. Mark Hannington, University of Ottawa, Project Co-Director
Scientific Advisory Board
Dr. Herb Helmstaedt, Queen's University, Chair, Scientific Advisory Board
Dr. John Dilles, University of Oregon, Scientific Advisory Board Member
Dr. Michel Cuney, CNRS-Nancy, Scientific Advisory Board Member
Dr. David Groves, University of Western Australia, Scientific Advisory Board Member
Dr. Rich Goldfarb, U.S. Geological Survey, Scientific Advisory Board Member
Dr. Howard Poulson, Scientific Advisory Board Member
Geological Survey of Canada
Dr. Michel Villeneuve
Laurentian University University
Dr. Vasu Apanna, Laurentian University
Dr. Bruce Jago, Laurentian University
Dr. Patrice Sawyer, Laurentian University