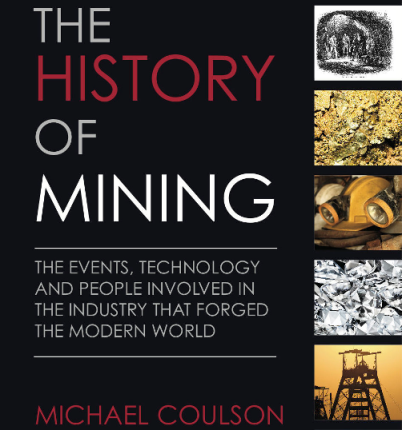 To order a copy of The History of Mining please click here: http://www.harriman-house.com/products/books/23161/business/Michael-Coulson/The-History-of-Mining/
ELIEZER BATISTA (BRAZILIAN MINING – VALE AND GOVERNMENT LEADER)
Eliezer Batista was born Eliezer Batista da Silva in 1924 in Nova Era, a town in the mining state of Minas Gerais in Brazil. His parents, Jose and Maria, were emigrants from Portugal and his father, a saddle maker, built up a substantial business in Minas Gerais. In due course Jose went into agriculture and ranching in the region and was able to comfortably support his two sons and four daughters.
Batista was educated first in Nova Era and then went to secondary school in Ouro Preto and St Joao del Rei, respectively to the south and west of Belo Horizonte. He was a bright but difficult pupil and his academic excellence was treated suspiciously by his monastic teachers who were largely Dutch. His interest was engineering and it was to study this that he took himself off to the cosmopolitan Federal University of Parana in Curitiba in the south of Brazil, graduating in 1948. Batista was a rebel in those days and after university he travelled extensively, helped by a natural bent for languages.
On one visit to his family in Nova Era, Batista contacted the growing iron ore group, CVRD (now known as Vale). He was interested in the modern outlook of CVRD and got a job working on the construction engineering side, very important then as the company began to develop its large iron ore reserves. He worked on the construction of the extension of the Vitoria-Minas iron ore railway line and then supervised the maintenance of the track. In due course he was sent to the US for further training. When he returned he became chief engineer of the railway, acting as a link between the CVRD mine and the port at Vitoria.
Up to this moment Batista's contact with mining had been purely through his engineering role on the railway serving CVRD. However in 1961 he was appointed President of CVRD, a role he undertook for just one year until in 1962 he was appointed Brazil's Minister of Mines and Energy, a post he held until 1964. Political change in the form of a military coup led him to leave the government and he was almost imprisoned in a purge of the old regime by the military rulers. He then became president of iron ore developer MBR (Caemi Group) a position he held until 1968 when he returned to CVRD and was sent to Europe to rebuild the company's markets there, taking his family of seven children and his German wife with him.
In 1979 he returned to once more take up the reins of president and this time also became chairman of a number of CVRD's operating companies; he held the post of president until 1986. During this period he oversaw the development of the giant Carajas iron ore deposits where CVRD was a partner with US Steel. This was a time of great pressure for Batista because it saw CVRD expanding out of its original Itabira operation in Minas Geiras, causing concern in the state, and getting embroiled in the environmental controversy over the development of Greater Carajas – a government-promoted scheme which Batista did not personally support – separate from the Carajas mine. In 1992 he returned to government, taking the position of Minister for Strategic Affairs.
Batista was a great believer in the philosophy of linking raw materials with their end use, particularly in the field of high technology – this was a result of his upbringing as a civil engineer rather than a mining engineer. He saw that huge, high-grade iron ore deposits far from market had absolutely no value unless transport logistics such as rail, port and ships were in place to take the product to its end-user, not something that was commonly accepted in the chaotic, populist nation that Brazil was in the years following the Second World War. Batista was also a great believer in beneficiation and upgrading the product to enhance its price, such as pellets for the steel industry's direct beneficiation process.
Batista, now in his mid-eighties, continues to take an interest in business; he is on the board of a number of Brazilian companies including those of his son Eike, who has built a reputation and fortune in gold and more recently oil, making him Brazil's richest man. He also continues to advise the president of Vale – now the world's largest iron ore producer – and is also active on the board of a number of Brazilian development quangos. In his twilight years Eliezer Batista da Silva continues to be an enormously influential figure within the Brazilian economy as he has been throughout his life.