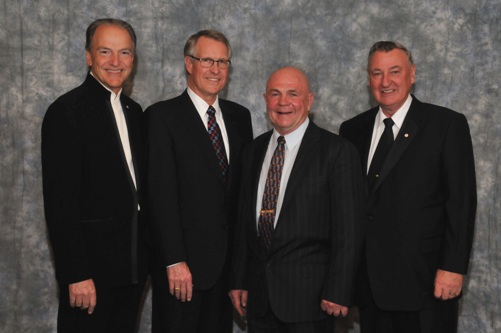 Part One – Pre-Dinner Remarks
Robert W. Schafer is the Executive Vice President, Business Development Hunter Dickinson Inc. and the Chairman, CMHF Board of Directors
On behalf of the Board of Directors of the Canadian Mining Hall of Fame and our Sponsors, let me welcome you to our 25th annual banquet and Silver Anniversary induction ceremony. Tonight we will welcome four new members to the Canadian
Mining Hall of Fame. We have another record attendance. This will be an exciting night and I am certain that you will enjoy it!
The principal role of the Mining Hall of Fame is to recognize the best of our leaders, innovators, operators, ore finders and legends in our industry. The prime responsibility of the Board is to review the nominations that have been submitted by the sponsoring organizations as well as from the public, and recognize those that exemplify the ideals of the Canadian Mining Industry. There are currently 155 inductees in the Canadian Mining Hall of Fame. All of them are listed in this programme, and we are fortunate enough to have several of them with us tonight.
Part Two – Induction Ceremony
The permanent home of the Hall of Fame is at the Royal Ontario Museum, where it is housed in the mineral exhibits area sponsored by Teck Resources. However, you do not have to come to Toronto to get a "Mining Hall of Fame" experience. In November 2012, Barrick Gold provided funding for inclusion of the Mining Hall of Fame in the Earth Gallery section of the Canadian Museum of Nature in Ottawa, sponsored by Vale.
We also have a satellite exhibit at the Mining Museum in Elliot Lake, and, thanks to Teck Resources, another housed at the Britannia Mine Museum in British Columbia. We continue to look for opportunities to place satellite exhibits in key locations across Canada to inform the public about our rich mining history.
We received significant financial support to put on this gala tonight, and I would like to thank all of our sponsors for making this such a successful event. Our key support comes from Sentry Investments, Barrick Gold, SNC-Lavalin, Teck Resources, Yamana Gold, New Gold and IBK Capital.
Thank you for joining us tonight in this celebration of the Canadian Mining Hall of Fame at its 25th Anniversary Induction Banquet. Please enjoy the evening!