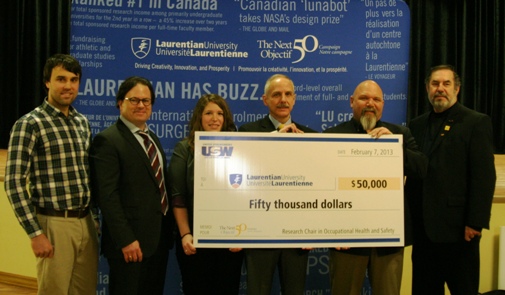 Sudbury, ON (FEBRUARY 7, 2013) The United Steelworkers (USW) today announced a donation of $50,000 toward the establishment of a Research Chair in Occupational Health and Safety at Laurentian University.
The new Research Chair in the Centre for Research in Occupational Safety and Health (CROSH) will lead research relevant to a broad range of workplaces. The Research Chair will work to make the Centre a national and international leader in occupational health and safety research, development, education, training, and global best practices. The CROSH Research Chair will be supported by a team of researchers, graduate students, and other personnel.
"Occupational health and safety is critical for the well-being of all workers and the overall economic health and productivity of our communities," said Leo W. Gerard President, USW International. "The United Steelworkers is extremely pleased to be able to make this donation to help fund a Research Chair in Occupational Health and Safety at Laurentian University."
"We are thrilled to have the support of the United Steelworkers as we begin our search for a Research Chair in Occupational Safety and Health. This donation will allow CROSH to continue improving the quality of life and health of workers in Sudbury," said Associate Director of CROSH, Dr. Michel Larivière.
For over a decade, Laurentian University has been building on its expertise in the area of occupational health and safety, beginning with mining and expanding to other workplace sectors. Officially approved by Laurentian University's Senate in 2008, CROSH is a multidisciplinary group of researchers, guided by an advisory board comprised of representatives from labour, industry and local health and safety organizations. CROSH leads and engages in innovative studies aimed at identifying health and safety concerns and eliminating hazards, occupational injury and disease from workplaces around the North.
The USW is the largest private sector union in both Canada and North America with more than 225,000 members in Canada and more than 800,000 members continent-wide. The USW is Canada's most diverse union, representing men and women working in every sector of the economy.
About Laurentian University
Laurentian University is one of the fastest growing universities in Canada in the past decade, now serving close to 10,000 students. With its main campus in Sudbury, it now offers a growing number of programs in Barrie to the 1,200 students located on that campus. Laurentian has the highest post-graduation employment rate in Ontario and receives high recognition for its enviable class sizes, having one of the lowest average class sizes in Canada.
For more information on Laurentian University visit www.laurentian.ca
MEDIA CONTACTS
For further information or to schedule an interview, please contact:
Joanne Musico
Manager, Communications
Tel: 705-675-1151 ext. 3445 or 1.800.263.4188 ext.3445
jmusico@laurentian.ca
Sherry Drysdale
Communications
Tel:705-675-1151 ext. 3412
sdrysdale@laurentian.ca