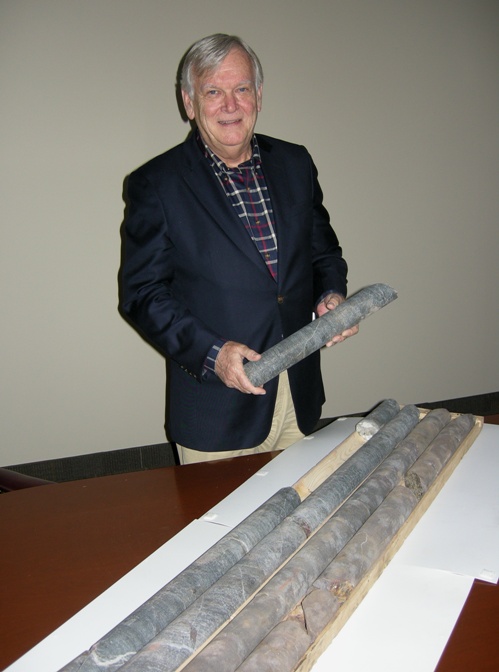 http://www.thesudburystar.com/
This column was published in the February 2 and 4 editions of the Sudbury Star:
http://www.thesudburystar.com/2013/02/02/ring-of-fire-rail-or-road
http://www.thesudburystar.com/2013/02/04/cos-spar-over-ore-transport
stan.sudol@republicofmining.com
Without a doubt, the number one technical issue that will make or break the Ring of Fire's enormous economic potential – currently estimated at $60 billion (MNDM) for world-class chromite deposits along side nickel, copper and PGMs – is transportation infrastructure.
Located in the isolated James Bay swampy lowlands of northern Ontario, the closest infrastructure to the Ring of Fire is 330 kms south in the tiny community of Nakina where the Canadian National railroad and the end of Highway 584 intersect.
Since Cliffs announced their decision to move their $3.2 billion chromite project into the feasibility phase, last May, and the Ontario Government's decision to "support in principle" the North-South infrastructure corridor, junior explorer KWG Resources has been largely ignored. This might be a mistake as KWG CEO Frank Smeenk, through the company's Canada Chrome subsidiary, controls the key strategic transportation route into the region as well as 30% of the Big Daddy chromite deposit.
Cliffs' current "base-case" plan is for the construction of an estimated $600 million road with significant financial participation from Ontario taxpayers. Engineering studies have indicated that a railroad would provide the lowest long-term operating cost despite its approximate $2 billion cost. Both proposals would be built on KWG land which was acquired through claim staking.
In 2011, Ontario's Environment Commissioner publicly condemned KWG for using claim staking to control this vital transportation corridor, but this was perfectly legal under the Mining Act and other companies have routinely done the same to secure land for road, rail or energy infrastructure corridors and tailings areas.
At the palladium Lac Des Ile mine, 85 kms. northwest of Thunder Bay, they acquired adjacent claims so their dust would fall on their own property. To avoid having to deal with or buy other prospectors' claims, you establish very early what your needs are and stake the required land before somebody else does.
Cliffs has petitioned the government for an easement over those claims to build their road which KWG has opposed. This "David and Goliath" battle will play out in front of the Ontario Mining and Lands Commissioner in early February 2013.
And a recent Ontario Northland Transportation Corporation union-backed proposal, to build and control a railroad into the Ring of Fire instead of selling the Ontario crown corporation, has some merit and many supporters.
KWG's Historical Role in Ring of Fire
Perhaps a little background context might be helpful before we continue.
KWG has had a long history of joint venturing (partnering) with Spider Resources, originally exploring for diamonds in the James Bay Lowlands since 1992. Spider Resources CEO Neil Novak was one of the accredited discoverers of several mineral deposits in the Ring of Fire – the others being Richard Nemis and John Harvey, formerly from Noront Resources and Mac Watson and Don Hoy from Freewest Resources. Both junior miners, Spider Resources and Freewest, have been bought by Cliffs. By 2003 the KWG/Spider partnership successfully found some very interesting volcanogenic massive-sulphide (VMS) deposits that had promising copper and zinc values.
This sparked the interest of Toronto's junior sector and started the first staking rush that eventually defined the Ring of Fire. Canada has had hundreds of these types of deposits which have and currently produce many base metals and some gold and silver.
Frank Smeenk, who was a KWG board member since 1998, became the company CEO in 2004. By December 2005, KWG and Spider together optioned a stake in a promising property near McFauld's Lake, from Mac Watson's Freewest. That property was originally claim staked by Richard Nemis who optioned it to Freewest.
Claim staked mining properties need a set amount of assessment work done each year or they will revert back to the Crown. Owners will often option a property to another company for purchase or part ownership while retaining a "royalty" if an economic deposit is discovered. Joint-venturing and optioning are common practices among juniors to lower the exploration risk and cost.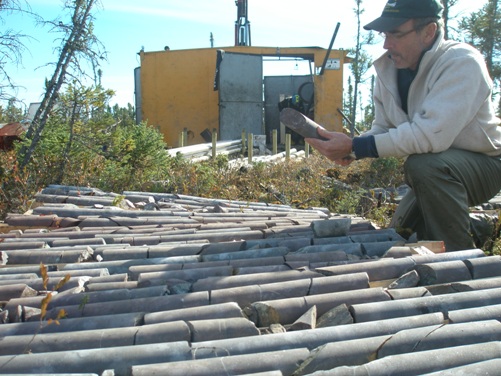 KWG and Spider drilled four holes on the McFauld's Lake property. On March 6, 2006, Hole FWR-06-03 encountered two zones of massive chromite. Unknown at the time, this was the discovery hole for the "Big Daddy" deposit,currently thought to be one of the richest in the Ring of Fire. Up until then, there had been a few previous chromite discoveries found in northern Ontario or the rest of Canada, but they were largely uneconomical and very few people in the Toronto junior community understood that sector or the significance of these original drill holes. KWG/Spider continued to focus on potential VMS deposits.
In August of 2007, Noront discovered the famous Eagle One nickel, copper, PGM deposit and started the second Ring of Fire staking rush. As they continued to drill, they kept coming up with chromite occurrences. Subsequent chromite showings (Blackbird One) at the Noront site caused an interest in the original chromite intersection and sent KWG/Spider back to the Big Daddy deposit for further drilling.
KWG Resources President and CEO Frank Smeenk recalls, "I kept thinking that surely these chromite intersections were significant and I tried to find out what I could about chrome. We thought there might be some platinum group metals associated with them, similar to the South African chromite deposits, and the drilling was in part to try to find these. What we found instead was more and more chromite of very high grades over quite remarkable widths. So much so that it wasn't long before Neil Novak named it the Big Daddy.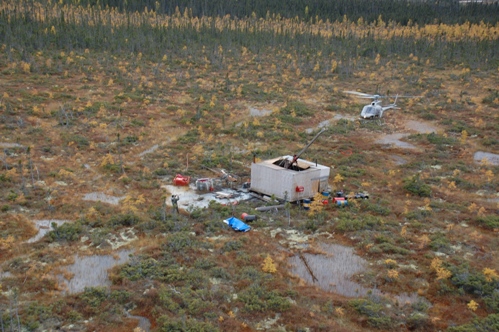 South African chromite deposits are found in extensive reefs – similar to layers in a cake – in the Bushveld region and are generally one to two meters thick, therefore very expensive to mine. The chromite deposits in the Ring of Fire are often 120 feet thick and occur in a vertical sheet beginning at surface with significantly lower mining costs.
In short order, the enormity of the Big Daddy and Noront's Blackbird One chromite discoveries were announced. Freewest discovered their Black Thor deposit in September 2008 and the following February announced another chromite bonanza called Black Label.
Moe Lavigne, KWG vice-president of exploration & development speculated shortly after the announcement of the Black Thor discovery that, "Based on our understanding of chromite deposits worldwide, there was a strong possibility that the Blackbird, Big Daddy and Black Thor were each portions of a 12 kilometer long chromite layer that could be worth half a trillion dollars."
Needing more investment capital, KWG highlighted its high-grade chromite discoveries to Cliffs Natural Resources who strategically spent US$3.5 million for a 19.9% stake in the junior.
With the market interest in this developing camp at a feverish pitch and the realization that chromite was the primary mineral in the Ring of Fire, Frank Smeenk began to claim stake a potential route into the region in the Spring of 2009. Chromite concentrate is very heavy and would need a railroad to economically transport this material to a ferrochrome facility and markets.
"I was aware that there were many discoveries in Canada's north that were uneconomic and undevelopable because they were landlocked. We decided, after discussing it with Cliffs, to prospect the ridge of sand bars leading north from the Trans-Canada highway and CN Railroad almost directly to the discovery area," said Frank Smeenk.
"We then drill-sampled the whole length, to see if perhaps there wasn't another Cobalt or Sudbury to be discovered along the way," Smeenk continues. "We are still compiling and analyzing that tremendous volume of sample data and expect to publish a comprehensive report of that analysis this Spring."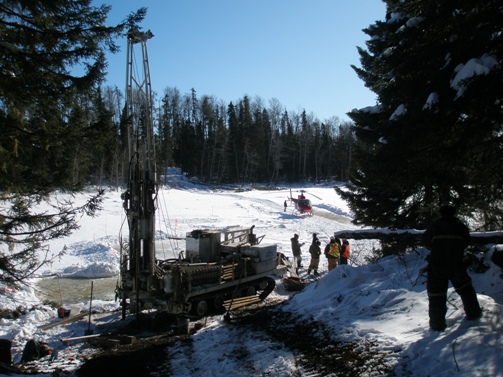 The Cliffs Takeovers
As the year progressed and the enormity of the chromite camp became more evident, Cliffs pounced swallowing Freewest Resources and with it the Black Thor and Black Label deposits in December 2009, for CDN$240 million, as well as giving it 40% control over the Big Daddy.
In early 2010, Spider and KWG negotiated a proposed merger to maximize shareholder value and control over the deposit. In May, Cliffs announced a hostile takeover of both Spider and KWG with a lowball offer. A formal valuation of KWG's worth began, which is mandatory under the law to protect minority shareholders when a company already owns a percentage of the takeover target.
By July 2010 Cliffs ultimately won the battle for Spider Resources with a $125 million buyout, a higher price due to the proposed merger between KWG and Spider. Since Cliffs had effective control – 70 per cent – over the Big Daddy deposit, the company decided not to continue the formal valuation of KWG.
The American company is developing their larger but lower grade Black Thor deposit first leaving Big Daddy and KWG stranded. Typically, companies mine the richest ore first to help pay off capital costs as soon as possible.
Ontario Mining and Lands Commission
In Ontario, unpatented mining claims do not include surface rights and other parties can ask for an easement which in many cases can be a short road. As long as these easements do not conflict with mineral development, they are usually granted. In January of this year, Cliffs petitioned the crown for an easement on KWG's claims in order to build a roughly 330 kilometre road into the Ring of Fire.
KWG refused as they want their land to be used for a railroad and there may not be enough room to accommodate both on the narrow higher sandy ridges or eskers that are much easier and less costly to build upon than the surrounding swampy lowlands. Neskantaga First Nations wanted party status at these hearings since the proposed route would go over their traditional territory, however, the Commissioner disagreed and is currently taking depositions from key stakeholders, reconvening in Toronto in early February.
If Cliffs wins, one has to question if the Ontario government is using the Mining and Lands Commission to expropriate KWGs claims and this would be the start of more court battles, law suits and continued costly delays. If KWG wins, Cliffs needs to get back to the negotiating table and work out some sort of mutually beneficial agreement.
Since they staked these claims, KWG has spent about $15 million on various engineering and ground studies for their proposed railroad corridor, as well as claim assessment work that have located vital aggregate deposits necessary for rail bed construction.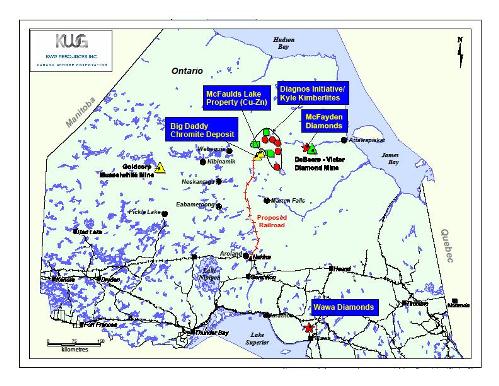 Rail Versus Road
The current $600 million road project is just a "base-case" scenario and Cliffs feels that the entire project would not be economically viable if the company had to pay for the route by itself. Hence current preliminary negotiations with the province which has committed to helping pay for the road. There is nothing wrong with Ontario's participation with this project as the history of mining development in Canada has many, many examples of transportation infrastructure being built and paid for by governments. But should it be a road or railroad? But mineral concentrates are generally shipped by train.
Chromite as with many other commodities has large cyclical price swings. In a June, 2011 public presentation, Cliffs stated that it "is very supportive of the Rail vision for the Ring of Fire – this would have a dramatic effect on the district's ability to compete world-wide! … Rail is the ultimate solution that will create a world-class mining district."
In a recent column in Wawatay News, editor Shawn Bell roughly estimated that it would take 140 truck trips (nine-axel tractor trailers) each way over the road per day or 50,000 truck loads per year – or one truck every five minutes – others have said one truck every 15 minutes – to move Cliffs' estimated 2.3 million tones of concentrate. If this estimate is accurate, would there be spare capacity to move Noront's or any other future miner's concentrate? And you could forget about First Nations using the road for leisurely drives as the road would be for private industrial use only. (Updated  information: Cliffs indicates that there will be only 100 trucks per day and they would leave in convoys spaced further apart, roughly every 45 minutes  or so. – Stan Sudol – March 6, 2013)
What highway in northern Ontario's harsh climate could sustain that volume? Wildlife deaths would a major issue and truck accidents or breakdowns would cause considerable delays. An average truck would probably cost $300,000 and need to be replaced every few years and they would need at least 140/100 employees.
A railroad would require an estimated 250 trips each way per year – not per day – need a staff of less than 10 people for operating the train, while the average rail car lasts at least 50 years and costs between $50,000 and $75,000. And the Wawatay article states that shipping by truck has four times the impact on global warming than shipping by rail.
The cost of a railroad would run about $2 billion however we need to remember that the chromite mines will be in operation for 30 to 50 years if not much, much longer. And the railroad would be able to handle considerably more capacity from any new discoveries.
There has yet been no mention on how much the province will actually put on the table for infrastructure development. But spending $600 million for a road project that just benefits one company instead of the potential future of the entire region is foolhardy at best.
McGuinty has met with Prime Minister Harper pleading for federal financial help with infrastructure development. As of yet, there has been no financial commitments from the federal government.
Last December, the Ontario Chamber of Commerce had publicly stated that "federal support is required to develop the Ring of Fire, Ontario's 100-year mining opportunity in the North. In order to realize the region's potential, massive investment is needed in electricity transmission, broadband, and all weather roads." They also recommended that the Prime Minister should designate a Minister responsible for the Ring of Fire.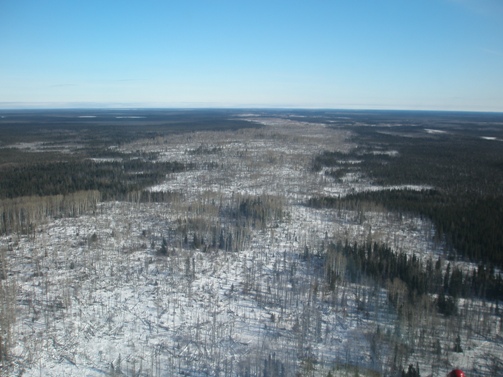 Port Authority
A recent Ontario Northland Transportation Corporation (ONTC) union-backed proposal calls for the transfer of the provincial crown corporation's railroad and other assets to a newly established federal Port Authority that will operate under the Canada Marine Act. A Port Authority is a special purpose district formed by the federal government to operate ports and surprisingly, airports and railroads as well.
The Ontario government is currently trying to sell the ONTC, which it had been subsidizing for many years, to the private sector. The ONTC Northlander passenger train service was shut down last September, over enormous public and political protests across northeastern Ontario. There is likely great potential to make money on the freight operations which are closely linked to the region's booming mining sector.
The recently created James Bay & Lowlands Ports Trustee Corporation headed by CEO Roy Hains is the first step of this interesting New Deal Port Authority proposal. This might be the vehicle for the federal government to become involved in the Ring of Fire.
In an email response, Hains said, "For more than a century, the ONTC has played a significant role in the transportation, communications and economic development of northeastern Ontario. This new rail line will cost-competitively open the Ring of Fire to long-term sustainable development and link remote First Nations communities to jobs, skills, supplies and essential services."
While, McGuinty seemed indifferent to the proposal, both Charles Sousa – who is slated for a senior cabinet posting due to his critical support in helping Kathleen Wynne become the new Premier – and Glen Murray who also sided with the new leader early on, have both shown a keen interest in the New Deal.
Since it is assumed that the sale of the ONTC would bring desperately needed cash into a deficit stressed provincial treasury, one can understand the reluctance to "transfer" the assets to a federal government agency without any compensation. But there are also large pension and severance liabilities that will largely reduce the provincial government's estimation of how much revenue this sale will generate. If the federal government came to the table with substantial funding or under-writes a loan guarantee, the New Deal has enormous merit.
In October, Nipissing-Timiskaming Conservative MP Jay Aspin proudly announced this initiative in the House of Commons, presumably with the blessing of the Prime Minister. Until the federal government officially establishes the Port Authority – sources say there is much interest in the Prime Minister's office – we will just have to wait and see.
Northern Vision and Leadership
We need to have an adult conversation with all the major stakeholders, Cliffs, Noront, KWG, the two levels of government and First Nations communities in the same room. This is a transformational project which will provide enormous economic benefits for both northern and southern Ontario and significantly help alleviate Aboriginal poverty on the reserves.
There is no doubt that the $2 billion railroad proposal is the most cost-efficient and environmentally sustainable option. It is more than justified due to the multi-generational nature of the chromite deposits and the high probability of many other mineral discoveries in the years to come. Furthermore these rich chromite deposits have potential to displace lower quality sources from South Africa and elsewhere.
Whether the infrastructure gets funded through Public, Private Partnerships, a bond issue, direct low- cost government borrowing through a Port Authority or some other entity, the long-term benefits for the entire country are enormous. The federal government must be at the table since they have the financial clout to guarantee any of these options similar to the recently backed the Newfoundland and Labrador Muskrat Falls $7.7 billion hydro project.
Let's not forget that the federal and provincial governments have invested almost $14 billion to help bailout General Motors and Chrysler in 2009, while Ottawa recently renewed a $250 million auto industry innovation fund and both governments may also give $400 million to Ford to help retool its Oakville assembly plant. By the way, GM recently announced that it is relocating the production of the popular-selling Camaro from Oshawa to Michigan.
Premier Designate Wynne has been quoted in the Sudbury Star as saying, "I want to make sure that we move the Ring of Fire project ahead." In addition, her previous experience at Aboriginal Affairs ensures a keen understanding of one of the most important issues in this development.
Recently in the Globe and Mail, Charles Sousa, stated "We need to establish a rail or transportation system, a spine to the north, providing access to isolated communities." In other publications, he is quoted as saying, "Developing the Ring of Fire will be my top priority for the north."
With a new Premier, a fresh group of advisors and senior Cabinet appointments, I sense there will be a paradigm shift at Queen's Park towards the Ring of Fire. The project will finally become a priority which to be honest, never seemed to be the case with McGuinty and his environmental followers.
Northern Ontario may have finally found the leader we need; a leader with a bold northern vision who is able to seize the extraordinary opportunities that the Ring of Fire offers, and that will also help the province slay its deficit and sustain our much valued health, education and social services.
That includes making the strategic choice of a railroad instead of a road for long-term economic sustainability of this extraordinary rich mining camp that will be in production for many decades to come.
Previous columns on the Ring of Fire:
Sudbury Star-January 5, 2013
http://www.thesudburystar.com/2013/01/05/accent–ring-of-fire—miles-to-go-before-we-dig
Sudbury Star-January 7, 2013
http://www.thesudburystar.com/2013/01/07/miles-before-we-dig
Sudbury Star- July 14, 2012
http://www.thesudburystar.com/2012/07/14/the-ring-of-fire-politics-and-intrigue
Stan Sudol is a Toronto-based mining analyst, communications consultant and owner/editor of the RepublicOfMining.com website. stan.sudol@republicofmining.com