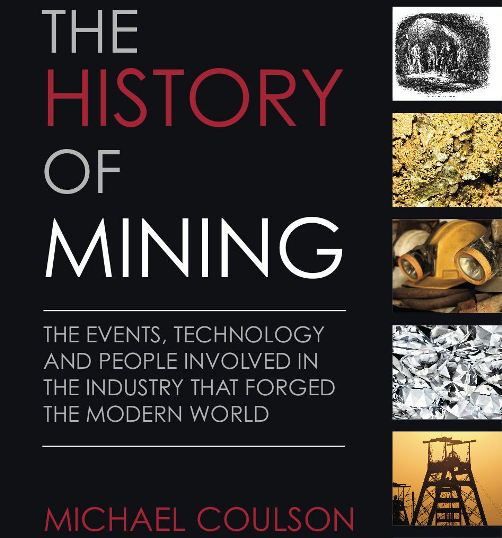 To order a copy of The History of Mining please click here: http://www.harriman-house.com/products/books/23161/business/Michael-Coulson/The-History-of-Mining/

JOHN NORTH (1842-1896) Chile's Nitrates King
John Thomas North was known as the nitrates king as a result of his dominance of Chile's nitrates industry in the latter part of the 19th century and his web of listed nitrates companies in London. He was also an active promoter and owner of coal mines in Chile and the UK and gold mines in Australia.
The son of a prosperous coal merchant, North was born in Holbeck, near Leeds in Yorkshire, in the north of England, in 1842. He served an apprenticeship in a local engineering firm, Fowler & Co, and then went out to southern Peru in 1869 where he installed machinery to treat nitrates. At the time nitrates – nitrogen rich salts – were beginning to be the fertiliser of choice for farmers, and Peru and Bolivia had the largest reserves of the mineral.
In 1879 the War of the Pacific broke out between Chile and Peru and Bolivia and as a result there was concern for the nitrate fields in southern Peru. One of the main problems was that the Peruvian government had issued government nitrate bonds in 1875 in an attempt to nationalise the largely British and Chilean owned nitrate deposits in Peru. With the outbreak of war the value of the bonds plunged and North, who had by then established his own nitrate works and invested in a water company which supplied the desert-located nitrate fields, began to purchase these nitrate bonds at less than 15% of face value.

North's speculation paid off when Chile was victorious in the War and annexed the nitrate provinces of Tarapaca and Antofagasta. At the same time Chile confirmed the ownership of the nitrate fields through ownership of the old Peruvian bonds in 1882.
North, through contacts in the old Peruvian nitrates set-up, had inside knowledge that the Chileans would favour the old ownership structure and he encouraged other owners to join him in a cartel which would dominate nitrate production and influence world prices for the vital commodity. With his coup complete North controlled the most profitable of the nitrate operations and he set about exploiting his position by returning to London in 1882 where he fed a developing nitrates boom on the Stock Exchange by floating a number of nitrates companies.
Included in the list were Liverpool Nitrate, Colorado Nitrate and Primitiva Nitrate. The flotations were highly successful and substantial dividends were paid almost immediately. North was also investing in enterprises in Chile including the Nitrates Railway, Tarapaca Waterworks, Bank of Tarapaca, and London and Nitrates Provisions Supplies. He also invested heavily in Chilean coal and iron ore mines on the Bio Bio River in the south-central region.
North's almost monopolist position, certainly in terms of control, in the Chilean nitrates industry eventually led him into clashes with the government of President Balmaceda, who felt that North's central position in the nitrates industry was unhealthy in the light of the importance of the industry as a source of government revenue. In the end, a short civil war in 1891 lasting eight months and consisting of just one battle saw Balmaceda overthrown.
By now North was looking beyond Chile for investment opportunities and he became involved with King Leopold of the Belgians in the Congo, where he invested in Anglo-Belgian India Rubber. He also had developed North's Navigation Collieries Ltd in South Wales which was immensely profitable and helped support a lavish lifestyle of grand parties, horse racing and travel. He also built a mansion near Greenwich, Avery Hill, where he lived with his wife and three children.
North became intrigued by the Australian gold boom of the 1890s and decided to get involved, putting his name to the promotion of Londonderry Gold and Wealth of Nations. Both stocks were popular counters but soon crashed and burned. Around this time he also made significant investments in Belgian cement and Cairo trams. He was not finished with new challenges though and went into politics in the UK, narrowly losing a by-election in West Leeds to William Gladstone's son Herbert; a further indication of the popularity North enjoyed despite his sometimes dubious business contacts and methods.
Although he had largely, without comment, exited from Chilean nitrates he retained some executive positions and it was while chairing the board meeting of Buena Ventura Nitrates in London in 1896 that he had a fit and died. His funeral in Kent drew huge crowds of mourners, matching the numbers who attended the funerals of the great Randlords like Rhodes and Barnato.
Now little remembered in the UK, North was a substantial figure in the development of the Chilean mining industry after the War of the Pacific. He was lionised by some in Chile and hated by others and still remains a controversial figure in that country's history. In the UK he died relatively poor, much of his wealth having been simply frittered away, but he was able to make endowments to Leeds Infirmary and Leeds University. Unfortunately Avery Hill could not be maintained and his widow was forced to sell the mansion and estate. The park is now council owned and remains one of the few memorials to an extraordinary if faulted man.