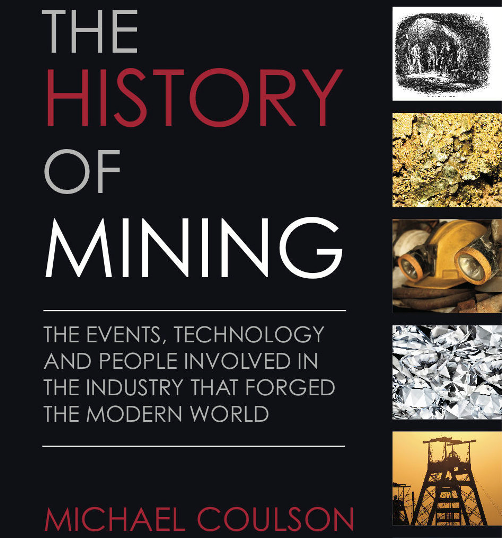 To order a copy of The History of Mining please click here: http://www.harriman-house.com/products/books/23161/business/Michael-Coulson/The-History-of-Mining/
BRAZIL and MARRO VEHLO
At least one of the companies that Disraeli was pushing, Imperial Brazilian, established a profitable mining business in the state of Minas Gerais in Brazil at the old and rich Gongo Soco mine, which lasted from 1826 until 1856 when flooding led to the mine's collapse. Over 30 years it produced more than 400,000 ozs of gold, the revenue generated being divided 60% to costs, 20% to shareholder dividends and 20% to the Brazilian government in taxes, making it one of the few profitable companies to come under Disraeli's gaze.
Brazil had been a major gold producer since gold was first discovered in Minas Gerais at the end of the 17th century. Gold production is thought to have been around 1,200 tonnes between 1700 and 1820, at which time British capital was allowed in, following independence from Portugal, to revive the ageing mines of the region. The British had in fact benefited for decades from the growth of gold mining in the pre-independence era as Portugal ran a permanent trade deficit with Britain which was plugged by gold deliveries from Brazil.
Perhaps the most enduring of the early British-promoted 19th century ventures in Brazil was the St John del Rey Mining Company, which operated for over a century from its formation in 1830 until 1960, primarily producing gold from the Morro Vehlo mine near Novo Lima in Minas Gerais. It then fell under the control of US mining group Hanna.
St John del Rey's early operating years were undistinguished, mining some poor deposits in Minas Gerais, but in 1834 after raising new capital it bought the Morro Vehlo mine and its luck turned. Following this St John del Rey, along with Imperial Brazilian, provided their British shareholders with highly satisfactory returns for many years; a lot of other London backed Brazilian gold companies in the 19th century proved poor investments in contrast.
All in all around 20 companies, including Imperial Brazilian and St John del Rey, were floated in London between 1824 and 1898 with Imperial and St John producing well over 80% of the gold mined by these new entities. However, although the overall returns to St John del Rey from Morro Vehlo were ultimately very rewarding, they did not come without serious headaches. The mine was worked for many years as one huge excavation from surface, supported by timbers and pillars.
In 1867 a fire destroyed these workings but the mine was re-opened in 1873 and the orebody was accessed by two shafts which went down more than 1,000 feet. In 1886 disaster struck again as the mine workings collapsed following a catastrophic timber burst. When the mine was once more brought back to production in 1892 the mine design had been changed and the workings were now accessed through two new shafts outside the mineralised lode, which was now mined at several levels and reached by drives.
MARRO VEHLO
Morro Vehlo, which is now operated by AngloGold Ashanti, has always been one of the world's deepest mines and with some current workings at just under 10,000 feet it remains so today. When St John del Rey, by then part of Hanna Mining, exited in 1960 to concentrate on its iron ore interests, the mine had produced almost 450 tonnes of gold over its life; today its annual output runs at above 250,000 ozs. The ore is primarily composed of pyrrhotite, quartz, and iron and lime carbonates. It is also refractory, which provided treatment problems for St John del Rey in the early years until technological improvements allowed for a finer grind which ultimately raised recoveries to around 90% and improved the ore grade to above 12 grams/ton.
The complexity of the mine's structure meant that in the 19th century working methods were labour intensive – much of this was slave labour until the end of the century. Today, despite the depth of Morro Velho's operations, labour productivity at the mine is significantly higher than AngloGold experiences in South Africa. As for the future of the mine, a further decade of production at least is expected, which would put it within sight of its 200th anniversary of operation.
Although Morro Velho was the star in Minas Gerais's golden crown, by the end of the 19th century there were ten other gold mines, seven of them controlled by British companies, still in operation – Passagem, Faria, Santa Querita, Morro da Santa Anna, Itabira, Carrapato, Conquista-Xicao, Sao Bento and the two locally owned mines Juca Vieira and Florisbella.
Although these were considerably smaller operations than Morro Velho they nonetheless underlined Brazil's global position as an important gold producer before the great gold rushes of the second half of the century. Gold in the 20th century, however, was to belong to another country – South Africa – where British capital again was to play a major role. For Brazil, the old saying about Minas Gerais having a heart of gold in a breast of iron proved a prophetic comment about the direction in which its mining industry began to move in the new century.