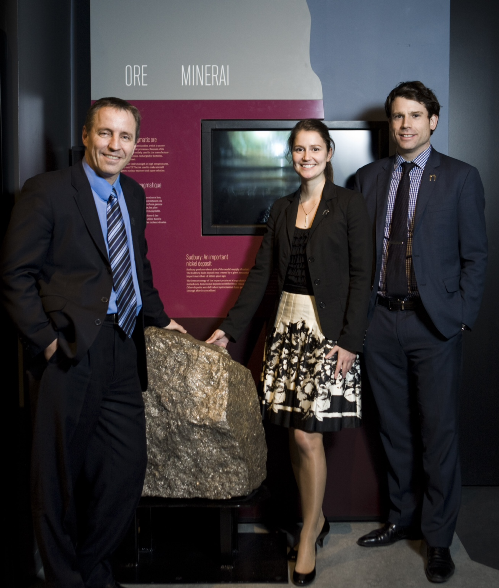 This article was provided by the Ontario Mining Association (OMA), an organization that was established in 1920 to represent the mining industry of the province.
After residing for almost two billion years in the Sudbury Basin, a 227-plus kilogram piece of nickel ore now has a new home as a centrepiece in the Vale Earth Gallery at the Canadian Museum of Nature in Ottawa. The new gallery was officially unveiled recently. It has 8,000 square feet of floor space and it provides a journey through billions of years of geological time and shows how geology and mineralogy connect to everyday life in the 21st century.
In 2009, Vale pledged $1 million to sponsor this gallery. A smaller phase of the Vale Earth Gallery opened in 2010. The new, larger and permanent gallery is the result of two years of planning and three months of extensive renovations. The gallery is also home to a satellite exhibit from the Canadian Mining Hall of Fame.
The giant piece of nickel ore is not alone in the new gallery. Fourteen oversized mineral samples share space with about 1,000 mineral, rock and gem specimens. The gallery also contains numerous interactive educational exhibits.
"Vale is thrilled to be the title sponsor of the Canadian Museum of Nature's Earth Gallery," said Peter Poppinga, Chief Executive Officer of Vale Canada Limited. "We are very proud to partner with one of Canada's leading cultural champions to educate visitors about all facets of the Earth's resources. Every day, as we work to transform these resources into prosperity and sustainable development, we are fortunate to see the Earth's magnificence in all its splendor. We were inspired by the opportunity to share this magnificence will all Canadians."
"This new gallery returns the museum's best geological and mineral specimens to permanent display in an expanded setting that includes new content and engaging inter-actives," said Meg Beckel, President and Chief Executive Officer of the Canadian Museum of Nature. "We are extremely grateful for Vale's support that has allowed us to complete this project that will inspire and connect visitors with our collections and the mineralogy research of our scientists."
The Canadian Museum of Nature is the country's national museum of natural history and natural sciences. It promotes awareness of Canada's mineral heritage.
Vale is one of Canada's largest mining companies with operations in Sudbury and Port Colborne in Ontario, Thompson in Manitoba and Voisey's Bay and Long Harbour in Newfoundland and Labrador. Vale's Base Metals unit, with its headquarters in Toronto, is the world's second largest nickel producer and significant producer of copper, platinum group metals and cobalt.
Mining companies are responsible, solution-providing partners in society. They do more than find, extract and process minerals essential to our modern lifestyle. They volunteer and add great value to the quality of life in their communities and beyond.