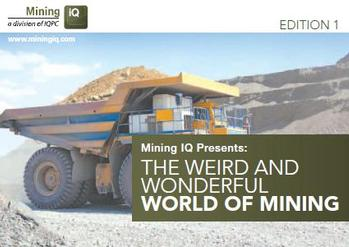 Mining IQ is proud to present The Weird and Wonderful World of Mining. This mining guide e-book contains hundreds of interesting and valuable facts to be shared and enjoyed throughout the mining industry and community.
The book, born from a discussion about all the crazy trivia within the mining industry, has been compiled not only by the Mining IQ team but also from a plethora of Mining IQ members and the outer mining community who have shared with us their favourite titbits.
The e-book contains 10 chapters covering a huge range of topics from historical and famous to business and the community. We will be releasing the e-book two chapters at a time and edition 1 will contain the chapters – Mining in the Community & Largest/ Most Heaviest. Mining IQ is sure the industry will enjoy The Weird and Wonderful World of Mining just as much as we did putting it together.
Click here for access to the e-book: http://www.miningiq.com/business-improvement-and-corporate-strategy/white-papers/the-weird-wonderful-world-of-minin/
Let us know what you think of the e-book on our social media networks! We'd love to hear your feedback or perhaps you too have some weird mining information you'd like to share!
About Mining IQ
Mining IQ, a division of IQPC, is a mining guide and mining learning portal and an international online community focusing on providing mining professionals with mining industry knowledge, information and an online networking and communication platform. We are dedicated to creating a learning environment for sharing ideas, best practices and solutions within the mining industry.
Through Mining IQ, you will be able to access the latest mining news on the issues affecting the mining industry today, such as mine safety, mining and the environment, mining operations and production, and mining geology through mining interviews, mining articles, mining podcasts, mining videos, mining reports and mining questions and answers. We also offer face-to-face learning and networking opportunities at mining events such as mining conferences, mining workshops, mining seminars and mining conferences.
By signing up for free Mining IQ membership, you will gain access to our growing database of resources from leading mining professionals, newsletters to keep you updated on latest mining content and Mining IQ members' exclusive discounts on mining events that offer solutions to your everyday problems.  http://www.miningiq.com/