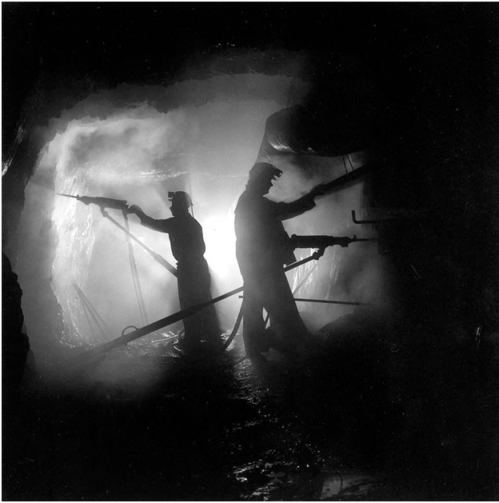 Click here for a selection of Canadian photographer Louie Palu's mining photography: CAGE CALL: LIFE AND DEATH IN THE HARD ROCK MINING BELT
Sudbury art gallery exhibit explores roots of mining, but some find images troubling
Some say a photo exhibit on mining in Sudbury is perpetuating stereotypes about the industry and keeping young people from choosing mining as a career.
The exhibit Cage Call — currently on display at the Art Gallery of Sudbury — features underground photos from across northern Ontario. Thursday night, the gallery hosted a panel discussion on the image of the modern miner.
Mine Mill union president Richard Paquin said he knows a lot of the people in the photos hanging on the art gallery walls, as do his members — some of whom were not crazy about what they saw. "Some of them didn't like [it] because it reminded them of the injuries we used to have," he said.
"A lot of the pictures you see people missing things — missing an arm, one of them's missing a foot." There are also photos of miners in dirty coveralls, another, smoking cigarettes and drinking beer.
Paquin said this isn't what mining is like today and sees the Cage Call photos as historical.
More to mining than 'hardhat, pick and shovel'
But Leo Leclair, who runs a skilled trades program for Sudbury high school students, said these old images make it hard to get kids interested in mining jobs.
"We don't need a gallery to put these pictures in our head," Leclair said.
"This is one of the biggest challenges I have when it comes to motivating our students … Because as soon as you mention mining, the only thing that comes to mind is a hardhat, pick and shovel."
The art gallery said it will consider a future exhibit showcasing more modern photos of mining.
Cage Call includes images taken in mines in Sudbury, Kirkland Lake and elsewhere in the north.
Paquin noted the photos are just the beginning of the conversation.
"We've got to start somewhere," he said. "And how do you get better without knowing exactly where you come from? Start by your roots and then you work from that. And that's what I think this exhibit did more than not."
Cage Call is on display at the Art Gallery of Sudbury until Nov. 18.
For an indepth interview, please go to the CBC Radio Sudbury website: http://www.cbc.ca/news/canada/sudbury/story/2012/11/02/sby-historical-mining-photographs.html