Please note, although Laurentian President Dominic Giroux starts the video speaking French the remainder is in English.

FOR IMMEDIATE RELEASE
SUDBURY, ON (OCTOBER 15, 2012) – Ned Goodman, CEO of Dundee Corporation, and The Goodman Family Foundation – JODAMADA, announced today a historic gift to Laurentian University's new School of Mines. In recognition of the Goodman family's generosity, Laurentian University President Dominic Giroux announced that the university will name the school in the Goodman family's honour.
Ned Goodman's business and investment experience spans more than 40 years as a geologist, securities analyst, portfolio manager and senior executive, and he has an established reputation as one of Canada's most successful investment counselors. He was the driving force of the Dundee group of financial companies, which grew under his family's leadership from a $300-million base to a $50-billion mutual fund entity. Mr. Goodman's work in the mining sector helped bring investment and jobs to many remote northern Canadian communities. By providing financing to many junior companies and helping to build successful, growing companies, he helped thousands of other Canadians prosper. He described his family's gift as a vote of confidence in the future of mining.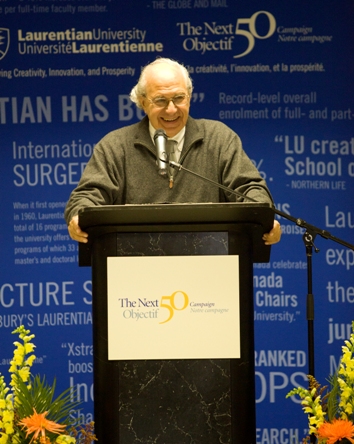 "Greater Sudbury has the best ore body and the largest concentration of expertise in mining supply, products and services in the world. We want to be associated with Laurentian University because it's undoubtedly the go-to university for mineral exploration and mining in Canada. When I heard about Laurentian's plans for a new innovative School of Mines, I knew I wanted to be a part of it. We will be encouraging our friends in industry to also support this great effort," said Ned Goodman after a recent visit to Sudbury.
The combination of an aging workforce, competition for skilled workers, and declining enrolment in mining-oriented academic programs in most other Canadian universities is of great concern to the mining industry. These deficiencies will likely cause accelerated cost increases, delay of new projects and squeeze profit margins. Many industry leaders have reported a critical need for graduates whose technical competencies are supported by skills in commercial, cultural and environmental aspects of mining.
A global search for the Founding Executive Director of The Goodman School of Mines is in its final stages. The position will work towards:
 Enhancing the skills of future professionals in mineral exploration and mining, in areas such as occupational health and safety, Indigenous relations, mining management and finance;
 Driving the creation of executive programs at the undergraduate and graduate levels, in modular, short-course or distance education formats, and other delivery mechanisms as opportunities may arise;
 Formalizing new provincial, national and international alliances with other post-secondary institutions, including an International Network of Schools of Mines with Laurentian serving as a major hub;
 Doubling enrolment in mining related programs by 2020;
 Improving the university experience for students in Earth Sciences and Engineering.
The Goodman School of Mines is a cross-Faculty initiative, reporting directly to the Vice-President, Academic and Provost, which will be supported by a Global Advisory Council and a $20 million endowment funded by donations from industry and by philanthropic gifts, a majority of which has now been raised. In addition, Laurentian University will be investing $5 million in the Goodman School by 2023.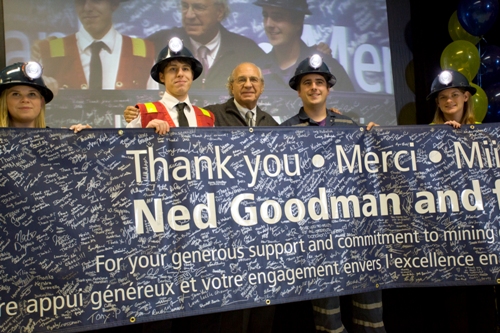 The Goodman Family Foundation has placed a proviso that any financial commitment, present or future, remains confidential. The gift will be used exclusively by The Goodman School of Mines. "It will support the development of new mining-related courses and programs, improvements to the learning environment and opportunities both inside and outside the classroom, student recruitment, career and placement services, and guest speakers, and other specific use of funds to be mutually agreed upon," explained Dominic Giroux. "Moreover, the Goodman family gift will ensure that we can attract the best and brightest students from around the world through scholarships, and promote our mining-related programs internationally."
Mr. Goodman's eldest son, Jonathan Goodman, PEng., CFA, MBA, a graduate of the Colorado School of Mines and a JODAMADA participant and director, will serve as an Adjunct Professor at Laurentian.
Ned Goodman was also attracted to Laurentian because he is a resident of Barrie. "I want to do everything possible to help secure Laurentian University's new downtown Barrie campus, including attracting private gifts towards this important effort. Barrie absolutely needs it, and Laurentian has so much to offer." Laurentian has already pledged $14 million towards its new downtown Barrie campus, a commitment which is being matched by the City.
Laurentian University's Next 50 Campaign, chaired by Terry MacGibbon, founder of FNX Mining, has now largely exceeded its original goal of $50 million, having raised $63.3 million so far with six months still to go before the end of the campaign.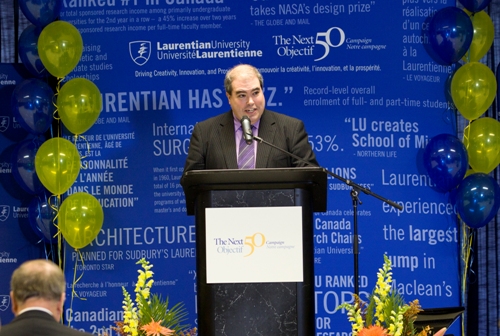 -30-
MEDIA CONTACTS
For further information or to schedule an interview, please contact:
Joanne Musico
Manager, Communications
Tel: 705-675-1151 ext. 3445 or 1.800.263.4188 ext.3445
jmusico@laurentian.ca
Sherry Drysdale
Communications
Tel:705-675-1151 ext. 3412
sdrysdale@laurentian.ca