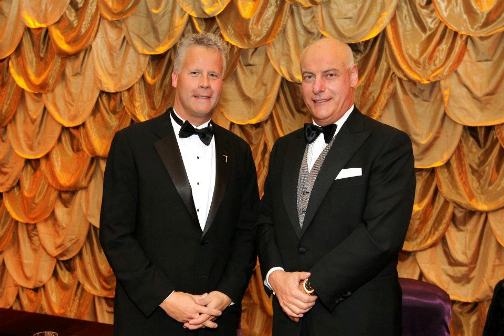 (L to R) Scott Jobin-Bevans, outgoing PDAC President; Gerald Panneton, President and CEO of Detour Gold Corporation&
http://www.pendaproductions.com/ This video was produced by PENDA Productions, a full service production company specializing in Corporate Communications with a focus on Corporate Responsibility.
Bill Dennis Award for a Canadian discovery or prospecting success
This award, named for a former president of the association, honours individuals who have accomplished one or both of the following: made a significant mineral discovery; made an important contribution to the prospecting and/or exploration industry. The award may also be used to recognize an important mineral discovery in Canada.
Gerald Panneton, President and CEO of Detour Gold Corp., receives this award for his leadership of the team that has advanced the Detour Lake property in northern Ontario into a world-class, low-grade, high tonnage gold deposit.
Panneton spearheaded the initial acquisition and subsequent evaluation of what is now determined to be Canada's largest undeveloped gold deposit. Recognizing the potential of Detour Lake in 2006, Panneton commissioned a large-scale drilling and re-sampling program.
By the end of 2010, the project had proven and probable open pit reserves of 14.9 M oz of gold. Detour Gold Corp. is now moving ahead with the development of the project.