Canadian Business Ethics Research Network (CBERN)
The Canadian Business Ethics Research Network (CBERN) aims to promote knowledge-sharing and partnerships within the field of business ethics and across private, governmental, voluntary and academic sectors. CBERN also aims to support work from inception to dissemination, from graduate student research and fellowship opportunities to promoting the projects of established professionals. http://www.cbern.ca/home/
The Victor Mine: Description of De Beers Canada's Success
• The following sections provide insight into the strategy pursued by De Beers and important facts about the Victor project and nearby communities, while providing additional context to the agreements between the company and communities.
In contrast to the conflict-ridden and failed development of exploration claims by Platinex, the recent development and opening of the Victor diamond mine by De Beers Canada has been heralded as "a shining example of responsible development in northern Ontario" (DBC, 2006). Although it has taken years of hard work, De Beers has successfully engaged with nearby First Nations to garner their acceptance and even support of mining operations at Victor.
This acceptance is best exemplified by the signing of three Impact and Benefit Agreements (IBAs) with the First Nations along Ontario's James Bay coast. In order to better understand the relationship between the company and communities, the following sections provide insight into the strategy pursued by De Beers and important facts about the Victor project and nearby communities, while providing additional context to the agreements between the company and communities.
De Beers Canada's Perspective: working within, and beyond the system
• Insight into the strategy pursued by De Beers and important facts about the Victor project
Since kimberlite (diamond-bearing ore) boulders were first discovered on the Attawapiskat River in 1987, De Beers Canada (previously operating under the name Monopros Ltd.) has followed an extensive permitting and regulatory process governing the exploration, construction, and eventual operation of the Victor diamond mine. As advanced exploration and feasibility studies were conducted throughout the late 1990's, De Beers was in constant contact with Ontario's Ministry of Northern Development, Mines and Forestry, Ministry of the Environment, Ministry of Natural Resources, and other Crown agencies to ensure that all exploration activities, and later mine construction, were in accordance with provincial standards.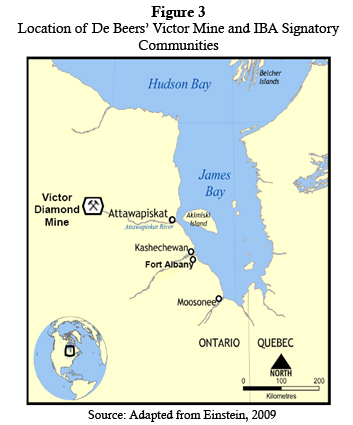 In addition to the environmental assessment and permitting processes, De Beers sought to consult with nearby Aboriginal communities. According to De Beers' Aboriginal policy statement (see DBC, 2007), the company affirms the constitutional rights of Aboriginal people and is committed to developing and maintaining positive relationships with communities affected by its mining operations.
Appropriately consulting and negotiating private agreements with such communities in support of the Victor diamond mine has proved to be a challenging endeavour, but one that De Beers recognized the significance of very early in the exploration phase of development. Pursuing interconnected aims of investment security and fostering positive community relations, De Beers' actions reveal a commitment to sector-leading best practices; a significant improvement from the history of mining in Ontario.
When De Beers representatives first contacted the Mushkegowuk Council2 for information and guidance on consulting the Aboriginal communities in the region, they were told to consult with the Attawapiskat First Nation, since it was the community nearest to the proposed mine site (Inf. #2; #7). In 1999, De Beers began formal consultation with the Attawapiskat First Nation, which led to the signing of an Exploration Agreement and a Memorandum of Understanding (MOU) in support of further negotiation of an Impact and Benefit Agreement (IBA).
As the relationship between De Beers and Attawapiskat First Nation developed and IBA negotiations began, other First Nations located along the James Bay coast approached De Beers, claiming they had not been appropriately consulted regarding De Beers' development in their overlapping traditional territories. After verifying their claims to the areas impacted by the mine site, winter access road, and hydro line construction, in 2005 De Beers began negotiating with the Moose Cree, Kashechewan, and Fort Albany3 First Nations to develop IBAs relevant to their traditional land use and interests in the region.
Following the approval of the Victor environmental assessments by federal and provincial governments, members of the Attawapiskat First Nation voted 85% in favour of ratifying the IBA negotiated by their Chief and Council (see DBC, 2005). This was a significant milestone for both De Beers and the Attawapiskat First Nation since the mine construction phase began shortly after the IBA was signed. In order to take advantage of the increased activity, shipping contracts, and construction jobs available from the mine, the Moose Cree First Nation sought to negotiate and ratify their IBA as quickly as possible.
Therefore, they had developed an agreement-in-principle by 2006 and their IBA was ratified by the community and signed in 2007. Although De Beers hoped for a similar approach to IBA negotiations by Fort Albany/Kashechewan, these communities negotiated for an agreement with greater emphasis on socio-cultural provisions than the previous IBAs. For example, compensation for traditional harvesters affected by the mine and increased traffic on the winter road are important parts of this agreement (Inf. #8).
De Beers demonstrated strong commitment to each of these communities during the challenging and time-intensive process of working with each of the nearby First Nations to develop IBAs that reflected local interests and addressed important local concerns. All of this is beyond the requirements of Ontario's regulatory system, which is primarily focused on minimizing environmental impacts of mining, not on facilitating community relations. Of course, there were many hotly-contested issues discussed at community meetings and official negotiation sessions (Inf. #2; #8).
However, when the Victor mine opened in 2008, De Beers had signed two IBAs, one working relationship agreement, and had another IBA nearly complete. This was made possible by the proactive approach to working with Aboriginal communities adopted by De Beers. Specifically, De Beers' approach to consultation and community relationship building is guided by the objective of developing a process that is:
1. timely – providing communities with adequate notice and time to respond;
2. informative – provides sufficient detail and explanation to allow understanding;
3. comprehensible – presented in an understandable manner;
4. ongoing – process acknowledges feedback and reports on how it has been used; and
5. responsive – changes based on feedback wherever possible (DBC, 2002; 2007).
According to Dr. Jonathan Fowler, De Beers' VP of Aboriginal Affairs and Sustainability, these objectives reflect the company's commitment to fostering positive working relationships with all communities that it comes into contact with. This challenging goal, of course, demands flexibility and depends on a collaborative approach. For example, Dr. Fowler noted, "we get a lot further by trying to work collaboratively, trying to get a win-win situation works better than trying to hammer someone into the ground…"  In order to utilize such an approach, De Beers has spent considerable effort consulting with communities, hosting information sessions and meetings, and seeking to enable impacted communities to make the most of the economic benefits of nearby mining operations.
2 – The Mushkegowuk Council is the regional Cree council with member First Nations spanning from the James Bay coastal communities to Lake Superior, see http://www.mushkegowuk.ca/
3 – Kashechewan and Fort Albany First Nations jointly hold and occupy Indian Reserve No. 67. Therefore, one IBA was developed, with both First Nations as signatories to the same agreement. This agreement includes provisions for equally dividing funds paid to each signatory, while sharing responsibility for joint implementation of some terms.
Early Success: the Victor Mine
• This section describes the progression of key events from De Beers' initial contact with the four nearby First Nation communities, the opening of the Victor Mine, to recent accolades for De Beers.
From De Beers' perspective, their community consultation, IBA signing, and other relationship building efforts have been well-spent. Although there have been many challenges to overcome, especially as the IBAs are implemented and both the company and communities learn to live with their agreements, the Victor mine has been operating since July 2008.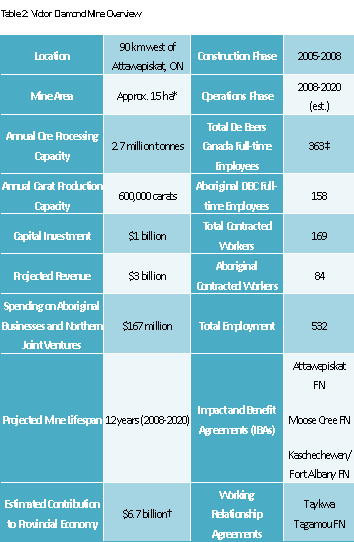 Source: adapted from De Beers 2008; 2010
* the Victor kimberlite has a surface area of roughly 15 hectares
† during the course of mine construction, operation, and closure phases
‡ employment statistics are based on totals for the 2008 operating year
Entering its third operating season, the Victor mine is still at least three years away from recouping De Beers' $1 billion initial investment. Plans are underway however, to continue exploring the nearby diamond-bearing kimberlite pipes for further mine site development. The mine is centered on one of the 15 kimberlite deposits in the vicinity, and there is significant potential for mine expansion or extension in the near future. With the possibility of a long-term presence in the James Bay area, there is plenty of incentive for De Beers to build and maintain positive relationships with the surrounding Aboriginal communities.
With a growing presence in the region since the early 1990's, De Beers has evidently learned how to garner the acceptance of local First Nations. During a recent interview with NationTalk, De Beers was described as "the poster child for doing business properly and effectively throughout the Aboriginal community." This characterization appears to be industry-wide, as the Victor mine has received international acclaim and recognition as the 2009 'Mine of the Year' by the trade publication Mining Magazine. According to De Beers, it was given this prestigious award because, "the Victor mine safely opened ahead of schedule, under budget and reached full production in just six months" (DBC, 2009b).
De Beers has also received accolades throughout the business community, and President and CEO Jim Gowans was asked by Canadian Business for Social Responsibility (CBSR) to share his experiences of 'transformational CSR' at the CBSR summit this November (CBSR, 2009). Notably, this summit was attended by His Royal Highness The Prince of Wales. Most recently, De Beers received the 2010 Prospectors and Developers Association of Canada (PDAC) award for Environmental and Social Responsibility (De Beers, 2010).
Impact and Benefit Agreements
• This section provides additional insight to the emergence, contents, and now-common use of Impact and Benefit Agreements (IBAs) to formalize relationships between mining firms and Aboriginal communities.
In order to gain access to Aboriginal traditional territories and obtain an auxiliary social license to operate, it has become common practice for mining firms to negotiate private settlements such as Impact and Benefit Agreements (IBAs) with would-be impacted Aboriginal communities (Sosa and Keenan, 2001; Galbraith et al., 2007; O'Faircheallaigh, 2007; Prno, 2007; Lapierre, 2008). These legally-binding, private contracts are voluntarily initiated by resource developers and operate in addition to regulatory rules (Kennett, 1999a; Keeping, 2000).
Typical IBA provisions include direct and indirect economic incentives, employment and education opportunities, and measures for local cultural and environmental protection (Kennett, 1999a, Sosa and Keenan, 2001; Klein et al., 2004). Direct economic incentives include profit-sharing arrangements as well as cash payments and compensation funds to offset adverse local impacts of mining (Kennett, 1999a; Hodge and Killam, 2003). Local indirect benefits may include policies of selectively contracting local service providers for mine facility construction and operations (Kennett, 1999a; O'Faircheallaigh, 2006).
Local employment targets and funded training opportunities are a central topic of most IBA negotiations (Kennett, 1999a; Sosa and Keenan, 2001) and are among the most commonly reported benefits included within IBAs (see Goldcorp, 2006; Kinross, 2007; De Beers Canada, 2009). Provisions for environmental protection, site remediation, and preservation of locally-significant habitat or other natural areas are equally significant, if not more important, to signatory communities (Gibson, 2006; Galbraith et al., 2007; Fiddler and Hitch, 2007). Additionally, corporate funding for community environmental education and monitoring has become a common element of recent IBAs (O'Faircheallaigh, 2007). Funds may also be secured for 'soft benefits' such as local socio-cultural activities and facility development (Sosa and Keenan, 2001).
The use of IBAS has become so common in northern regions that Aboriginal communities adjacent to proposed mineral development sites simply expect that an IBA will be signed prior to project construction (Galbraith et al., 2007). According to NRCan (2008), the number of IBAs and similar agreements is increasing rapidly. With over 130 agreements in place by 2008, including over 50 full-fledged IBAs (see Figure 4; NRCan, 2010), many Canadian mining companies have recognized their increasing obligation to work collaboratively with local Aboriginal communities.
Such was true of DeBeers' Victor diamond mine; not only were IBAs established with each of Attawapiskat, Fort Albany, Kashechewan and Moose Cree First Nations (see Figure 3), but the regional council of which these Nations are a part, recently established a resolution that prohibits mining projects within their traditional territory unless they are accompanied by an IBA (e.g. see Mushkegowuk Council Res. 2008-11-25). This official resolution reflects both the increasing Aboriginal interest in formal consultation and profit-sharing arrangements in support of resource development and an effort to strategically respond to high levels of mineral exploration and development pressure throughout northern Ontario.
Community Relations
• This section outlines the following sections which identify and describe key differences in community relations strategies and actions between the two mining firms.
Given the dramatic contrast between the Platinex vs. KI case and the widely-celebrated success of the De Beers Victor project, this section seeks to identify and describe key differences in community relations strategies and actions between the two mining firms. This is accomplished by first reviewing the progression of key events and engagement actions taken by De Beers Canada and identifying important aspects of, and key events in, the company's relationship with each of the IBA signatory communities.
Timelines of Engagement
• Timeline of Key Events in the Development of the De Beers Victor Mine
1987
Initial discovery of kimberlite along the Attawapiskat River
1995
Sample from kimberlite at drill site #22, 'Victor,' sparks interest in further exploration
1999
Formal consultation begins between   De Beers and Attawapiskat First Nation;
MOU signed to establish working relationship
2001
Monopros Ltd. is renamed De Beers Exploration;
Exploration Agreement signed with Attawapiskat
2002
Discussions held with Attawapiskat leadership regarding negotiating an IBA
2003
IBA negotiations begin with Attawapiskat
2004
Advanced exploration and feasibility studies completed
2005
Victor mine receives Environmental Assessment approval from Federal and Provincial EA boards;
IBA signed between Attawapiskat and De Beers;
Construction begins at Victor
2006
IBA negotiations begin with  Moose Cree First Nation;
Community discussions held with Fort Albany and Kashechewan First Nations regarding negotiating an IBA
2007
IBA signed with Moose Cree;
Labour-intensive construction phase of development at Victor;
IBA negotiations with Fort Albany and Kashechewan
2008
Construction complete, Victor enters commercial production phase
2009
Community protest and blockade of winter road by Attawapiskat;
Victor named 'Mine of The Year' by Mining Magazine;
IBA signed with Fort Albany and Kashechewan
2010
De Beers wins PDAC Environmental and Social Responsibility award;
All 3 IBAs in implementation phase
Source: De Beers, 2007; 2010
First Nation Relationships with De Beers Canada
• This section outlines the section that overviews the First Nations IBA signatories and some of the differences in their relationships with De Beers.
Although De Beers followed a similar community relations strategy when working with each community impacted by the Victor mine, each First Nation is unique and brought different interests, concerns, and expectations to the negotiating table. Additionally, much more time was spent establishing the early working relationship with Attawapiskat. Therefore, this section provides a brief overview of the First Nations IBA signatories and some of the differences in their relationships with De Beers.
First Nations IBA signatories:
Attawapiskat First Nation >
Moose Cree First Nation >
Fort Albany and Kashechewan First Nations >
Attawapiskat First Nation
• De Beers' relationship with Attawapiskat has been developed over the past 15 years and is constantly evolving as both parties to the IBA strive to live up to the terms of their agreement. Although this section briefly describes some of the challenges associated with implementing specific IBA provisions, this case demonstrates the significance of persevering effort by De Beers and Attawapiskat First Nation to work together toward mutual goals and maintain a positive relationship.
The traditional territory of the Attawapiskat First Nation extends far beyond their reserve; extending up the coast to Hudson Bay and hundreds of kilometres inland along river tributaries past the Victor mine site (Inf. #6). There are over 2800 members of Attawapiskat First Nation, but the local on-reserve population is approximately 1500 (INAC, 2009). The community is accessible by a winter ice road from late January-March, and only via air during the rest of the year.
Traditional harvesters from Attawapiskat First Nation regularly hunt caribou, goose, and fish along the Attawapiskat River, while tending trap lines throughout the region (Berkes et al., 1994; Whiteman, 2004). Like many other northern Cree communities, these traditional activities are more than subsistence, comprising an important part of local culture and identity (Inf. #2, 4). Therefore, the community leadership was very concerned with the proposed development of the Victor mine, and, at De Beers` invitation, sought to ensure that any environmental impacts of the mine would be effectively mitigated.
The proposed development of the mine was the first significant industrial development within the traditional territory of the Attawapiskat First Nation; among other issues, the mine sparked debate within the community regarding how to proceed given their longstanding interest in environmental protection and cultural preservation on one hand, and the economic benefits the mine could bring on the other (Inf. #2, 8). According to one informant, "the community was wary of the colonial history of De Beers and the mining industry`s track record with Aboriginal communities" (Inf. #2). De Beers` Jonathan Fowler recalls the complex situation the company faced,
 
We were… regarded as a pariah. This lack of trust negatively impacted a whole range of and processes. This lack of trust was coupled with a lack of understanding about the project and this was compounded by language issues and the absence of applicable words in the local dialect to explain what was planned.
– Fowler, 2008: 24
To address the host of legacy issues and other community concerns, De Beers began a campaign designed build relationships and foster trust with the community. This included over 100 community meetings as part of the engagement and environmental assessment processes. During these meetings, De Beers sought to educate the community on the company`s values, plans for partnering with the First Nation in employment, education, and business development, and most importantly, providing an clear description of the planned development using local liaisons and translators (Fowler, 2008). Additionally, De Beers provided funds for the communities to contract external advisors in order to provide third-party insight to their local and regional issues and interests.
Based on the community-sensitive approach to providing and translating information by De Beers and assurances from the Canadian Environmental Assessment Agency (CEAA), the leadership of Attawapiskat signed an MOU with De Beers in 1999 that outlined the type of relationship both parties aimed to foster; with guidelines for communication, liaising with the community, environmental protection, business opportunities, and training for future mine employment (DBC, 2000).
Following the MOU, an Exploration Agreement was signed to allow De Beers to conduct further drilling in their territory, on the condition that the First Nation would be involved in site selection and decision-making throughout the exploration process and enter into IBA negotiations with De Beers. Although there were many local concerns about the potential socio-cultural impacts of mining, the Chief and Council made the decision to continue working with De Beers in the hopes of signing an IBA. In the words of former Attawapiskat Chief Mike Carpenter, "De Beers Canada's diamond mine is the first and only opportunity our community has ever had to break free of our soul-destroying poverty" (Studol, 2008).
In early 2003, Attawapiskat entered into formal IBA negotiations with De Beers. While much of the financial arrangements within the agreement are confidential, negotiators representing the community worked to secure educational, employment and training, business development, environmental monitoring, and other provisions designed to address the potential impacts to the community while ensuring increased capture of benefits from mining (see Wawatay News, 2005). Following the successful completion of a three-year federal and provincial environmental assessment process, the IBA was voted on and ratified by the community after receiving 85.5% approval among the membership of Attawapiskat First Nation (De Beers, 2005).
Once the IBA was signed and ratified, it became a legal contract governing the relationship between Attawapiskat and De Beers. It includes important communication protocols between the parties, and outlines dispute resolution processes and mechanisms that both parties must follow. While negotiating the agreement was a laborious task, the "real challenge is implementing the agreement. It's tough to make it work when you don't have all the resources you need" (Inf. #6). For example, the community had great success in securing employment opportunities during the construction phase of mine development (see Table 2), but since operations began in 2008 it has been a struggle to educate, train, and retain local workers for positions that require industrial certifications and advanced training (Inf. #2).
Much of the challenges associated with implementing IBAs in northern Aboriginal communities such as Attawapiskat are related to lack of professional and institutional capacity. For example, the IBA includes funding for hiring a local 'IBA Coordinator' to assist with implementation of key provisions and advise the Chief and Council on how to best make use of the agreement; however, this position has yet to be filled in the five years since the agreement was signed (Inf. #2, 6). A recent interview with Attawapiskat's Director of Lands and Resources, John B. Nakogee, provided insight to this particular issue, and the broader challenge of implementation (see Video).
This significant limitation, largely based on the difficulty of hiring highly-skilled professionals to fill important roles in the community, has impacted the First Nation's ability to take full advantage of the IBA, and led to frustration within the community. For example, an 18-day community blockade was staged in February 2009 in protest of the terms of the IBA (see Feeney, 2009a). The roadblock was established when local frustrations erupted as community members felt DeBeers was not living up to the terms of the IBA (see Feeney, 2009b).
It was eventually found that many of the issues that led to the protest were rooted in the lack of communication and understanding between the Chief and Council and Attawapiskat First Nation membership regarding the terms of the IBA and its implementation. According to John B. Nakogee, De Beers met with the community and has dealt with the legitimate concerns in good faith. However, he cited this conflict as an example for IBAs and future agreements to be "more native-centred in their design, but mostly their communication."
Despite the range of challenges associated with meeting local expectations for employment and job training, Nakogee, and other informants from Attawapiskat, are pleased with the implementation of the environmental protection section of the IBA. In particular, the locally-based Environmental Monitoring Committee (EMC) has managed to draw on local traditional knowledge and expertise to identify changing patterns of nearby Caribou herd movement, likely in response to the mine (Inf. #4, 6). This emerging issue is one of significant local importance, and is currently being discussed among the EMC members and Chief and Council to be taken to De Beers for further discussion (Inf. #2, 6).
Although De Beers has been actively involved in Attawapiskat for over 15 years, the relationship between the company and the community is just beginning to mature, and, according to Fowler (2008) there is an element of trust among the First Nation leadership and key contacts at De Beers. While this relationship has proved challenging for both sides, it is working; Attawapiskat is receiving significant benefits from the Victor mine and De Beers is pleased with the relatively conflict-free operation of its significant investment. However, this relationship is constantly under scrutiny from local First Nation membership and external interest groups, and will continue to be defined by the commitment of both parties to honour the terms of their IBA and continue to act in good faith.
Moose Cree First Nation
• The relationship between De Beers and Moose Cree First Nation had a challenging start, but, through the commitment of both parties, is developing into a partnership that will yield significant benefits for each. However, the case of Moose Cree First Nation serves to highlight the importance of developing local institutional capacity if IBAs are to be successfully implemented.
Similar to Attawapiskat, the traditional territory of the Moose Cree First Nation extends north-west from the community along the coast of James Bay and inland along a series of rivers that have served as access routes throughout the region from time immemorial (Inf. #7). Their territory also extends southwards along the Moose River to its tributaries near Kapuskasing and Cochrane. Although the reserve is located on Moose Factory Island, adjacent to Moosonee, near the mouth of the Moose River, members of the Moose Cree First Nation practice traditional harvesting throughout this broad region. According to INAC (2009), the total membership of the First Nation is approximately 4000, while only 2700 live on Moose Factory Island. Many live across the river in Moosonee, while others inhabit other surrounding communities.
This First Nation is distinct from the other IBA signatories in many ways, but particularly because of the rail access in Moosonee. While no all-season roads connect either Moose Factory or Moosonee to the south, the rail infrastructure connects the community via Cochrane. While Moosonee is not solely an Aboriginal community, many Aboriginal transport joint-ventures and other businesses are based here, making the communities of Moose Factory and Moosonee significant 'gateway' communities to the far north. Prior to the arrival of De Beers, Moose Cree members had greater access to infrastructure and business opportunities than the other isolated northern First Nations.
Operating under the advice of the Mushkegowuk Council, De Beers first began consultation and IBA negotiations with Attawapiskat prior to any significant consultation with Moose Cree. While the leadership of Moose Cree was incensed with De Beers when it heard of their plans to use the coastal winter road and begin nearby hydro corridor construction without first consulting with Moose Cree, De Beers quickly initiated their consultation protocol in early 2003. Throughout the feasibility study phase of development at Victor, De Beers hosted numerous community meetings and consultation sessions with the leadership of Moose Cree.
While many Moose Cree members were interested in the employment and business development opportunities presented by the mine, there were significant concerns about the range of potential impacts of the proposed Victor mine; specifically, the impacts of increased traffic on the winter road and cutting a hydro transmission corridor across traditional hunting grounds and goose migration routes (Inf. #1,7). Aware of the IBA negotiations underway between De Beers and Attawapiskat, in 2004 the Moose Cree leadership requested that an IBA be developed to address local concerns and secure long-term benefits from the Victor mine.
Drawing upon strategies used during their successful negotiation of the IBA with Attawapiskat, De Beers initiated formal IBA negotiations with the Moose Cree First Nation in early 2006. However, the negotiations were not easy. According to one informant, "De Beers came in ignorant of our culture and interests, and tried to get us to sign an agreement that was basically a cheaper copy of the Attawapiskat IBA… we couldn't sign that, we had to educate them about our community's interests, needs, and concerns" (Inf. #7).
Despite the tremendous challenge of negotiating an agreement that addressed the important issues, and formalized the relationship between De Beers and Moose Cree First Nation, the community had an agreement-in-principle by the end of 2006 and voted to sign and ratify the IBA in September of 2007. One of the community members involved in negotiating the agreement noted, "we now have a fair agreement, but there was a lot of pressure to get it signed in time for us to benefit from the construction of the mine… we should have been doing that two years earlier" (Inf. #2).
Since the signing of the IBA, the relationship between De Beers and Moose Cree has developed rapidly. The implementation of the agreement, as in the case of Attawapiskat, has presented many challenges that both parties to the IBA have had to work collaboratively to address. Specifically, the IBA provisions for local oversight over shipping contracts and preference to Aboriginal businesses have largely been successful, but the education and job training provisions have been much more difficult to implement. Part of the challenge has been a lack of local institutional capacity.
For example, the low-level 'implementation coordinator' position formerly operated through the Moose Cree Resource Protection office was upgraded in 2009 to a senior-level position within the First Nation, giving the implementation coordinator increased funding (from De Beers and the First Nation) and authority over all IBA functions second only to the Chief and Council. This structural adjustment has enabled the First Nation to hire and retain qualified personnel to (better) manage the complex challenges of implementing all of the IBA provisions.
Although the IBA includes funding for developing job training and education programs, these provisions have been largely under-utilized. According to one informant, part of the problem has to do with De Beers' insistence on making use of existing Northern College facilities and personnel in Moosonee, while the First Nation would prefer developing a new program to offer through the First Nation's community centre (Inf. #7). In this case, De Beers' actions are perceived by some as negatively impacting the implementation of the IBA, since their control of funding allows them to select the institution to host the job training program. While such issues do little to impact the rate of production and success of mining activities, they can undermine the partnership ethic within the IBA, and have led to stalled implementation of locally-significant provisions such as employment and training.
Challenges such as implementing job training IBA provisions in Moose Cree are reflective of the many unanticipated issues which often arise during the IBA implementation phase, even among IBA signatories that have invested considerable effort to foster positive relationships. While the De Beers – Moose Cree First Nation IBA is considered by most locals to be a fair agreement, First Nation staff charged with implementing the agreement have special insight to the range of challenges involved in making the IBA provisions a reality. One informant put it this way, "we have to fight to get what we can… we want to have a say in how things are run… it [the IBA] is a partnership, they have to learn how to do it our way, not miss the intent of the agreement" (Inf. #7).
In the bigger picture, Moose Cree First Nation has already been making good use of the IBA to invest in local business development and expanding their institutional capacity – key changes that will assist them in managing future resource developments in the area, while protecting local values and interests. As former Chief Patricia Faries-Akiwenzie said, "This agreement represents a major step forward in our relationship with outside resource users and breaks the trail for other companies who want to utilize our resources in the Moose Cree homeland" (DBC, 2007). Therefore, although the IBA may not yet be as effectively implemented as intended, Moose Cree First Nation's relationship with De Beers is already contributing a variety of immediate and long-term benefits to the community.
Fort Albany and Kashechewan First Nations
• The relatively recent signing of the IBA between De Beers and these two First Nations shows De Beers' continued commitment to adapt to the specific needs and interests of different Aboriginal communities impacted by the Victor Mine. Specifically, the length of time invested in IBA negotiations, and the progressive cultural protection measures included within the IBA are indicators of the positive working relationship fostered by all parties to the IBA. However, it remains to be seen if these provisions will be effectively implemented throughout the remainder of the mine's life cycle.
Fort Albany First Nation and Kashechewan First Nation are located on opposite shores of the Albany river, approximately halfway along the James Bay coast from Moose Cree to Attawapiskat in the north. The traditional territory of these First Nations spans to the headwaters of the Albany river in the west to north of the Attawapiskat river. A number of families in these communities have ancestral trap lines crossing directly through the Victor mine site (Inf. #5). Therefore, these two communities, although located farther from the mine, share many of the direct impacts experienced by members of the Attawapiskat First Nation. According to INAC (2009), Kashechewan has a population of approximately 1200 on-reserve, while Fort Albany is just below 900.
These two First Nations share a complicated history, as they were both under the Fort Albany Chief and Council until the early 1970s. However, the majority of Anglican members of the community moved to Kashechewan (on Fort Albany reserve #67), while the Roman Catholic members remained in Fort Albany (Inf. #4,5,8). This division led to the establishment of new public facilities and band leadership under the Kashechewan First Nation in the mid 1970's. Although these communities have differences, they share many resources (e.g. the hospital in Fort Albany) and both have experienced significant social issues, low education levels, and a frighteningly high number of youth suicides in recent years (Inf. #8; see Wawatay News, January 21 2010).
When community members from both Fort Albany and Kashechewan learned that De Beers had signed an MOU in support of the Victor project, without yet consulting them, both First Nations were frustrated and ready to oppose any further development (Inf. #5). However, as in the case with Moose Cree, De Beers was operating under poor advice and quickly responded to the valid concerns of Fort Albany and Kashechewan. Rather than working through an MOU with the communities in advance of any further agreements, De Beers responded to the communities' request to enter into IBA negotiations as soon as possible, and late 2005 and early 2006 the IBA process was initiated. Given the similar bargaining position of both communities, and to save time and other expenses, the communities agreed to negotiate a joint IBA with De Beers, and divide the provisions equally between themselves.
More so than in the other cases, the members of these communities were frustrated that construction of the mine site had already begun prior to their IBA being signed, and their negotiation teams were pressured to sign a deal that would secure local employment and job training during this high-volume employment phase of development (Inf. #4). Despite this pressure, the negotiation team decided to take a different approach and, in an attempt to learn from the experiences of Attwapiskat and Moose Cree, negotiate for an agreement that had significant economic development provisions, but that focused on cultural preservation, education, and improving local social conditions (Inf. #5,8).
De Beers agreed to implement 'standard' local hiring practices while negotiations for other complex provisions were still underway. This allowed the negotiation teams to take their time to develop an IBA that reflected the long-term interests of the communities in maintaining their traditional hunting practices and detailed compensation provisions for hunters who were impacted by the mine, transmission corridor, and increased traffic on the winter road.
After nearly five years of discussion and negotiation, the De Beers – Fort Albany/Kashechewan IBA was approved by the communities and officially signed in December 2009. Although much of the contents of the agreement are confidential, it contains many progressive policies and provisions, such as the 'Shabatowan' chapter that essentially requires all parties to the IBA to conduct themselves in accordance with Cree values and traditions of honour and partnership (Inf. #8). This IBA is a significant achievement, but Fort Albany's Chief Andrew Solomon noted that, "at times, these negotiations were difficult. We were not always confident that De Beers understood and respected our ways. The IBA provides us with the reassurances we need to move ahead. We look forward to the benefits we will share from the mine" (see DBC, 2009).
Since the Fort Albany/Kashechewan IBA has only been in force for a few months, these communities are just beginning the implementation phase and have yet to encounter many of the challenges experienced by Attawapiskat and Moose Cree. The IBA is widely supported throughout the communities, while some First Nation staff and community elders remain fearful of the long-term effects of industrial development within their territories (Inf. #8). Despite these concerns, Kashechewan's Chief Jonathan Solomon asserts, "This IBA is a fair agreement for our people. It respects our way of life. At the same time, it provides opportunities for our youth and our work force. It also provides compensation to assist us to manage the impacts of the mine on our livelihood and it recognizes the need to protect wildlife and the environment."
By fostering a positive working relationship with these two communities, it appears that De Beers has made great strides to recover from the initial frustration and potential conflict with Fort Albany and Kashechewan. As this relationship matures, it is the hope of all parties to the IBA that the impacted communities will be able to share in the benefits of the mine, while negative impacts will be minimized (DBC, 2009). Of course, the long-term success of the agreement will likely be evaluated very differently by each of the signatories; De Beers being most interested in investment security and profit margins, while to Fort Albany and Kashechewan, it is a matter of identity and long term community well being.
Reflections and Discussion
• There are many lessons and insights to be learned from both examples in this case study. This section seeks to facilitate informed discussion based on the case material and supporting documents.
The contrasting cases of Platinex vs. K.I. and De Beers' interactions with each of the IBA signatory First Nations highlight the importance of community relations strategies in developing and maintaining positive relationships between mining firms and Aboriginal communities. Both developments were initiated under the same contested and evolving regulatory framework and specific context of Aboriginal communities in northern Ontario.
This context, and the approach of each respective company to managing it, is shown herein to be vitally important in determining the nature of the company-community relationship and the outcome of proposed mineral developments. While the Platinex vs. K.I. case has been characterized as a 'worst case' example, the De Beers case is far from perfect, but its relative success reflects a considerable investment of time and effort from all parties.
There are many lessons and insights to be learned from both examples. This section does not summarize these, but rather seeks to facilitate informed discussion based on the case material and supporting documents.
A Context-sensitive Approach
• This section seeks to facilitate informed discussion based on the case material and supporting documents.
Given the socio-economic challenges facing, and needs and interests of, northern Aboriginal communities in Ontario, mining companies are in a unique position to establish new, fruitful relationships with communities by engaging in good faith and acting to promote local community development. Meeting practical local needs, such as strengthening education, employment training, and social service provision within Aboriginal communities, is well within the ability of well-resourced mining companies (O'Faircheallaigh, 2003; 2009; McCarthy, 2009) and can bolster company-community relationships. Reinforcing these relationships will, of course, have many benefits for companies, but will also have broader strategic value to Aboriginal groups seeking political affirmation and influence.
Mining firms will do well to recognize the tremendous significance of the distinct local context that northern Aboriginal communities exist within and approach such communities in a manner that is not only sensitive to their context, but affirming of their rights and position as traditional landowners. The contrasting examples of Platinex and De Beers provide a unique perspective on the challenges for all parties involved in resource development in Ontario's north.
In each of the cases presented, the would-be impacted communities showed interest in the socio-economic benefits of mineral development, but had serious concerns regarding the potential environmental and cultural impacts of mining, among other issues. In the De Beers cases, the IBAs negotiated between the company and communities served to alleviate most concerns, while providing mechanisms for communities to benefit from mineral development. These examples, however, also demonstrate some of the challenges associated with implementing IBAs; especially in communities with limited institutional capacity.
In each of the cases, the relative success of the mining project depended on, and will continue to be contingent on, the quality of the relationship between the mining firm and impacted Aboriginal communities. The Platinex vs. K.I. case is an excellent example of the power of Aboriginal opposition to mining. The Victor IBA signatory First Nations possess even greater power through their legally-binding agreements with De Beers. However, these cases demonstrate the far-greater power of a thoughtful, context-sensitive approach to overcome historical abuses, cultural differences, and significant socio-economic issues. By recognizing the broader context to northern Aboriginal communities and committing to partner with communities to meet mutual goals, there is significant potential for mining firms to foster and maintain positive relationships rather than repeat all-too-common errors of the past.