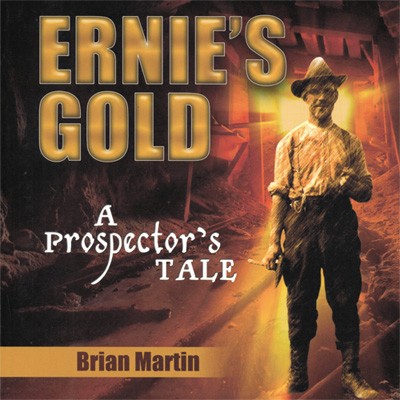 For an autographed copy of Ernie's Gold, please contact the author at: [email protected].
Great Christmas Gift: $20.00 plus shipping!
In the early 1900s, young Ernie Martin immigrated from Staffordshire, England, to Canada to seek his fortune. He finally ended up in Kirkland Lake, where gold was to be found if you were willing to work at it. Ernie was. And so was Harry Oakes. The two of them became prospecting partners. Ernie and Harry worked hard and non-stop to find a vein of gold so they could start a mine.
When it finally happened, the mine grew into a huge money-maker for the two of them. Ernie's first wife, Mary, also was a prospector, and in fact ended up financially far better off than Ernie. Why was that? How is it that multi-millionaire Ernie Martin arrived at the end of his life virtually a pauper? This is a book full of surprises and answers — and a few questions.
Excerpt from Ernie's Gold: A Prospector's Tale:
Mary wasn't particularly attractive, being rather short and sturdy in build with a sallow complexion and deep-set eyes. Her fierce, independent spirit discouraged some suitors who were seeking a more traditional mate; but in a land where men far outnumbered women, Mary's odds had improved. She met a charming Englishman named T. Harvey Jessop, three years her senior, and she fell for him quickly and hard. The son of a doctor in Leeds, England, Jessop had attended Leeds University in 1892–93, intending to pursue studies in medicine, but he didn't last. He drifted around looking for challenges and by 1898 had found a job as co-manager of the brand-new, 3,500-seat Queen's Theatre in Leeds. The theatre attracted plays and variety shows and it featured singers and other entertainers.
Jessop still wasn't satisfied. He was looking for broader horizons and by 1906 was in Haileybury, having joined the hunt for mineral wealth. Nipissing District marriage records show that on July 13, 1907, Mary Florette Violette and Thomas Harvey Jessop became husband and wife. Jessop, thirty-six, gave his occupation as "gentleman," and none was recorded for Mary, who gave her age as twenty-eight, shaving five years off the truth.
The marriage soon failed, however, and Mary was again on her own. But she didn't despair. There was too much to do. She asked for a raise at the law office and was turned down, so she decided to get closer to the prospecting action and moved to Swastika. The community was bustling with excitement and opportunity, and Mary decided she could help prospectors with their affidavits, so she opened her own office and hung out a sign as a claims recorder.
Some time later, Mary recalled her decision this way:
>>>
>When I asked for a raise in pay that wasn't granted, I painted a shingle of my own and opened my own office. My office desk was a store box and the rest of the furniture consisted of more boxes. Did I make the $50,000? Well, believe it or not, I made it right there.<
>>>
Aside from their business needs, Mary also catered to other needs of the men in camp. She ran a social centre for prospectors complete with the first player piano in this part of Canada and it proved wildly popular. In her role as claims recorder and hostess, she picked up a mixture of solid information and gossip. Much of it centred on which claims might be expiring for lack of required follow-up work and which areas seemed more promising than others. Mary was in the catbird seat and soon felt she had gleaned enough knowledge to pick up her own prospecting tools.
Mary began tentatively, and then with remarkable zeal dove into the bush to stake her own claims. Her willingness to cope with harsh weather, deprivation, mud, muck, mosquitoes, and difficult terrain made her tougher than some of the men she encountered. In wintertime, she drove dogsleds and carried a rifle as she ferried food and supplies to her clients who chose to work through the terrible cold. Not far from the shore of Kirkland Lake, she began to assemble a small group of claims.
By 1909, when Ernie Martin was in New Liskeard, just north of Haileybury, he must have known Mary. Proof seems to reside in a postcard he received there, dated June 22 and mailed from Whitby, on the shore of Lake Ontario, east of Toronto.
"Dear Ernest," it read. "I received your photo and thanks very much for it. I think that it is just lovely. Sorry to say I have not any to send just now but I will send one when I get some taken. I hope to receive a letter from you soon. I remain ever your friend, Mary." The writer was most likely Mary Violette–Jessop during a trip south.
A second postcard to Ernie at New Liskeard came from younger brother Sid back in Staffordshire. It was dated Sept. 5. Sid thanked Ernie for a recent letter to the family, adding: "Pleased you're going on alright." Sid shared the news that he was off to attend Handsworth, a Wesleyan college in Birmingham, the following day.
Mary and Ernie shared a strong desire to materially improve themselves. An unforgiving climate and difficult landscape weren't going to dissuade them. Ernie and Mary were kindred spirits and shared what they knew with each other. In Kirkland Lake, they eagerly staked claims the moment original claims lapsed for want of development and ventured out to make claims where no prospectors had ventured before. Ernie staked a dozen claims in all, Mary a similar number. The farm boy from Staffordshire and the farm girl from Indiana developed a special bond in the Canadian North that would see both prosper before long.