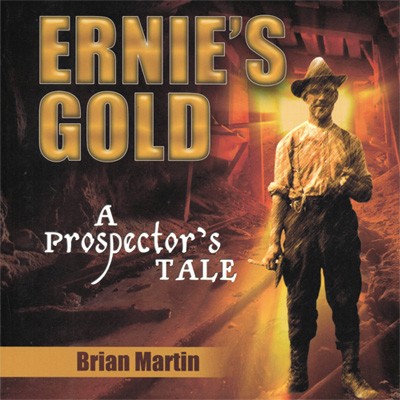 For an autographed copy of Ernie's Gold, please contact the author at: [email protected].
Great Christmas Gift: $20.00 plus shipping!
In the early 1900s, young Ernie Martin immigrated from Staffordshire, England, to Canada to seek his fortune. He finally ended up in Kirkland Lake, where gold was to be found if you were willing to work at it. Ernie was. And so was Harry Oakes. The two of them became prospecting partners. Ernie and Harry worked hard and non-stop to find a vein of gold so they could start a mine.
When it finally happened, the mine grew into a huge money-maker for the two of them. Ernie's first wife, Mary, also was a prospector, and in fact ended up financially far better off than Ernie. Why was that? How is it that multi-millionaire Ernie Martin arrived at the end of his life virtually a pauper? This is a book full of surprises and answers — and a few questions.
Excerpt from Ernie's Gold: A Prospector's Tale:
Meanwhile, in Kirkland Lake, the town had reached a population of 13,000 and was weathering the Depression better than most communities. Job-seekers streamed in looking for work, but only a few were successful. Many moved on and only a few stayed behind. Relief rolls began to grow but remained comparatively small. At a time when one in ten workers was on relief in the depth of the Depression, only 205 families were on the dole in Kirkland Lake.
The relatively good picture stood in stark contrast to many other communities across Canada and the United States. The situation was similar to Lead, South Dakota, home of the famous Homestake Gold Mine, the only gold mine in the hemisphere more prosperous than Lake Shore. Homestake was also insulating the area around it from the ravages of the Depression. Management of Homestake reduced the length of the work week, increased wages, and provided employees with year-end bonuses.
In Kirkland Lake, Ernie and Mary Martin were making their contributions to the community, albeit on a lesser scale than Oakes in Niagara Falls. The Martins continued to work away at Goodfish, their hobby mine, when they weren't travelling the globe or visiting family in England or spending time in Goshen. Mary, particularly, endeared herself to the locals when she ventured into town to renew acquaintances, adorned with furs and diamonds. When one organization or another needed help, Mary would invariably come through. Faced with an impassioned pitch for help, she would reply: "Damn it, stop worrying. Here's a cheque."
She and Ernie began helping young people unable to afford an education, especially those interested in mining engineering. This practice continued for many years and upon her death, Mary left money to two young men to help them finish their studies. When the new Kirkland Lake Golf Club opened in 1935, Ernie and Mary paid for a fine log clubhouse that became a social centre not unlike the one Mary had operated for prospectors back in her Swastika days.
With their millions, the Martins began looking for a more substantial estate in Canada, just as Oakes had done. The log house on Goodfish Lake remained their place in mining country, but they wanted a home closer to Toronto, the financial centre of Ontario, and base for some of their bankers and business interests. Ernie felt they didn't need another farm, and looked instead for a place in the country with water and trees.
In 1932, Ernie found a property he felt had great potential. It was a marginal farm at the foot of the Niagara Escarpment just north of Glen Williams, a mill town on the Credit River about thirty-five miles northwest of Toronto. Fred Thompson, the seller, had struggled with the 200-acre property, which was too rugged and marshy to farm effectively. The setting was idyllic, nestled in a picturesque valley carved out of the escarpment bluff by Rogers Creek. Ernie was captivated by the lush setting which he learned was called YoHo Valley, "yoho" being a Native word for "peaceful." The site was about seventy-five miles along the escarpment from Oakes's new home.
Ernie paid $87,000 and immediately set about to transform his new acquisition. He had plans even more grand than at Goshen. Money was no object for the Martins, as residents along the sparsely settled 10th Line of Esquesing Township soon learned. Month after month, construction equipment, trucks, and workmen churned up dust on the gravel road that swept past the estate Ernie had named "YoHo Lodge."
Scottish stonemasons were hired to expand the two-storey frame house on the site and clad it in pink and grey granite, with walls two feet thick. Ernie had the rock shipped down from Kirkland Lake, even though limestone was plentiful in the area and the preferred rock for local construction. A fashionable roof in Marley tile was installed, one of the first in Canada, and large verandah sunrooms added to the eastern and southern exposure. Rogers Creek was dammed and diverted to create three separate, tiered ponds, all excavated by heavy equipment.
A lengthy stone aqueduct with an arched stone bridge was created, under which creek water babbled mere feet from the front door of the house. A circular island for lush plantings created in the pond in front of the house was reached by an intricate, interlocked wooden bridge. All the ponds were stocked with fish, reflecting the new owners' love of fishing.