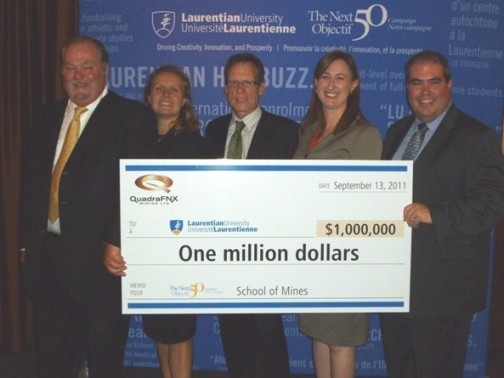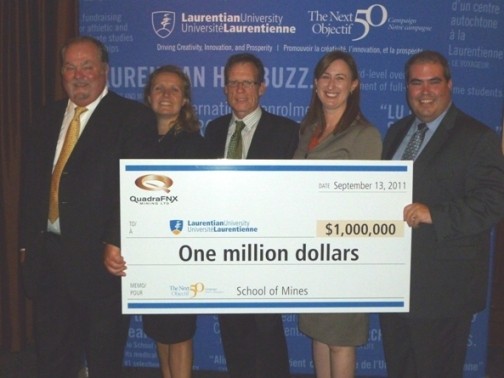 This article was provided by the Ontario Mining Association (OMA), an organization that was established in 1920 to represent the mining industry of the province.
Terry MacGibbon, Chairman of Ontario Mining Association member Quadra FNX, has taken on the volunteer role as chairman of Laurentian University's Next 50 campaign.  This fundraising effort, to date, has reached $39 million of its goal of $50 million.
"I am honoured to accept this important position and to be a part of the development of a university that I believe is on the cusp of greatness," said Mr. MacGibbon.  "Laurentian's bold plans for the future speak to its desire to set the pace for educational excellence in Canada and projects like the newly announced Laurentian School of Mines and the Laurentian School of Architecture will surely attract some of the country's brightest, most ambitious young minds."
Also a donation of $1 million made by Quadra FNX to Laurentian University is being designated to the Laurentian School of Mines.  "Quadra FNX is excited to invest in an institution that is set in one of the world's great mining camps and that will play a vital role in developing the qualified professionals needed to sustain and grow our industry," said Paul Blythe, President and Chief Executive Officer of Quadra FNX.  "Laurentian's School of Mines will undoubtedly become one of Canada's premier centres for mining education."
Mr. MacGibbon worked for more than 30 years at Vale predecessor company Inco.  Following his "retirement," he became the founder of FNX and developed the junior resource company into a major producer.  In 2010, FNX merged with Quadra Mining to become Quadra FNX.
Laurentian University in Sudbury serves about 9,400 students and its satellite campus in Barrie has about 1,200 students.  The Next 50 campaign is intended to raise funds to support key projects including the School of Mines, the School of Architecture, the Indigenous Sharing and Learning Centre and increase endowment funding to support researchers and graduate students.
Quadra FNX Mining is a leading copper mining company with corporate offices in Vancouver and Toronto. Quadra FNX produces copper, nickel and precious metals from its operating mines: Robinson in Nevada, Carlota in Arizona, Franke in northern Chile, and Levack, which includes Morrison, Podolsky and McCreedy West in Sudbury.  The company is investing about $750 million to develop the Victoria polymetallic project in Sudbury.  It has 1,900 employees in North and South America.
Mining companies are responsible, solution-providing partners in society.  They do more than find, extract and process minerals essential to our modern lifestyle.  They volunteer and add great value to the quality of life in their communities and beyond.