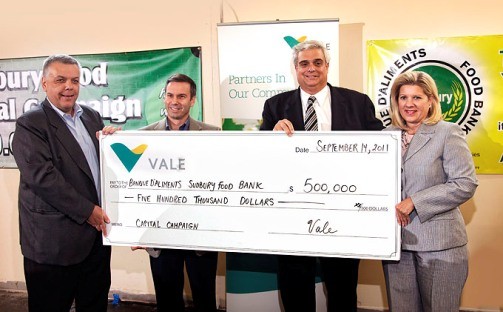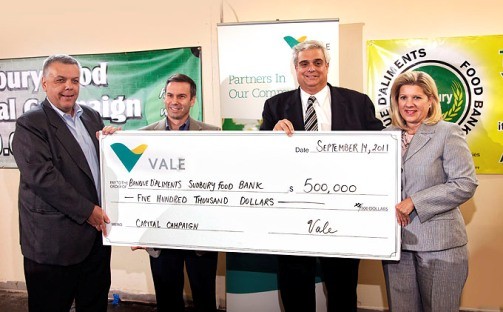 For Immediate Release
SUDBURY, September 14, 2011 –Vale today announced a donation of $500,000 toward the Banque d'aliments Sudbury Food Bank Capital Campaign.
Tito Martins, Chief Executive Officer, Vale Canada Limited announced the donation in front of Sudbury Food Bank board members, local dignitaries, agency representatives and local supporters.
"Vale has a proud history of support for the Sudbury Food Bank and we are pleased to provide this donation toward its new warehouse, which will allow for more effective storage and distribution of food to those in need in the community," said Martins.
Geoffrey Lougheed, Chair of the Sudbury Food Bank, applauded Vale's donation and took the opportunity to formally announce Tito Martins as Honourary Chair of the Sudbury Food Bank.
"One of Vale's first actions coming to Sudbury was to strongly support the Food Bank illustrating a commitment to our community feeding the 14,000 people (including 7,000 children) who are hungry every month," said Lougheed. "This donation of $500,000 dollars brings our campaign a large step closer to success! The personal commitment of Mr. Martins to serve as Honourary Chair will provide leadership and inspire others to bring this campaign over the top. Both Tito and Vale have put their goodwill into action, the Sudbury Food Bank is grateful for this outstanding dedication to feed the hungry," added Lougheed.
Vale has been a long supporter of the Sudbury Food Bank dating back to when Edgar Burton, a former Divisional Shops employee, launched Sudbury's first employee food drive 23 years ago. Today, the Edgar Burton Memorial Food Drive (formerly the Sudbury Employee & Business Food Drive) has become one of the largest community food drives in all of Canada, with more than 80 tons of food collected last year alone.
Greater Sudbury Mayor, Marianne Matichuk, also a Sudbury Food Bank board member, was also on hand for the announcement.
"With this generous gift, the Sudbury Food Bank will be able to ensure those in need can sit down at the dinner table and enjoy a healthy meal provided by the community's generous donations," said Mayor Marianne Matichuk. "I would like to thank Vale for their continued support in making the City of Greater Sudbury a place where people can be proud to live, work and play."
With Vale's $500,000 donation, the Sudbury Food Bank has raised more than $1.5 million toward its $1.8 million capital campaign.
-30-
Contact:
Angie Robson
Manager, Corporate Affairs
Vale, Ontario Operations
(705) 682-5202
angie.robson@vale.com