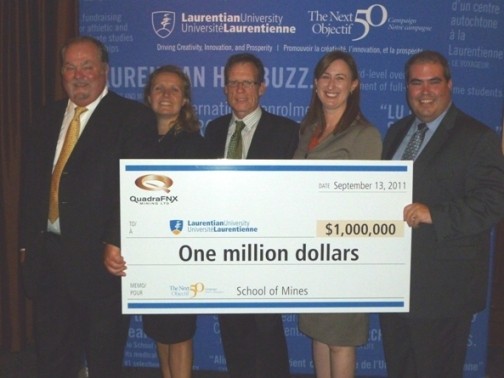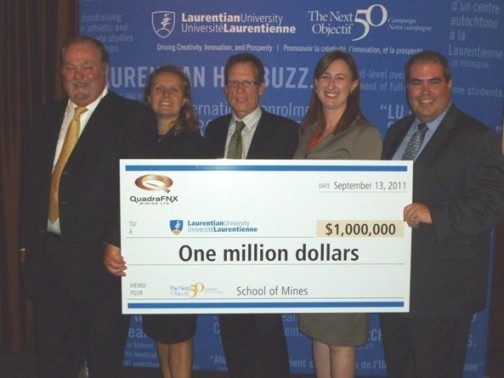 Toronto, ON (September 14th, 2011) On Tuesday evening, at Toronto's National Club, an audience comprised of some of the biggest names in the mining industry listened as Laurentian University President and Vice-Chancellor Dominic Giroux and Paul Blythe, president and CEO of Quadra FNX Mining Ltd., introduced Terry MacGibbon, Chairman of Quadra FNX Mining Company as the new Chair of the university's Next 50 Campaign. To date, the campaign has raised $39 million of its $50 million goal.
"I am honoured to accept this important position and to be a part of the development of a university that I believe is on the cusp of greatness," said MacGibbon. "Laurentian's bold plans for the future speak to its desire to set the pace for educational excellence in Canada, and projects like the newly-announced Laurentian School of Mines and the Laurentian School of Architecture will surely attract some of the country's brightest, most ambitious young minds. I fully support Laurentian in its mission to provide these individuals with the highest quality educational experience available and am committed to helping the Next 50 Campaign reach its goal."
"We have long admired Terry's strength of vision and his creativity for finding solutions outside the box. We are grateful to have him partner with us as we shape the future of Laurentian University," said Giroux. "He's the perfect choice to excite people about Laurentian and what we hope to accomplish in the years to come."
After retiring from Sudbury, Ontario's Inco Ltd. (now Vale) with over 30 years of service, Mr. MacGibbon grew FNX Mining Company, then a junior resource company, into a multi-billion dollar producer and one of the country's great mining success stories. In 2010, the company merged with Quadra Mining Ltd. to become Quadra FNX Mining Ltd which operates mines in Canada, USA and Chile.
In addition to publically congratulating MacGibbon on his new role, Mr. Blythe took centre stage to announce that a $1 million gift made by Quadra FNX to Laurentian University in 2010 will be designated to the Laurentian School of Mines.
"Terry's passion for the North and Laurentian is contagious," Blythe said, "and Quadra FNX is excited to invest in an institution that is set in one of the world's great mining camps, and that will play a vital role in developing the qualified professionals needed to sustain and grow our industry. Laurentian's School of Mines will undoubtedly become one of Canada's premier centres for mining education."
"The purpose of the Next 50 Campaign," said Laurentian University Director of Development and Campaign Director Tracy MacLeod, "is to ensure that Laurentian can continue to drive creativity, innovation and prosperity, and there are few individuals who have embodied the spirit of this campaign as fully as Terry has over the course of his remarkable career. He has been a long-time supporter of Laurentian and its students, and so we are absolutely thrilled to have him on board."
– 30 –
About The Next 50 Campaign
To ensure that Laurentian continues to drive creativity, innovation and prosperity , the university has launched The Next 50 Campaign—the most ambitious fundraising campaign ever undertaken in Northern Ontario—which aims to raise $50 million in new investments. To date, $39.4 million has been secured in support of Laurentian's key projects, including: the Indigenous Sharing and Learning Centre; the School of Architecture; a School of Mines and an expanded endowment fund to increase opportunities for researchers, graduate students, and student athletes to excel through the creation of chairs, fellowships, and scholarships.
About Laurentian University
Laurentian University is one of the fastest growing universities in Canada in the past decade, serving 9,400 students. With its main campus in Sudbury, it now offers a growing number of programs in Barrie to the 1,200 students located on that campus. Laurentian is a bilingual university with a tri-cultural mandate to support Aboriginal students. For two years in a row, the University is #1 in Canada in total sponsored research income among primarily undergraduate universities. Laurentian has one of the highest post-graduation employment rates in Ontario and receives high recognition for its enviable class sizes, having one of the lowest faculty-to-student ratios in Canada. For more information on Laurentian University visit www.laurentian.ca
About Quadra FNX
Quadra FNX Mining Ltd. is a leading mid-tier copper mining company with corporate offices in Vancouver, B.C. and Toronto, Ontario. Quadra FNX produces copper, nickel and precious metals from its operating mines: Robinson in Nevada, Carlota in Arizona, Franke in northern Chile, and Levack, which includes the Morrison Deposit, Podolsky and McCreedy West in Sudbury, Ontario. The Company has two key development projects: the Sierra Gorda project, a copper-molybdenum project in Chile, and the Victoria project, a polymetallic project in Sudbury, Ontario. Quadra FNX employs approximately 1,900 people in North and South America. The Company's common shares are listed on the Toronto Stock Exchange under the ticker symbol "QUX". Additional information about the Company is available at www.Quadra FNX.com.
MEDIA CONTACTS
For further information or to schedule an interview, please contact:
Sherry Drysdale
Communications
Laurentian University
Tel: 705-675-1151 ext. 3412 or 1.800.263.4188 ext.3412
sdrysdale@laurentian.ca
Nawojka Wachowiak
Vice President,Investor Relations
Quadra FNX Mining Ltd
Tel: (416) 985-8317