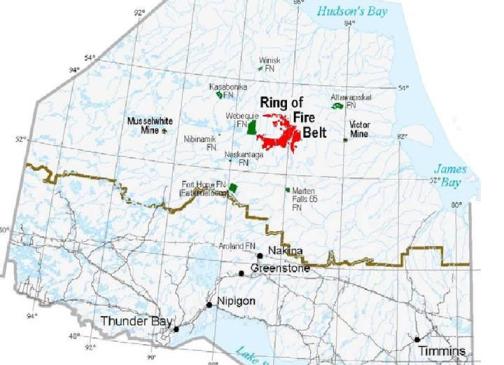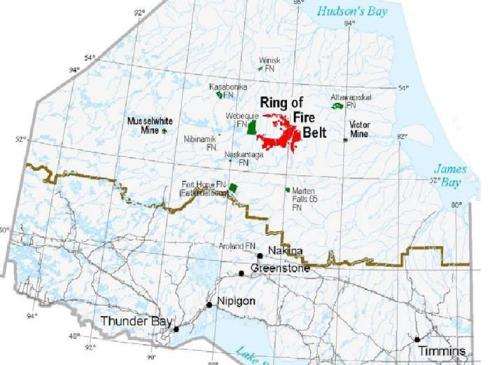 The Ring of Fire Conference in Thunder Bay on June 23, 2011 was by invitation only.
CHECK AGAINST DELIVERY
 Good afternoon, everyone, it is a pleasure to be here. What an exciting day and a half it has been here at the Ring of Fire Conference. It certainly is living up to expectations by promoting insightful dialogue and innovative thinking.
I've been asked to join you this afternoon again to share with you my vision and aspirations for the future of the Ring of Fire.  I want to take it a step further by expressing my unequivocal conviction that the dream of sustainable and balanced mineral development can be achieved.
In doing so, I hope that I can inspire your creativity in coming up with innovative and strategic ideas that will help us create and manage the massive infrastructure development efforts required to foster growth in the Ring of Fire and beyond.
Yes, even though the Ring of Fire's projected potential could mean production could go on for a century, it is important to think of the North's continued prosperity even beyond the 100 years.
My vision for the Ring of Fire is the a development of another world-class mining area in Ontario
• – development that promotes long-term sustainability – development that promotes community prosperity and opportunities for all
• – development that exemplifies modern, safe and environmentally sound exploration and mining
• – a development that would showcase Ontario's strength and achievements to the world.
I envision development of a mining district with many different operations.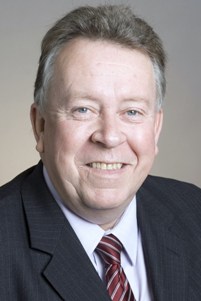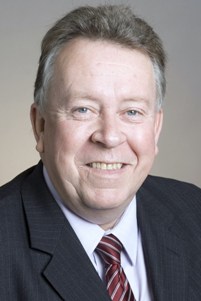 I envision mining on an internationally significant scale being carried out with best practices and with leading edge technologies that safeguard employees, families, communities and the environment.
I envision value being added to the minerals extracted from the Ring of Fire in Northern Ontario communities.
And, I envision a world class mining region being supported and advanced by the North's world leading supply and services sector where some of the most nimble and innovative minds provide leading edge services and equipment to the mining sector.
Of course, the foundation for this vision will be established by the economic and community infrastructure that is essential to opening up the Ring of Fire.
However, the potential offered by the Ring of Fire requires visionary thinking by everyone who has a stake in its success. And that includes everyone present here today.
By and large, the scale of discoveries of chromite, nickel and other minerals has alerted the mining world to the Ring of Fire.
The Ring of Fire could become one of the world's largest discoveries of chromite, and the only one in North America.
Some estimate the potential at more than a hundred years of chromite production – which means the benefits will be multi-generational.
In fact, the deposit could potentially supply all North American markets in the stainless steel and defence industries.
As most of you already know, Cliffs Natural Resources is working diligently to bring its chromite deposits in the Ring of Fire into production as early as possible this decade.
It's an ambitious timeline and we are working diligently with Cliffs and local communities to support this goal.
But the Ring of Fire will be more than chromite.  Noront Resources is looking to bring its nickel discoveries into production in a similar timeline.
And our growing belief is the Ring of Fire has the potential to host many mining operations. 
Keep in mind the considerable geographic scope of the Ring of Fire.
The region of specific interest covers an area of more than 5,000 square kilometres – that is roughly the size of Prince Edward Island. And so far most discoveries have been made in a much smaller area — roughly 12 to 20 square kilometres in size.
Currently, there are approximately 25,000 claim units held by about 35 companies exploring the Ring of Fire for chromite and nickel but also copper, zinc, gold, and diamonds.
We envision the Ring of Fire evolving on the same regional scale as some of Ontario's other historic mineral deposits in Red Lake, Kirkland Lake, Timmins and Sudbury.
The sheer magnitude of potential mineral development requires us to take a long, hard look at how to best to develop the mineral riches that lie there.
One of our advantages is that we have been mining in Ontario for well over a century. In many ways, our mineral developers and miners have defined modern best mining practices. Quite simply, we are good at it. Perhaps the best in the world.
Combined with our collective commitment to promote sustainable mining, we know the importance of taking the time and opportunity to develop the Ring of Fire. We want to get it right the first time.
We know that economic infrastructure along with all other aspects of development in the Ring of Fire will require careful co-ordination and planning.
And as infrastructure for the Ring of Fire is being considered, we continue laying the foundations for the future of this region on other fronts.
For example, we are working closely with Cliffs to ensure that a ferrochrome processing facility will be built in Northern Ontario.
As you know, some of the debate with respect to that decision has centred around energy costs.
Our contention is the sum total of Ontario's strengths and economic environment, make Ontario a very competitive jurisdiction. We have:
• highly skilled labour, highly developed mining services and supplies sector, proximity to the US, strong financial institutions and very favourable corporate tax structure, just to name a few.
Having said that, we have laid out some very significant incentives to reduce electricity costs for the resource development industry.  In particular, we've provided a three-year $450 million Northern Industrial Energy Rate Program.
Additionally, we've made the new Industrial Conservation Initiative available to over 200 of Ontario's largest energy consumers. This initiative provides a strong incentive for industrial companies to shift their electricity consumption to off-peak hours to save on costs. It will help companies stay competitive, invest more in their businesses and create new jobs.
As I stated, Ontario offers more than incentives for electricity. Our government's plan for jobs and growth includes significant business tax relief.
For example, reducing corporate income tax rates to 10 per cent over the next three years dramatically improves our competitiveness on an international scale.
In fact, by 2012 Ontario's combined federal provincial corporate income tax rate for manufacturing and processing will be 25 per cent – a full eight per cent better than the most competitive U.S. states, and more than 11.5 per cent better than states in the entire Great Lakes region.
We believe our program of incentives makes our province very competitive in comparison to other provinces.
And we believe that those incentives will support the successful establishment of value-added processing facilities here in Ontario and promote our vision of a vibrant regional Ring of Fire development.
I want to take a moment to address the issue of the location of the processing facilities.
Let me reiterate that our government has no intention of favouring one community over another, beyond stating that it stay within Northern Ontario.
The specific location is a production decision that will be made by the companies in question based on factors considering sustainability and profitability.
We expect that the decisions we make with respect to transportation infrastructure and other important considerations will support production and community decisions.
We cannot lose sight of the incredible potential of the Ring of Fire. 
It will create generations upon generations of jobs throughout Northern Ontario. Communities in my riding of Thunder Bay and Greenstone will benefit, as will communities in the Northeast, like Sudbury and Timmins. And of course the communities who surround the Ring of Fire area.
We've seen communities lobbying for the processing facilities. And, a little competition between communities can be a good thing to some extent. However, I'd like to make the point that the North will see the benefits only if we work cooperatively.
Ladies and gentlemen, despite the natural excitement surrounding the Ring of Fire, I cannot possibly overstate the enormity and the complexity of the challenges that lie ahead in the developing the Ring of Fire.  It will demand all our best efforts.
And, if we can keep our eyes fixed on the ultimate objective, without getting bogged down by parochial issues, the rewards could be huge.
My vision for the Ring of Fire is for a dynamic development that will ripple through Northern Ontario's economy.
In particular, I believe that First Nations communities, particularly those throughout Matawa must see generational benefits if the vision is to become real.
I know from speaking to First Nations leaders throughout the Ring of Fire that they understand the extraordinary benefits that mineral development can provide. Benefits that will include education, training and job opportunities, as well as infrastructure benefits, including broadband and transportation.
They understand the importance of forging strong partnerships and meaningful engagement.
For this development to occur successfully and strategically over the long term, it will require our collective efforts and wisdom to ensure that all northern communities have a role in this development and see tangible job opportunities.
In my vision of the Ring of Fire, First Nations youth will have access to skilled, long-term, well-paid jobs and the educational foundation to succeed in these jobs and become leaders in their communities.
In anticipation of this, our government has made considerable investments in training and education.
We made these investments because we understand that education and training are key to ensuring that the North will be prosperous for generations to come.
In the 2010 provincial budget, we committed $45 million over a three-year period toward a Northern Training Partnership Fund to help Aboriginal Peoples and northerners develop their skills in order to benefit from emerging economic development opportunities like the Ring of Fire.
And, thanks to our government, First Nations communities are involved in land use planning and environmental monitoring in the Ring of Fire area and across the North.
To support this, our government has committed $10 million in funding for First Nations communities that are working with Ontario on land-use planning. I am pleased to note that currently, all Far North communities within the Ring of Fire area have initiated land-use planning initiatives at some level.
As well, we have been working with Matawa Tribal Council communities for several years, both through the tribal council itself, and on an individual community basis.
Most recently, we signed a Letter of Intent with Marten Falls and Webequie First Nations to work together on a series of initiatives that will help build community capacity and increase economic development opportunities associated with the Ring of Fire.
We continue to work closely with these communities. And, we look forward to signing Memoranda of Understanding with each one in the near future, to further solidify our working relationship.
We have also been directly engaged with the Federal Government through the Department of Indian and Northern Affairs Canada to ensure that capacity funding is directed to individual communities and the tribal council as appropriate.
These communities want more than jobs.  They want to be active participants. They want ownership opportunities, joint ventures, and equity positions. They want to share in the benefits stream.
So, in my vision there will be a new way of doing business.  I envision a profitable and sustainable course of action being mapped in meaningful partnership with First Nations.
Companies investing in mineral development in the Ring of Fire want certainty and stability.
And just as the government is providing training opportunities and capacity building, it is essential for companies to build and improve upon relationships that are forming with surrounding communities.
Over the past two decades, success stories like De Beers Canada's Victor diamond mine and Goldcorp Canada's Musselwhite gold mine, both in the same region as the Ring of Fire, are examples of how consultation and collaboration can lead to benefits for mineral companies and local communities.
I believe that we are fostering a new period of cooperation and engagement among First Nations, companies and communities in the Ring of Fire area and other parts of Ontario. And I invite First Nations leaders to join me in working together to realize this unique opportunity.
I think we can learn a great deal from the efforts we've made to modernize the Mining Act over the last few years.  Modernizing the Mining Act has laid the groundwork for this period of cooperation through consultation that we are seeing.
I also believe that the Modernization of the Mining Act consultations produced an interesting dynamic.
During consultations participants from very different backgrounds brought their own viewpoints and concerns to the table.
At times, the gulf between us seemed quite wide, and it was sometimes difficult to reconcile our divergent interests.
But, in the end, I think we grew to understand each other better.  We gained a far better appreciation of and respect for all our different needs and aspirations – and therein lies the essence of communication.
As a result, our legislation became much sounder and we are all richer for the process.  We have laid a solid foundation for future mineral development in the province.
During this conference, as you address the issue of economic and social infrastructure development in the Ring of Fire, I suspect that this dynamic will again manifest itself here. And, I believe it will inspire the creative thinking we need to promote sustainable mineral development in the Ring of Fire.
I cannot overemphasize the importance of your deliberations during this conference.
With the Ring of Fire, we have an opportunity to "get in front of" development.  The mines and refineries will not be built overnight. That will take another few years.
We have the time to form a long-range plan of great design — a blueprint for future development.
We have the opportunity to engage the mineral development community and stakeholders in planning its proper development.
Let me be very clear, this is a massive infrastructure endeavour.  We are considering linking communities whose only current connections are by air or winter roads.
The provincial government cannot do this alone. It necessarily requires other government partners and companies to come to the table and work together to build a corridor for the transportation of people, equipment, supplies and products – a corridor that will make the Ring of Fire a reality – a reality that will benefit First Nation communities and all of Northern Ontario.
Our government takes our role in the development of the Ring of Fire very seriously.
I can assure you that we will continue to coordinate discussions among stakeholders and ensure that infrastructure planning and future development adequately meet industry, community and regional needs.
Ladies and gentlemen, I hope you can sense my great optimism and excitement about the Ring of Fire.
In my view, we must all work together over the coming days, weeks, months and years to plan for growth and make the vision of development in this region a reality.
Someone once noted that: "Vision without action is merely a dream. Action without vision just passes the time. Vision with action can change the world."
During this conference, you have the opportunity to inspire action that will change the world.
You have the opportunity to inspire the meaningful dialogue that will determine what infrastructure will best serve the Ring of Fire and the communities surrounding it in a balanced, environmentally responsible way.
In doing so, you will help drive mineral development that will have a positive impact on Ontarians for generations to come.
I am looking forward to your insights and perspectives.
I wish you all a successful conference.
Thank you.
-30-