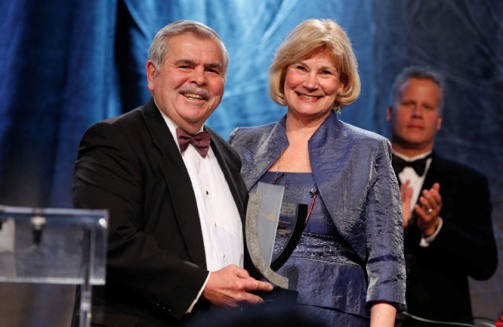 PDAC Convention 2011 – Distinguished Service Award – Ms. Pat Dillon from PDAC on Vimeo.
http://www.pendaproductions.com/ This video was produced by PENDA Productions, a full service production company specializing in Corporate Communications with a focus on Corporate Responsibility.
This award recognizes an individual who has achieved one or more of the following: made a substantial contribution to mineral exploration and mining development over a number of years; given considerable time and effort to the PDAC; made outstanding contributions to the mineral industry in the field of finance, geology, geophysics, geochemistry research, or a related activity.
Patricia Dillon is this year's recipient of the PDAC's Distinguished Service Award. Mrs. Dillon is being honoured for her many and exemplary contributions to the PDAC and to the Canadian mineral industry, especially to its education and human resources initiatives. Patricia served as a PDAC director for 15 years and as the association's president from 2006 to 2008. She is also a past president of the Canadian Institute of Mining, Metallurgy and Petroleum and is the only person to have been president of both associations.
Patricia has charted the course for PDAC Mining Matters, a highly successful educational program. She is a director of the Mining Industry Human Resources Council, past-president of the Minerals and Economics Management Society, a director of the Ontario Mining Association, and past-chair of the Minerals and Metals Industry Sector Study Steering Committee, which oversaw research on human resource needs in Canada's mineral industry.