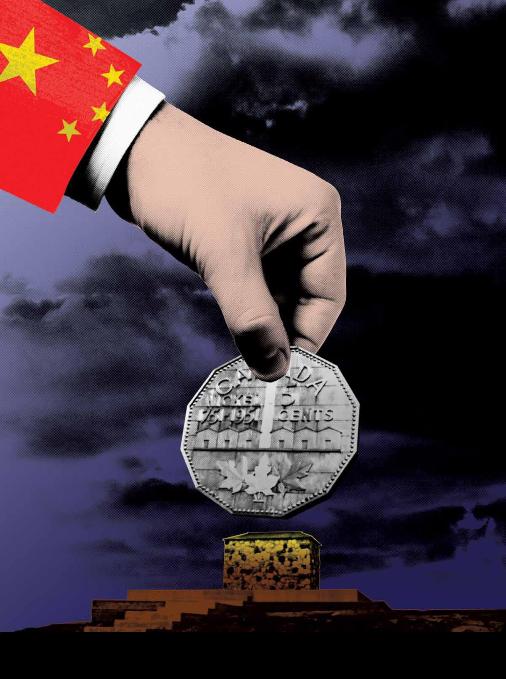 Sharp is Canada's largest men's lifestyle magazine, covering fashion, technology, cars, food, booze, culture and current events from an intelligent Canadian perspective. Subscribe to the magazine and the Sharp Insider newsletter at Sharpformen.com
Mike Blanchfield covers international affairs for The Canadian Press in Ottawa.
Underground Takeover – Mike Blanchfield
Foreign Companies are lining up to buy the extraction rights to Canadian oil, nickel and potash and spending billions in the process. Are we selling our birthright?
The town of Kitimat was born in the brash 1950s, the product of a successful marriage between herculean feats of engineering and unabashed visions of grandeur.
Canadian captains of industry carved the town out of old growth forest at the end of the Kitimat River, blasting an industry out of British Columbia's rugged Coast Mountain range that would sustain its people for the next half-century. The engineers of Alcan – then the Aluminum Company of Canada – saw a rich future in this rugged northwestern BC terrain. The company built the town over four years, as 35,000 workers bored a 16-kilometre tunnel through the mountains and erected a massive hydroelectric dam and aluminum smelter. In August 1954, when Kitimat produced its first batch of aluminum, Prince Phillip was on hand to help celebrate the day.
No wonder people were upset when foreign interests came along 53 years later and bought the whole thing. Strong global demand for aluminum, driven by China and India, prompted several of the world's largest multinationals to go after the Canadian company to consolidate their aluminum businesses and gain market dominance.
Aluminum, used in everything from airplanes to cans to lampposts, allowed not only the 9,000 souls in the town of Kitimat to prosper, it put Canada on the map, too. But, in December 2007, this great Canadian company was absorbed by British-Australian Rio Tinto for $38 billion – after outbidding multinational giants from Brazil and another British-Australian consortium – making the new Rio Tinto Alcan Inc. the world's largest aluminum company. Canadian workers hung on to their employment as the company cut 14,000 jobs worldwide the following year.
The Rio Tinto takeover of Alcan capped a two-year season of foreign takeovers of major Canadian natural resources companies. From January 2006 to October 2007, the Canadian industrial giants Dofasco, Falconbridge, Inco and Stelco were snapped up by industry titans from Luxembourg, Switzerland, Brazil and the United States.
Canadian executives and shareholders grew rich quick through the foreign takeovers, which were encouraged by the government. In fact, in the last two decades Canada has become one of the easiest places for a foreign interest to buy a resource company. Successive governments believed foreign investment was good for the Canadian economy, that it meant more jobs and wealth by creating larger industries and more globally competitive corporations.
Last summer, along came Australia's BHP Billiton with its $38-billion hostile takeover attempt of Saskatoon's PotashCorp, the world's largest producer of a high-demand fertilizer that thrives beneath Canada's Prairie heartland. ! That's when Saskatchewan Premier Brad Wall drew a line in the sand.
Potash had become a much-coveted natural resource, as valued as oil is to virtually every country, or uranium is to those few that need it to power reactors or nuclear bombs. In a world where post-apocalyptic predictions permeate climate change discussion, where farmland is laidto waste across populous Africa and Asia, potash is important because it grows food faster. The copper-coloured mineral contains some of the best naturally occurring fertilizer on the planet.
PotashCorp produces almost one-quarter of the world's supply of potash, but a successful takeover would have transferred this to foreign ownership – subsuming it into the world's largest mining company, BHP Billiton. That would have been a long way from its original incarnation. PotashCorp was a creation of the Saskatchewan government in the mid-1970s, before becoming a publicly traded entity in the late-1980s, when the province began selling off some of its shares.
Wall played hard politics against Prime Minister Stephen Harper's Conservative government in Ottawa. He raised political red flags about lost jobs and revenues for his province. He made it a national issue that could have damaged Harper's ability to hang onto Saskatchewan seats in the next federal election.
Wall's power play worked – he singlehandedly stopped what would have been the biggest foreign takeover of a Canadian company. Early last November, Ottawa vetoed the BHP Billiton offer.
In Wall's view, offshore suitors must be denied a controlling interest in any resource – oil, uranium, potash – so that it stays Canadian. Sure, it's important to have foreign capital flowing into the country to help fully exploit our resource potential. But, as Wall and many others see it, only in proportion: "I think size matters. That's part of it."
The effect of Canada telling a perfectly respected foreign suitor to bugger off was jarring, especially considering the recent history.
In January 2006, a company from Luxembourg, Arcelor, now known as ArcelorMittal and currently the world's largest steel producer, outbid Germany's Thyssen-Krupp to acquire Dofasco Inc., one of Hamilton's best-known steel companies, in a deal valued at $5.5 billion.
Eight months later, Swiss-based Xstrata PLC, a global mining company with operations across Africa, Asia, Europe and the Americas, paid $19 billion for Falconbridge, the influential Ontario mining company that is credited for growing Sudbury out of its nickel and copper mines. Two months later, Brazil's CVRD (Vale), another multinational mining giant, bought Inco, Canada's second-largest mining company, for $19 billion. That made the Brazilian firm the world's second-largest mining company, behind only BHP Billiton, the blocked buyer of Potash Corp.
Just this past January, the October 2007 takeover of another Hamilton steel giant, Stelco, by U.S. Steel for almost $2 billion boiled over onto the streets of Hamilton. Thousands marched in support of 900 workers, who had been locked out for three months. Union leaders threatened to make lost jobs an election issue, and called on the Harper government to end the lockout. They once again blasted the federal government for not doing enough to block foreign takeovers and protect Canadian jobs. The Ontario Federation of Labour estimated that 2,200 workers had lost jobs since the Stelco takeover.
Over time, the once shrill voices of protectionism are being silenced. Their numbers are dwindling and their point of view is being crushed by the reality of a globalizing world, where attempts to stop money and merchandise % owing across borders are becoming increasingly futile. Still, many cling to the notion that Canada is allowing the hollowing out of its economy to foreigners, compromising our future for short-term gains by allowing too much foreign ownership
of our natural resources.
Their worst-case scenario looks something like this: foreign multinationals swoop in, buy up our mines, our oil and gas, sucking our land dry of its wealth and killing Canadian jobs. If global demand reaches the point of desperation for these finite resources, Canadians will have no claim on them. We could be forced to wait behind Brazil, Russia, Australia, the United States, England—and, yes, even China.
Scenarios like that haven't caused a shudder within consecutive Conservative and Liberal governments over the last quarter-century. Despite their political differences, Canada's two governing parties are united when it comes to encouraging foreign takeovers, and history has yet to prove them wrong. After sluggish growth and productivity in the 1980s, the Canadian economy has grown substantially, creating more jobs and wealth at home.
The federal government calls Canada's resource and earth sciences sectors "an engine of economic growth and job creation for generations." Natural Resources Canada says that in 2008 alone the sectors were a $148 billion industry, employing more than 850,000 people, representing 12 per cent of our GDP.
Canada has only ever blocked two takeovers since the mid-1980s, and only one in the natural resources sector – last year's Potash Corp veto.
Still, many say that was one too many. "I've reached the age where I have to start worrying about my later years, so I'm investing, and I want returns on that investment. I want an entrepreneur to give me a return on that investment. I don't care if he comes from Canada, the United States or the moon."
That was Michael Hart, speaking at a symposium on Canada's natural resources held in Ottawa three weeks after the potash deal was killed, a decision he called "egregious." Hart was one of Canada's lead negotiators on the Free Trade Agreement with the United States, and is now a trade policy expert with the Norman Paterson School of International Affairs at Carleton University.
Hart says some Canadians have to get over their phobia that foreign investors are inherently bad. Keeping out foreign money devalues our assets, drives up our costs, lowers employment and generates less profit. We shouldn't worry about malevolent, predatory foreigners because we have laws that protect Canada from unfair royalty schemes and other bad corporate behaviour.
But jobs have disappeared, and no one can deny that. Between 2004 and 2008, one out of every seven workers in the Canadian manufacturing sector – 322,000 people – joined the unemployment lines. To some, that's a proof positive indicator of the evils of foreign investment in our natural resources sector, and of the hollowing out of our economy.
Groups like the Council of Canadians say too much foreign investment – especially in oil and energy – represents nothing less than a threat to our sovereignty. When multinationals roll in, they assert, the Canadian government loses the ability to make long-term policies that serve the best interests of the country, like weaning us of fossil fuels, finding alternative energy sources and tackling the effects of climate change.
"The facts just don't line up that greater foreign ownership is going to be better for Canadians, because it's not. It leaves our policies much more vulnerable," says Andrea Harden-Donahue, who heads the council's energy and climate justice campaign.
She says it is short-sighted to base economic prosperity on exploiting finite natural resources. "The economic impact of relying on what is a boom that will at one point bust is significant."
Harden-Donahue blames the majority of those 322,000 lost manufacturing jobs on changes made by foreign owners, not the economic downturn. "We're seeing the impacts in the manufacturing sector. That's a story that is not told enough in Canada."
There's a good reason why we don't hear that story much anymore – it might not be true.
To James Milway, executive director of the Institute for Competitiveness and Prosperity in Toronto, that story is fiction.
Canada desperately needs capital flowing in from abroad to develop our natural resources fully, to create prosperity at home. "You need a lot of cash to explore and to build. We need the capital if we want to harness those resources," he says, and if a few Canadian companies become foreign-owned along the way, so be it.
"We do lose the icons. Don't we all feel terrible," he says. "But my feelings shouldn't run the economy."
He rejects the premise that the recent, high-profile takeovers were bad for the Canadian economy.
"If those people, who point to a shutdown up in Sudbury or Hamilton – is anybody surprised that went on in a worldwide recession, where there's a slump in commodity prices? Can anybody paint me a picture or draw me a scenario that says: boy, if those firms had Canadian management, Canadian ownership, things would have been a lot better? I doubt it," he says.
"Firms that don't step out and try to take over the world are going to be taken over themselves."
Canada's political leaders struggled for half a century to find the right formula to both exploit and protect our country's natural riches. Over time, the political view has evolved from being protectionist – fearing the foreign bogeyman – to becoming an international salesman. The mantra has changed from "hold on a minute" to "let's make a deal."
In the mid 1950s, a commission headed by Walter Gordon – a Liberal finance minister and top businessman – championed Canada's economic nationalism. He flagged our natural resources as something that we should guard carefully from unnecessary foreign encroachment.
Over the years, governments appointed more expert panels, including one that led to the creation of the Foreign Investment Review Agency in the mid-1970s under the Trudeau Liberals. The agency was founded on the premise that foreign takeover bids needed to be screened to make sure they didn't compromise the interests of the country. In 1985, the Mulroney Conservatives changed the name to Investment Canada, and changed its focus to attracting investment – not blocking it, as some saw the previous agency's role.
Three years ago, the Competition Policy Review Panel, headed by businessman Lynton Ronald "Red" Wilson, challenged the notion that Canada's economy risked being "hollowed out" by too much foreign investment. On the contrary, the Wilson commission concluded that Canada should lower barriers to foreign investment. It recommended that Canada allow greater foreign access to uranium mining.
The debate over the hollowing out of the Canadian economy has been emotionally charged," Wilson's report said, citing the takeover of established Canadian entities such as Alcan, Falconbridge and Inco, firms that had been "significant employers and anchors of Canadian communities."
Wilson concluded that opening Canada to more competition enhances "our economic performance and ultimately our quality of life." He called on Canadians to "develop a more competitive mindset…to create the conditions in Canada for global economic success."
Wilson touted Canada's many strengths – "location, natural resources, a diverse economy, high-quality public education, and institutional and political stability" – and our "abundant" natural resource wealth.
But people like Saskatchewan's Brad Wall insist that Canada simply can't surrender control of what he calls a strategic resource.
"We have 50 per cent of the world's potash, which is going to be increasingly strategic as we see less and less land available for production – more and more people in the world. We know there's going to be a greater demand for food, and fertilizer is desperately needed, especially potassium, in places like China and India and South America," says Wall.
Wall says he wants to see foreign investment in his province and in others. But he wants tough questions asked of foreign suitors.
"Does the company actively get itself involved in the life of the province from the philanthropic basis, from the standpoint of a progressive employer? Does the company stand by and abide by all the environmental regulations that our country has, that each province has?"
Australian High Commissioner Justin Brown was disappointed with Canada's decision to block the Potash Corp. takeover from his country. But Brown sees a much greater challenge, a concern that unites Australia and Canada—China.
"The rise of China is really changing the trade and investment landscape globally in ways that are quite fundamental," Brown told a symposium in Ottawa hosted by the Canada2020 thinktank last fall. The panel discussion on foreign ownership of natural resources was held just three weeks after the government's controversial potash decision.
Across Australia, Asia and Africa, China is cashing in its foreign reserves to buy up big natural resource assets, particularly in the mining and energy sector, as well as in agriculture. China has no choice. It has an insatiable appetite for energy to drive its fast growing economy.
In many countries targeted by China, said Brown, "there's a growing sense of mistrust and a concern about a loss of sovereignty. I think there's a lot of pressure on many governments to move towards more of an economic nationalist approach, and a more interventionist approach to deal with this kind of foreign investment activity."
Few in Alberta's oil sands are worried these days.
State-owned enterprises such as Sinopec and PetroChina are pouring billions into Alberta's oil sands, making significant in-roads into the world's second-largest oil reserves after Saudi Arabia. But China's deals are different. Private companies are not the foreign investor here. The potential buyers are state-owned enterprises – the Chinese communist government.
"State involvement in overseas investments can create an unequal playing field, such as easier access to finance, market information, resources, key government networks, preferential supply contracts," said a report in January by the Asia Pacific Foundation of Canada.
The other risk is that it allows a country's national interest to play a role in business. The report noted this example: in September, Chinese fishing boats and Japan's coast guard had a run-in in disputed waters. China responded by flexing its economic muscle in the highseas dispute – it threatened to block crucial metal exports to Japan.
Since the summer of 2009, five state-owned Chinese investment ventures have sunk $10 billion into Canada's energy and mining sector, the report said. This includes Sinopec with its $4.65 billion investment, China's most ambitious foray, followed by PetroChina's $1.9 billion acquisition of Athabasca Oil Sands.
The Canadian government now has the legal authority, under recently updated provisions of the Investment Canada Act, to use national security as a factor to block a foreign takeover.
Milway says that gives Canada the ability to guard against any potential threat posed by a Chinese business deal. "I do think something like a government-run enterprise out of China is different than a private French firm or a private Australian firm."
Paul Evans, an Asia expert with the Liu Institute for Global Issues in Vancouver, says the Canadian government has "enormous discretion" to block foreign takeovers, as was seen in the potash case.
But Evans doesn't think Canadians should be worried about the Chinese marching into Alberta and snapping up oil fields with unlimited capital. They're not out for "51 per cent, or 100 per cent ownership" of a particular company or resource.
"The big issue is not the investment in production. What the bigger game is: is China going to get involved in pipelines, the construction of them, the financing of them, the transportation systems that will be built in around them? If we go the direction of major exports to Asia, that's the kind of interesting game that is beneath the surface."
Today, that is exactly where the future of the small BC coastal town of Kitimat lies. The old Alcan company town is on the verge of being reinvented for the 21st century – this time, as a Canadian gateway to lucrative new opportunities in East Asia. Kitimat is poised to be a key conduit for Canadian natural resources to Asia. Kitimat is being touted as the port at the end of a long pipeline, one that would one day transport liquefied natural gas to Asia – not the United States. That would be a first for Canadian energy.
Evans was visiting a major South Korean gas company last September when he saw a map on a wall that put everything in a fresh perspective. The map was like nothing he had ever seen. On the left side was Asia, with Korea highlighted. On the other side was North America.
"And on North America, there was only one word in all of North America, and it wasn't Vancouver, it wasn't New York, it wasn't Toronto – it was Kitimat." And that, says Evans, is a great source of excitement to Asians. To them, Kitimat represents something almost transcendent. They call it, "The great connector to North America."
Mike Blanchfield covers international affairs for The Canadian Press in Ottawa.
Sharp is Canada's largest men's lifestyle magazine, covering fashion, technology, cars, food, booze, culture and current events from an intelligent Canadian perspective. Subscribe to the magazine and the Sharp Insider newsletter at Sharpformen.com