Metals Economics Group's 21st Corporate Exploration Strategies study
U.S. dollar currency is used throughout this press release
Worldwide nonferrous exploration budgets by region, 2010
(more than 2,200 companies' budgets, totaling US$11.5 billion)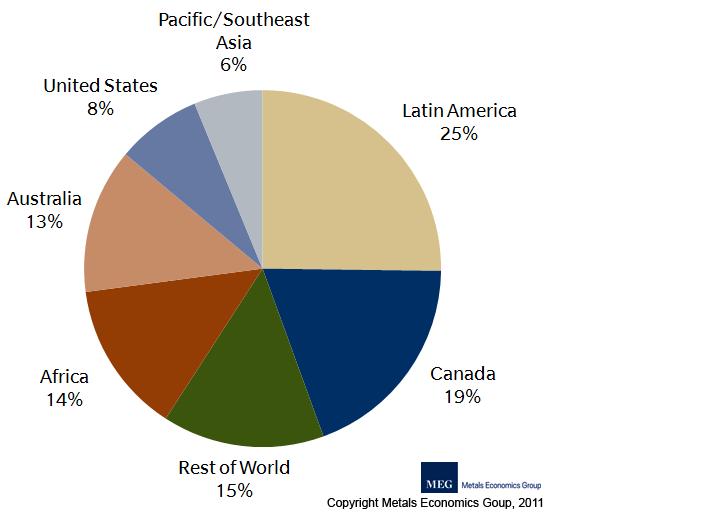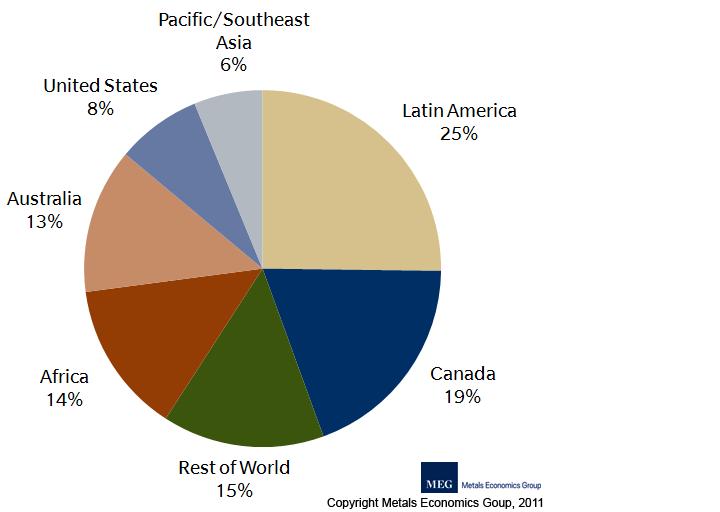 (Note: The annual budget totals for Canada, Australia, and the United States
are typically much larger than those of most other countries; as a result,
MEG treats these countries as individual regions in its CES studies.)
Vancouver, British Columbia, January 24, 2011 – Canada maintained the regional number-two spot for planned exploration spending in 2010, attracting 19% of worldwide nonferrous exploration allocations. According to Metals Economics Group's Corporate Exploration Strategies (CES), Canada has held second place for nine years since overtaking Australia in 2002. (Metals Economics Group's study covers expenditures for precious and base metals, diamonds, uranium, and some industrial minerals; it specifically excludes iron ore, aluminum, coal, and oil and gas.)
Four provinces—Ontario, Quebec, Saskatchewan, and British Columbia—accounted for more than three-quarters of the $2.2 billion in planned Canadian nonferrous exploration spending in 2010. Of the 710 companies that planned to explore in Canada in 2010, 90% were based in Canada, together contributing 79% of the planned Canadian nonferrous exploration total. Worldwide, Canadian-based companies accounted for more than half of the 2,200+ active explorers covered by the 2010 edition of CES, and together accounted for 41% of the 2010 global exploration budget total.
The 2,200+ companies included in the study (each with a budget of at least $100,000) together budgeted $11.5 billion for nonferrous exploration in 2010, which MEG estimates covers about 95% of worldwide commercially oriented nonferrous exploration budgets. Including budgets not covered by the study, MEG estimates the total worldwide budget for nonferrous exploration reached $12.1 billion. Most companies increased their budgets in response to rising prices and more stable market conditions, resulting in a 44% rise in the estimated worldwide exploration total for 2010 and reinstating almost two-thirds of the industry's $6 billion in cuts to exploration in 2009.
Canadian exploration budgets by province*, 2010
(710 companies' budgets totaling US$2.2 billion)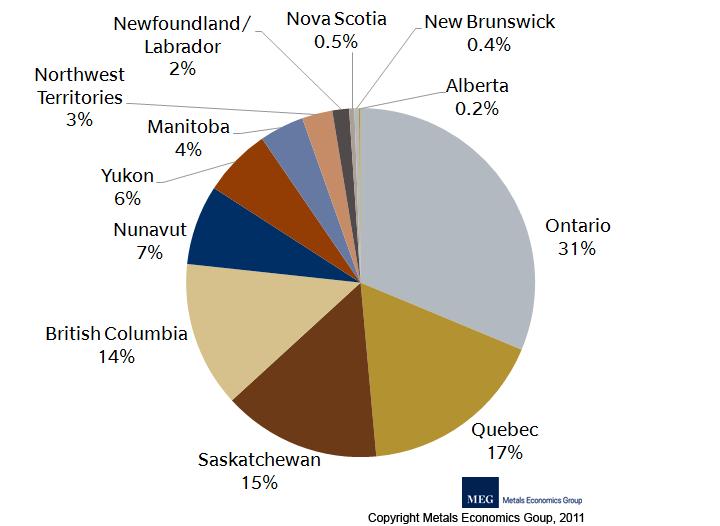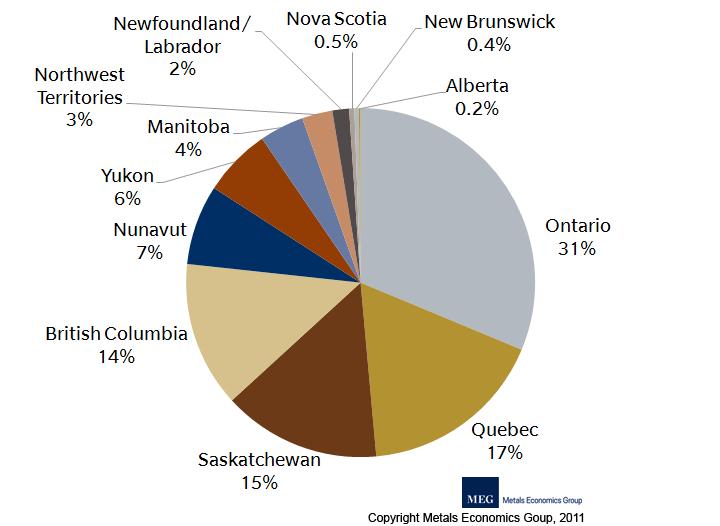 *Provincial/Territorial breakdown of Canadian
allocations is based on MEG estimates.
For more information on MEG's Corporate Exploration Strategies study, visit our website at www.metalseconomics.com,  phone +1 (902) 429-2880, or email sales@metalseconomics.com.
About Corporate Exploration Strategies
Corporate Exploration Strategies (CES) is the industry's only comprehensive source of detailed global exploration budgets. CES is the acknowledged benchmark for exploration-related spending, strategies, and worldwide trends. For more than 20 years, MEG's team of skilled analysts has been collecting and analyzing exploration-related information from thousands of companies around the world, providing subscribers with both a global and a granular view of exploration strategies.
About Metals Economics Group (www.metalseconomics.com)
Metals Economics Group (MEG) is the most trusted source of global mining information and analysis. We draw on three decades of comprehensive information and analysis, with an unsurpassed level of experience and historical data. To help our clients reach better decisions more quickly, we supply raw data and sophisticated analysis based on unbiased research and reporting. From worldwide exploration, development, and production to strategic planning and acquisitions activity—our databases and studies help you make confident decisions and, ultimately, improve results.
Media contact:
Nadine Tanner, Director, Marketing
Metals Economics Group T: +1 902.429.2880
Suite 300, 1718 Argyle St., Halifax F: +1 902.429.6593
Nova Scotia, Canada B3J 3N6 ntanner@metalseconomics.com