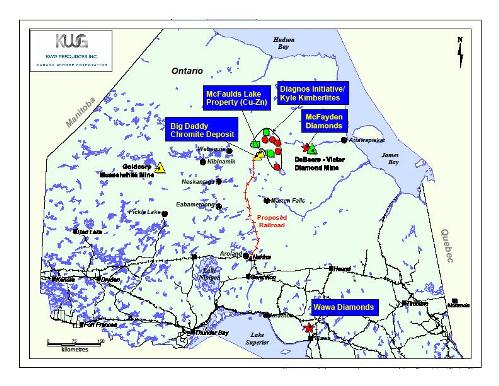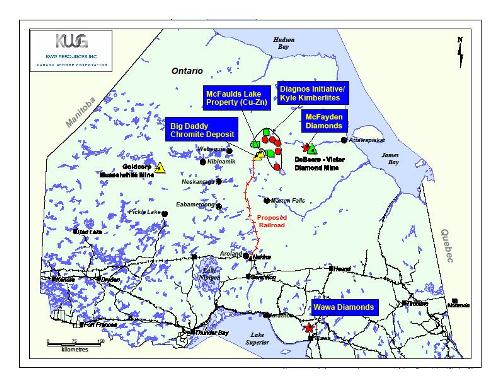 Established in 1980, Northern Ontario Business  provides Canadians and international investors with relevant, current and insightful editorial content and business news information about Ontario's vibrant and resource-rich North. This article was published in the October, 2010 issue.
For an extensive list of articles on this mineral discovery, please go to: Ontario's Ring of Fire Mineral Discovery
Despite the frenzy of exploration drilling and company acquistions in the Ring of Fire, engineering work continues for a proposed chromite ore haul railroad into the James Bay lowlands.
Krech Ojard & Associates is preparing a rail feasibility study for the construction of a 350-kilometre-long railroad from McFaulds Lake, south to Exton in northwestern Ontario.
The preferred route would largely follow glacial eskers that start south of the Albany River. These gravel rises make for ideal track bed in an otherwise swampy landscape.
Nels Ojard, special projects manager at Krech Ojard, said the majority of work this past summer was focused on the geotechnical program.
Soil samples that were collected along the length of the route last winter and spring were being processed and evaluated to test their ability to support heavy bridge loads and frost susceptability.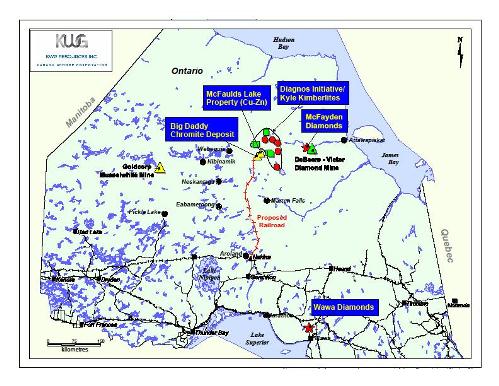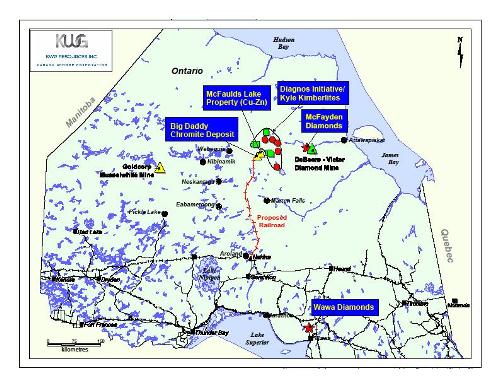 Extra attention was paid to areas of possible bridge locations where there were specialized borings right down to rock and hard soil.
"They need to carry a heavier load than a typical portion of the railroad."
More than 750 auger drill samples were collected on the claims along the transportation corridor leading up to the Big Daddy chromite deposit.
Golder & Associates, Krech Ojard's geotechnical consultants, are putting together their own individual reports and recommendations of different segments of the route, which will be fed into the overall engineering report.
All the technical details–identifying possible bridge locations, track configurations and various site characteristics along the route–could be ready as-early as November.
All the documents will be supported with detailed mapping from two LIDAR (light detection and ranging) surveys flown over the Ring of Fire and the corridor.
The study will be presented to their client, Canada Chrome, a subsidiary of KWG Resources.
There are 90 water crossings along the route, ranging from major rivers to small streams that can be easily bridged with culverts. Some hydrology data will be included.
"All of that has been considered in the context of the (upcoming) environmental assessment," said Ojard.
"Right now, we're trying to figure out a costing to see if there's an economically viable project."
Whether the Ontario Northland Transportation Commission will be involved either in a major consulting capacity or as the railway hauler has yet to be determined.
Ojard said they are not involved in any discussions with Ontario Northland about potential joint opportunities.
"We've talked about meetings with the Ontario Northland Railway and their engineering group and reviewing their operations and maintenance plans. Those talks are still ongoing but there hasn't been anything confirmed."
Despite a heated takeover battle between KWG Resources and Cliffs Natural Resources for control of Spider Resources and the Big Daddy chrome deposit, KWG CEO Frank Smeenk said it hasn't hurt their relationship with Cliffs in proceeding with the rail engineering work.
"They were always very professional."
Smeenk hinted that Ontario Northland Railway would be good fit to be the carrier of choice along that route.
"I think they'd be good railroad operators. They don't have $2 billion and it looks as if it's going to be an expensive railway But you never know. It's certainly their mandate to develop the North.