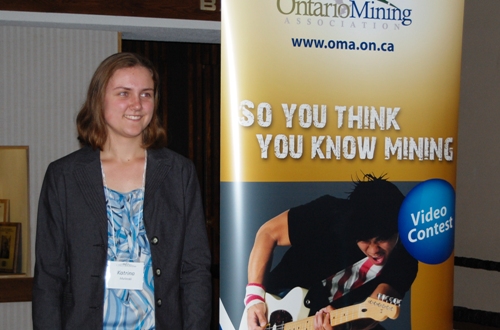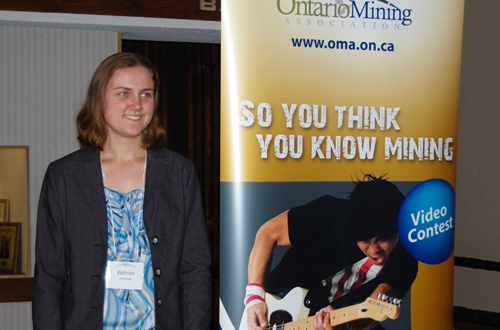 This article was provided by the Ontario Mining Association (OMA), an organization that was established in 1920 to represent the mining industry of the province. To view all the winners of the So You Think You Know Mining competition, please go to OMA 2010 Video Winners.
The winning videos in the Ontario Mining Association's high school video competition So You Think You Know Mining (SYTYM) provide clear evidence that an abundance of creativity and artistic talent is possessed by teenagers.  Go to the OMA website www.oma.on.ca and click on the SYTYKM panel, watch the 2010 award winning videos, which are now available for viewing and we are sure you will agree.
Along with all the winning entries, you can experience the flavour of the SYTYKM awards gala in a production by Amanda Ceniti, a runner up in the competition, from Georgetown District High School.  The SYTYKM trophies were presented at an OMA conference held in North Bay.  Ms. Ceniti's production captures the bright lights, the inspiration of the winners, the upbeat music and buzz of the ceremony.
Congratulations to the SYTYKM 2010 winners.  While individual names are attached to each award, most were team efforts involving one or more classmates and in some cases relatives.  The Best Overall Video was captured by David DeLong from St. Benedict Catholic Secondary School in Sudbury, for his production Lego Mining.  The Best Original Screenplay trophy was won by Katrina Malinski from Lockerby Composite High School in Sudbury for her video Mining Matters!  The Best Original Score prize was earned by Britt Sweeting from Nancy Campbell C.I. in London for The Mining Rap.   Give it a listen.  It is sure to get you moving.
The Best Director award went to Max Parr from Etobicoke School of the Arts in Toronto for More Mining, Less Problems – "mining is here to stay, helpin' everyone in every way."  The Best Video in a language other than English was won by Michelle Joncas-Bever from ESC LaVerendrye in Thunder Bay for Wake up to mining – Eveillez-vous aux mines.  The Best Comedy was won by Mike Shryver from Woodstock C.I. for Ferrous Jeweler's Day Off.  The Best Animation category was won by the team of Sara Johns and Carissa Schenck from Central Huron Secondary School in Clinton for Don't Mined If I Do.  Sara and Carissa were double winners.  They also received the SYTYKM People's Choice Award.
Through the support of teachers and parents, all the SYTYKM winners and their entourages made it to North Bay to participate enthusiastically in the awards gala — except one.   Best Original Score winner Britt Sweeting and her sidekick Amaris Wharton provided a video of their acceptance speech for the show, which was much appreciated.
This year's SYTYKM judging panel included Jack Blum, Executive Director of REEL Canada; Jessica Grillanda, Co-ordinator of Broadcast – New Media at Cambrian College in Sudbury; Dominique Dionne, Vice President Corporate Affairs at Xstrata Nickel; Christina Blizzard, SUN Media, and: Elvie Choi-Bhagat, who is affiliated with the Toronto International Film Festival and its youth program Sprockets.
While the students were clearly the stars of the show, several people should be congratulated for their award worthy supporting roles in the presentations at the gala ceremony.  They include: Outgoing OMA Chairman and Redpath President George Flumerfelt; incoming OMA Chairman and Xstrata Nickel Vice President Sudbury Operations Marc Boissonneault; OMA President Chris Hodgson; Ms. Grillanda; De Beers Canada Vice President Human Resources Ingrid Hann; Barrick Gold Director Government Affairs Alanna Heath; St. Andrew Goldfields President Jacques Perron; Richmont Mines President Martin Rivard; Vale Vice President Shared Services North America Dorothy Cayen; Detour Gold Vice President Aboriginal and Government Affairs Derek Teevan; QuardraFNX Vice President Sudbury Operations Vern Baker; Goldcorp Senior Vice President Canada and US Operations George Burns, and; Wesdome President Donovan Pollitt.
The video competition offers Ontario high school students an opportunity to place their two to three minute video on the benefits of mining in the running for substantial cash prizes and trophies.  SYTYKM is supported by comprehensive web-based resources and a blog.  The total prize money available was $22,500 with the Best Overall winning gaining $5,000 and all other category winners won $2,500.  There was also a prize of $500 worth of video equipment for the high school of the Best Overall winner and the gala videographer.  The SYTYKM competition is made possible through the support of  all OMA members with a special mention to Barrick Gold and De Beers Canada.
Watch the OMA website for updates on the third So You Think You Know Mining high school video competition, which will kick off in the fall of 2010.  Will you be on stage in 2011 taking home a SYTYKM trophy and cheque?