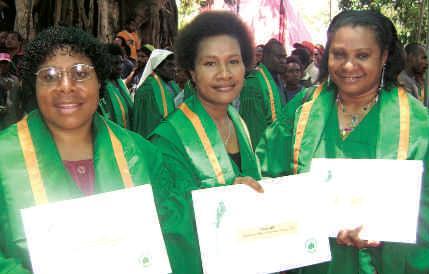 This article is from the April 2009 issue of Beyond Borders: A Barrick Gold Report on Responsible Mining.
About Porgera Joint Venture, PNG
Barrick is the operator (95 per cent interest), PNG government and landowners (5 per cent)
2, 500 employee and over 500 contractors
Significant investments in health, education, skills training, infrastructure and local business development
A partner in the "Restoring Justice Initiative",  a government community effort to strengthen law and order, which encompasses issues such as violence against women
Women in Papua New Guinea's Porgera Valley, home to the Porgera Joint Venture mine, are using resources provided by the company to pursue higher education, gain new skills and become financially independent.
Through its assistance programs, the Porgera mine is helping local Porgeran women become respected members and leaders in a society that has traditionally been male-dominated. In 1999, the company funded the establishment of the Porgera District
Women's Association, a non-governmental organization that now has a membership of more than 2,000 women across 20 wards in PNG. With financial support from the mine, the group is providing local women with training in leadership and management skills, health and education, law and order, micro business and agriculture.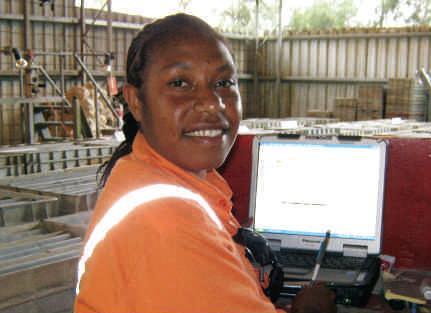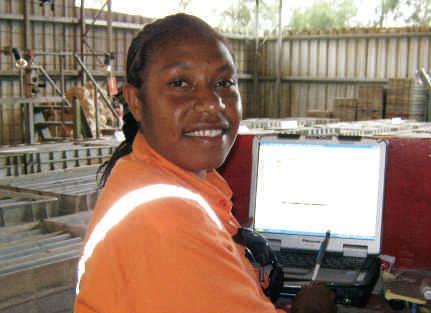 MICRO CREDIT SCHEME
One of the association's most successful programs is the micro credit scheme project, which loans money to women for small-scale projects that generate income. The program has a very successful 99.9 per cent repayment rate. Since it commenced in 2000, it has enabled 181 women to become self-reliant.
Judy Tangeria is just one example of the many women who have benefitted. She used her loan to buy a sewing machine to sew garments and sell them locally. Now, with her business up and running, Tangeria has put three of her children through the Porgera International School and has been able to buy much-needed household items that she previously could not afford.
"We have been very successful in assisting women in many areas, but the micro credit scheme has been particularly good for women," says Yamis Gigimat, coordinator of the project. Gigimat says that empowering women to set up and run small businesses enables them to gain financial independence. The programs have also given women the confidence to address issues affecting their communities, such as domestic violence, physical abuse and law and order.
LITERACY SKILLS
A national literacy census conducted in 2000 showed that 80 per cent of Porgera women do not know how to read and write. The women's association opened the Porgera mine's first adult literacy school, which has since led to the establishment of 83 schools helping more than 2,500 people become literate. Many female graduates of the program have taken up roles within the community, such as program leaders, local government councilors and literacy teachers.
SPONSORSHIP FOR HIGHER EDUCATION
In 2005, the mine began a sponsorship program to help both men and women from across PNG finance their education. To date, the company has sponsored nearly 200 people. Each year, the number of women applying for the sponsorship is increasing and 45 women have already benefitted from this program.
One of the company's many success stories is Rhonda Maio, who today is one of only two Porgeran women to hold a university degree.
Maio, a native of the remote Pulumani Clan village, was accepted to study Business and Accounting at the Pacific Adventist University in 2001. A year later, she found herself struggling financially and applied for assistance from the mine. The company awarded her a sponsorship package that included funding for tuition, boarding, textbooks and even pocket money. Maio was also given the opportunity to work at the mine during her school holidays. "I wouldn't be where I am today if it wasn't for the assistance I received," Maio said.
DEVELOPING GRADUATES
In addition to sponsoring women's education, the Porgera mine is providing opportunities for hands-on professional experience through its Graduate Development Program. Miriam Kuma and Cathy Andrew both entered an industrial training program at the mine in 2007, as part of their study requirements for a degree in Geology at the University of Papua New Guinea. "At the mine, we get hands-on experience and have great mentors who provide us valuable and expert advice," Andrew said.
Kuma, who was born in the Southern Highlands as the eldest of three children, agrees. "The Porgera mine is a great training ground because it has diverse challenges that push your limits and make you become strong professionally," she says.
NON-TRADITIONAL JOBS
The company's local recruitment process is also giving women the opportunity to pursue a career in traditionally male-dominated roles at the mine. Recently, four Porgeran women were hired by the mine and are now undergoing training to become haul truck operators.
"Through our recruitment process, we are trying to improve the quality of life for women living in communities around the mine," says general manager Mark Fisher. "Our training program teaches new skills and provides opportunities for women that did not exist before."