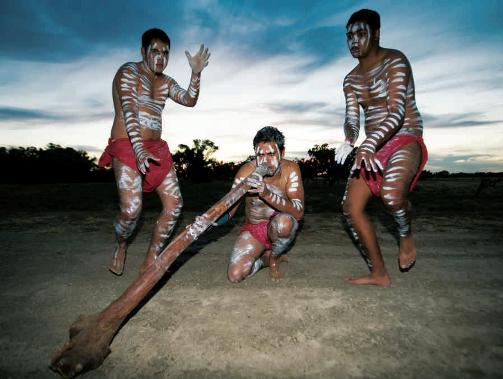 This article is from the April 2009 issue of Beyond Borders: A Barrick Gold Report on Responsible Mining.
Known as the people of the three rivers, the Wiradjuri have inhabited modern-day New South Wales, Australia for at least 40,000 years. At the time of European colonization, there were an estimated 3,000 Wiradjuri living in the region, representing the largest cultural footprint in the state. Their country extends from the Great Dividing Range in the east, and is bordered by the Macquarie, Lachlan and Murrumbidgee rivers. The Wiradjuri were a hunter-gatherer society, made up of small clans or family groups whose movements followed seasonal food gathering and ritual patterns. The decline of the Wiradjuri population in New South Wales was accelerated in the 1820s when indigenous people were forced off their traditional lands by an influx of European settlers. Today, major Wiradjuri populations can be found in the New South Wales towns of Condobolin, Peak Hill, Narrandera and Griffith. (With files from Bathurst Regional Council, New South Wales)
Five years ago, the Wiradjuri community of Condobolin decided to take their future into their own hands. In the words of one Elder, it was to be "a new beginning" for the long marginalized, oft en overlooked indigenous community in the heart of New South Wales, Australia.
 That hope for a better future and "a new beginning" was enshrined as the motto of the Wiradjuri Condobolin Corporation (WCC), an organization that is transforming the lives of local Wiradjuri people, creating new opportunities for the community that were unthinkable just a few years ago.
The WCC was created through a Native Title Agreement between the Wiradjuri people and Barrick, negotiated during the development of the company's Cowal gold mine. That agreement included provisions and funding to ensure Wiradjuri share in the benefits of mining, empowering them to break the cycle of despair that had gripped their community for years. 
At the same time, the partnership between Barrick and the Wiradjuri is sweeping aside critics who claim mining and indigenous people cannot coexist to create mutually beneficial outcomes. "For our community, this was a new beginning," says Wiradjuri Elder and WCC CEO Percy Knight. "We recognized this as an opportunity for our people to address social and economic development issues, and become a vibrant and strong community." 
Knight was born in Condobolin and rose to prominence as a professional rugby player before embarking on a career as a senior aboriginal civil servant. He later returned to Condobolin, where he took a lead role in community negotiations with Barrick.  
Today, he heads up the WCC. Knight is proud of his organization's accomplishments to date, using the Cowal mine as a catalyst for uplifting the Wiradjuri community. "We have created employment, sustainability, cultural and social development. We have lifted the self-esteem of local Wiradjuri people," says Knight. "Condobolin is no longer a town that promotes negative attitudes towards indigenous people. Indigenous people are now taking their rightful place in society." 
According to Knight, the process that led to negotiations for a Native Title Agreement with Barrick was fully transparent and democratic. Through a series of grassroots community meetings, local Wiradjuri leaders discussed the priorities for indigenous people in the area, as well as their concerns about mining, the environment and heritage preservation. After consultation with the greater Wiradjuri Council of Elders, the Wiradjuri Condobolin people were elected as the official representatives for negotiations with Barrick. 
The result of those negotiations was a landmark Native Title Agreement that included provisions for preserving Wiradjuri cultural heritage, comprehensive environmental safeguards and funding for indigenous skills development and job training. The WCC, operated by the Wiradjuri people themselves, was created as the legal entity to administer funding and manage programs under the agreement. 
The organization itself employs around 40 Wiradjuri people who support a variety of projects under the auspices of the WCC. 
Providing scholarships for Wiradjuri youth was an early priority, along with apprenticeships and skills training. Twelve students have already received funding for post-secondary studies through the WCC's scholarship program. It may not seem like a lot, but according to Knight, it's significant in a small community where traditionally few Wiradjuri continue their studies beyond high school.
 The organization has also set up a number of sustainable businesses that have created job opportunities for Wiradjuri. One of the first was a tree nursery, off erring training in horticulture, covering propagation of native trees and scrubs and effective harvesting techniques. The WCC has also set up a furniture business in the town of Condobolin, featuring the work of Wiradjuri artists, carpenters and trades people. The organization was successful in winning a contract to provide rural mail service in the area, as well as a cleaning contract at the Cowal mine. 
"The furniture shop is a very productive business. It's the only place to buy furniture within 100 kilometers. It employs seven people at the moment and we're currently developing an internet site," says Knight. "These are industries that traditionally indigenous people weren't getting involved in. These are new industries we've opened up." 
In addition to the WCC's own business ventures, 83 Wiradjuri people have been employed at Cowal since construction on the mine began, working in both mining and cultural heritage management at the site. 
But it's the WCC's next project that is stirring a lot of excitement in the Condobolin community and right across Wiradjuri country. In a first of its kind, the Native Title Agreement includes funding for development of a Wiradjuri Studies Center. Already under construction, the center will be a hub for Wiradjuri culture and learning. 
Flo Grant is a senior member of the Wiradjuri Council of Elders and an emphatic supporter of the Native Title Agreement with Barrick that has made the center possible.
"The benefits are very good. There are things that we wouldn't have unless we had the economic development and the resources that have come through the agreement," Grant says. "I'm right behind the Studies Center. People are very excited about it. It gives us the opportunity to educate people in the Wiradjuri culture, not just 'aboriginal' culture. And it gives us Wiradjuri people the opportunity to know our country, to learn our language, to promote it to other areas, including around the world." 
The Wiradjuri Studies Center will function as a multi-disciplinary institution, with a focus on skills development, health and wellness, environmental conservation, cultural awareness and heritage. It will also house sporting facilities and child care services for the community. 
Many of its skills training programs will be delivered through strategic partnerships with post-secondary educational institutions, offering participants credits towards certificates and diplomas. 
Knight is equally optimistic about the Center. "It will create an environment that complements the learning needs and aspirations of the local people," says Knight. "It will actually promote culturally appropriate courses, taking into consideration the learning styles and teaching practices of our people." 
He says the Center is one of the first of its kind in Australia. Its wellness program will also tackle difficult issues such as drug and alcohol abuse, and use a social intervention model to deal with indigenous health issues in a culturally appropriate way. 
"It's all about making the future happen now. The WCC is doing exactly what [the government] has been attempting to do over the past 60 years," Knight says. "We're building a skilled workforce, a knowledge economy, with wealth creation, economic development and community empowerment." 
There is one common thread in this success story. All of the WCC's work has been made possible by the development of Barrick's Cowal mine. The partnership between the Wiradjuri and the company has evolved over the years, maturing into a relationship based on openness and mutual respect. But it wasn't always that way.
 "Like any relationship, there was some suspicion initially; we didn't really trust the mining company, and I guess they had some suspicions about us," Knight explains. "But we have mechanisms to deal with issues when they arise. It's a matter of a phone call. We're able to come together very quickly and work out an outcome which is beneficial to both sides. I think the relationship we have now is one of trust, openness and  transparency. We now believe we are an asset to the mining company, and I think they view us in the same way." 
Much of that relationship developed through Bill Shallvey, Community Relations manager at the Cowal mine. He shares Knight's assessment. 
"We really appreciate everything the Wiradjuri people have done for us as well," Shallvey says. "The relationship is a very important one. It's encouraging to see the positive changes in the community and I'm confident this is just the beginning." 
Elder Flo Grant has nothing but praise for Shallvey's approach. "Bill has been a great supporter and a great friend over the years," she explains. 
The relationship between the Wiradjuri and Barrick has not been without its critics, largely anti-mining activists who claim Barrick is simply buying their support through gift s and financial contributions.
But both Knight and Grant aren't afraid to address the critics head on, making no apologies for their constructive approach to community development and empowerment.
"Look, a lot of these critics are very minor groups. They are not really connected to the wider Wiradjuri nation. It would be commendable if their efforts were really about cultural preservation and environmental protection, but they have other agendas," says Knight. He explains that the Condobolin Wiradjrui people have been endorsed as the official spokespeople of the nation at numerous community meetings convened by the Council of Elders. 
"The benefits are there for everybody to see. The development of our people is a direct result of the agreement we have in place. The detractors are doom and gloom people. They are not representative of the Wiradjuri people. They represent themselves." 
Grant couldn't agree more. "They are people who know nothing quite frankly. I'm a person who loves the land and likes to preserve it. It's about where you take a balance of things," she says. 
Neither Grant nor Knight is willing to let the naysayers diminish the progress Wiradjuri people in Condobolin have made over the past five years. They are proud of their accomplishments and remain optimistic that the future is bright for local Wiradjuri.
"We are demonstrating to other communities that you can work progressively and proactively with mining companies," Knight adds. "There can be very strong  relationships and you can build respect."