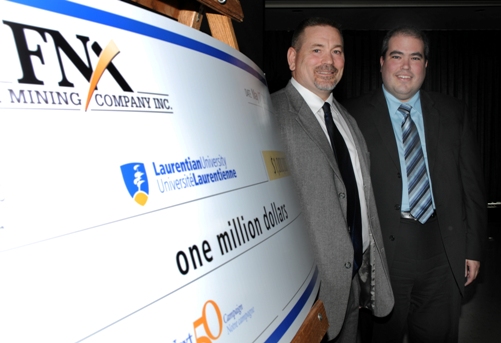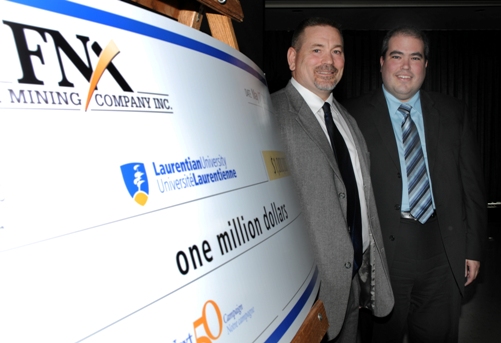 This article is also available on the websites of Northern Life and Northern Ontario Business.
Stan Sudol is a Toronto-based communications consultant, who writes extensively about mining issues.(stan.sudol@republicofmining.com)
Last Monday I attended a Laurentian University Next 50 Campaign event where two significant donations were made. Both FNX Mining Limited and Power Corporation of Canada each donated $1 million dollars to the university.
Power Corporation's gift is earmarked towards graduate fellowships while FNX's million dollars will be focused on mining programs.
In a press release, Terry MacGibbon, Chairman and CEO of FNX Mining Limited stated, "Laurentian is the go-to resource for research and employees for companies like FNX. This gift ensures Laurentian will be able to continue its tradition of training geologists and engineers with the knowledge and skills to hit the ground running when they enter the workforce."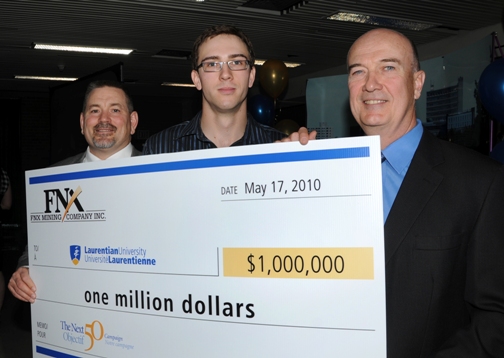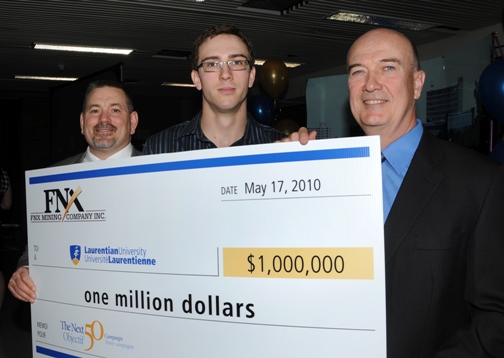 MacGibbon could not attend the event, however, Vern Baker, FNX Vice-President of Sudbury Operations was on hand to present the million dollar cheque. Baker said, "One of our strengths is our geology team, many members of which are proud Laurentian University graduates. This team has successfully moved forward with exploration here in Sudbury – highlighted by our 2005 discovery of the high-grade Levack Footwall Deposit and our recently announced Victoria Discovery, which we very much wanted to call "Victoria's Secret", but we were advised – by lawyers – that it would not be a good idea."
Laurentian geology Masters student Edward Nelles originally completed his undergraduate degree at the University of British Columbia but wanted more practical experience in his chosen profession. "I decided to do my Master's degree at Laurentian because Sudbury is an excellent place to learn about and actually see geology," Nelles said.  I also wanted to do my research at a mine and FNX was kind enough to provide me with that opportunity."
Laurentian's Next 50 Campaign is the largest university fundraising campaign ever undertaken in Northern Ontario and has currently raised $32 million of its ambitious $50 million goal. The campaign will ensure the university can sustain growth and continue to drive creativity, innovation, and prosperity throughout northeastern Ontario.
LU President Dominic Giroux explains, "Investing in Laurentian University will increase opportunities for students to drive innovation and prosperity in Greater Sudbury and northeastern Ontario. The FNX donation will go toward strengthening Laurentian's excellent mineral exploration and mining engineering programs that are recognized throughout the mining sector, and to establish of an International School for Sustainable Mining that would attract students from around the world."
The timing of Giroux's commitment to establish an International School for Sustainable Mining dovetails with the recent Ontario budget where Premier McGuinty intends to increase international enrolment by 50 per cent. "Australia's third-largest industry is international education – it creates jobs,"  McGunity said during a Liberal fundraiser held in February. "So why don't we get serious about competing for international students."
With increased provincial support for Laurentian's mining programs, Sudbury could quickly become a global centre of mining excellence, training students from around the world. The tuition from these students could also help fund the expansion of the university's mining programs.
An explosive demand for skilled mining geologists and engineers to find and develop the future mineral deposits as well as keep the present ones running will be one of the most significant global challenges the mining industry faces.
In early 2008, the Mining Industry Human Resources Council (MIHR) projected that mining industry yearly labour requirements face three scenarios: high-growth (9,200), no-growth (6,200), and industry contraction (4,600), until 2016.  These were only based on retirements.
Once the recession is finally over the mining industry will be the first to bounce back as vital mineral commodities will once again be in demand by China, India and other developing countries that will continue to industrialize and urbanize at a phenomenal pace never before seen in the history of the world.
The Sudbury Basin has one of the highest concentrations of underground hard-rock mines on the planet and a wide variety of technologies to sustainably and cost-effectively operate these mines are available in the local community's world-class mining supply and services industry. Half the province's mining activity and revenue are generated here and Sudbury is located within a five-hour drive of  three of Northern Ontario's four other major mining camps, Timmins, Kirkland Lake and Hemlo.
Currently, Laurentian's Earth Sciences geology department's Mineral Exploration Research Centre (MERC) represents the largest cluster of geoscientists conducting ore deposit related research of any university in North America.
And with the enormous potential of the Ring of Fire mineral discovery in Ontario's far north, potential international mining students would find an expanded International Mining School at Laurentian, with its close proximity to many globally important mining camps, one of the world's best and foremost institutes for practical, in-the-field mining education.
FNX's Baker concludes, "The Sudbury Basin has been mined for more than 125 years, and has the potential to mine for at least that long into the future. That future depends on the people we engage to pull that metal from the ground. Laurentian University is critical to helping provide the people who can make the Sudbury Basin continue as one of the premier mining areas in the world."
Stan Sudol is a Toronto-based communications consultant who writes extensively on mining issues. www.republicofmining.com