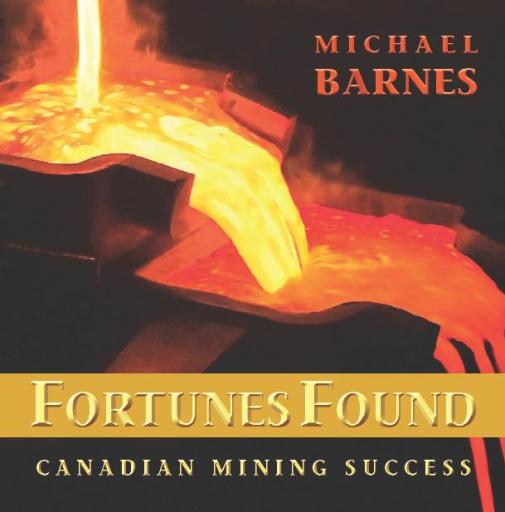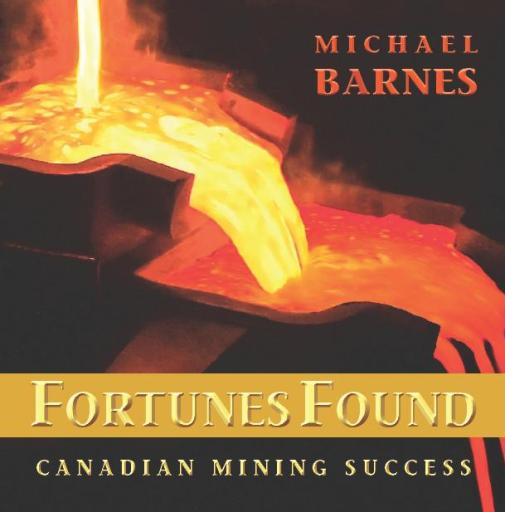 Michael Barnes is the author of more than fifty books about characters, communities, mining, and police work. He is a Member of the Order of Canada and makes his home in Haliburton, Ontario, Canada. While living in Northern Ontario most of his life, he has come to know and admire those who make their living in the mining industry.
To order a copy of "Fortunes Found – Canadian Mining Success" go to: General Store Publishing House
For an extensive list of articles on this mineral discovery, please go to: Ontario's Ring of Fire Mineral Discovery
Ontario 's Ring of Fire Discovery
Sheldon Inwentash is a major investor in the Ring of Fire area. He adds a cautionary note: "Until you have a number of these deposits that can carry the burden of infrastructure, it's way too early to talk about mining." No one argues the truth of this observation, but about twenty companies are staking big money that the size of the deposits will prove much larger in time with more drilling. Two companies that were in the play from the very beginning and pooled their efforts for a while are Spider Resources and KWG Resources; Freewest Resources has also been involved in a joint venture.
Spider president Neil Novak has been working in the James Bay Lowlands for a long time and stated once that, "Somebody told me my name is attached to about fifteen different kimberlites and a whole bunch of massive sulphide deposits." Leaving the diamond hunt for another time, Novak's company acted on an initial report by consulting geologist Dr. Jim Franklin that indicated the area was geologically similar to the Mattagami Lake camp and offered areas for drilling and further study.
Since 2003, Spider has done much airborne and electromag work and its prime Big Daddy discovery has had close to seven kilometres of drilling, with massive chromite as the fruit of these labours. In 2009, more drilling and fieldwork was shared with KWG Resources. The work is being carried out from its camp not far from that of Noront Resources. In addition, certain aspects of the work are joint ventures with Freewest Resources, in effect sharing the massive financial load.
Frank Smeenk is from the Netherlands but his affable manner and dress is more reminiscent of an English country gentleman. Over an expansive lunch at Hy's Steak House in Toronto, the former lawyer points to a successful deal with Cliffs Natural Resources as a boon to KWG, not only for its investment in the company but its reputation in the resource field. Some people have accused Smeenk of being a dreamer, but at least he dreams big. While other companies talk of government's direct involvement in road building to the Lowlands, perhaps allied with current First Nations plans, Frank Smeenk envisions a railway to open up the area.
He feels that the Ontario Northland Railway would be a candidate for the job and does not flinch when suggesting such a project might run to $660 million. He ponders that a right of way would have to be accessed by the time-honoured method of staking claims, in this case along a line northeast.
Mac Watson, the Freewest Resources president, is a veteran of the mining game with viable projects all across Canada. His company has done well with its Black Thor and Black Label chromite zone in the McFauld's Lake vicinity northeast of the Eagle discoveries. Freewest's nickel, copper, and chromite grades are similar to those of Noront. Again, costs are shared by joint ventures with other companies. Watson has mentioned that chromite is not well known as a mineral resource, and more work needs to be done to bring its applications and potential to the public eye. Industry watchers will be aware of Freewest's active drilling and groundwork.
Several junior mining companies have interests in the Ring of Fire area. A few are active on the ground while others are providing funds in joint ventures with other companies actually working in the area. White Pine Resources has established a camp northeast of the Noront position at Richards Lake. White Pine has joint ventures with Noront, MacDonald Mines, Metalex Ventures, and Golden Valley Mines. Among ten other juniors with interests in the McFauld's Lake area is Canadian Ore Bodies, which has its own camp and is backed by Hemlo discoverer Don McKinnon.
The Ring of Fire discoveries have been likened to the potential of the Voisey's Bay nickel play in Labrador. There is no doubt as to the wealth of polymetallic minerals in this James Bay Lowlands area. An even bigger challenge than the search to extend present knowledge of the fortune waiting below ground is a means of bringing it to market.
End