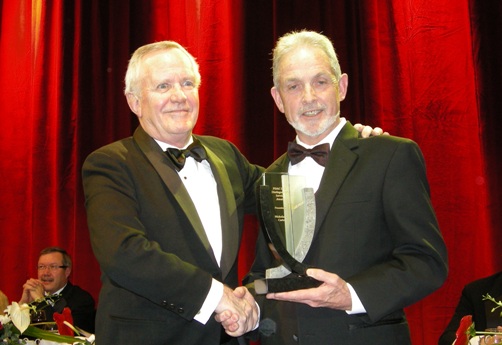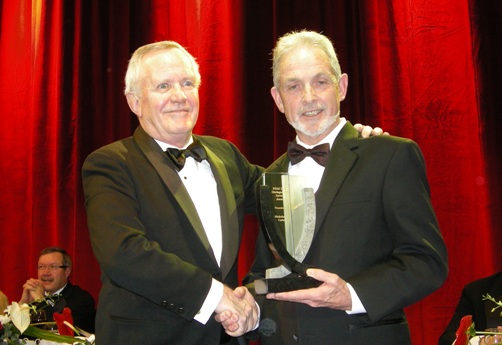 The PDAC Distinguished Services Award recognizes an individual for one or more of the following: substantial contribution to the mineral exploration and mining development; considerable time and effort expended on behalf of the PDAC; outstanding contributions to the industry in finance, geology, geophysics, geochemistry research, or a related activity.
Nicholas C. Carter is being recognized for fostering mineral exploration and mining in Canada through his active role in a number of associations and professional societies.
Carter was born and raised in Little Long Lac, Ontario, not more than 200 yards from the headframe of the Little Long Lac gold mine. Carter's father, a well known, meticulous mining engineer, who later managed the Little Long Lac mine, provided his son with a template for achievement.
Carter graduated from the University of New Brunswick in 1960 as a geologist and proceeded immediately to Michigan Technological University where he studied the iron formations of part of the Marquette Range as part of a master's degree in geology.
In 1962, Carter landed a job with Inco in Copper Cliff, He spent two years monitoring surface drilling programs and working underground in the Sudbury Basin before learning of a position as a geologist with the B.C. Geological Branch (now BC Geological Survey).
After he made a promise to return to school for more post-graduate work, Carter was offered the job. By 1964, Carter and his wife, Elizabeth, had started a new life in Victoria.
In his new post Carter carried out regional geological mapping programs and detailed mineral deposit studies in central and northern British Columbia.
In 1965, Carter joined the Canadian Institute of Mining, Metallurgy and Petroleum (CIM). His assiduous service led to CIM District 6 honouring him with a Distinguished Service Award in 1979. He was elected a Fellow of the Institute in 1993, and later a CIM Life Member.
As a staff member with the B.C. Geological Branch and a member of CIM, Carter authored and co-authored several papers, and as a porphyry specialist, was a significant contributor to CIM Special Volume15, Porphyry Deposits of the Canadian Cordillera. Years later, Carter made substantial contributions to a revised edition known as CIM Special Volume 46, Porphyry Deposits of the Northwestern Cordillera of North America.
In 1972, Carter was appointed Senior Geologist responsible for mineral inventory studies and regional geochemical surveys. Beyond mineral deposits and districts in British Columbia, Carter also had the opportunity to examine a number of mineral deposits in Yukon, Alaska and the western United States.
The establishment of district geologist offices throughout British Columbia in 1973 prompted Carter to recommend that former PDAC Distinguished Service Award winner Tom Schroeter be hired as a district geologist. Schroeter was based in Smithers, and Carter visited him frequently. The two men formed a friendship that remains strong.
A year later, Carter made good on his promise when he graduated from the University of British Columbia with a Ph.D. in geology after penning a thesis titled Geology and Geochronology of Porphyry Copper and Molybdenum Deposits in West-Central British Columbia.
After returning from a government-sponsored, non-ferrous metals trade mission to Japan in early 1980, Carter entered the private sector. His first role was as a director with junior oil and gas and minerals explorer Great Western Petroleum and later as a consultant to many junior and senior explorers including Lacana Mining, Cyprus Gold Canada and Equity Silver Mines.
Beyond the CIM, Carter has held senior positions with many professionals associations dedicated to fostering and promoting mining.
He became a life member of the British Columbia and Yukon Chamber of Mines after being elected vice-president in 1984 and president in 1988. During this period, Carter did more than his fair share of committee work, perhaps most notably on the past presidents committee for successor organization, Association for Mineral Exploration British Columbia (AME BC).
He joined the Association of Professional Engineers and Geoscientists of British Columbia (APEGBC) in 1966 and served as the B.C. government's appointee to council in 1979-1980. His most visible efforts with APEGBC were from 1983 until 1989 as a member of the committee to establish standards for the professional registration of geoscientists.
Since 1971, Carter has been a Fellow of the Geological Association of Canada. He has participated in technical sessions at numerous local and national meetings, and served as the fundraising co-chair for the annual meeting in 1995.
Carter joined the Prospectors and Developers Association of Canada in 1981, serving on its board for the next eleven years.
Throughout his career n the public and private sectors, Carter has achieved much in his professional life. He has also contributed much to exploration and mining in British Columbia and Canada.